By: Ali Elizabeth Turner
Steven Elliott, owner of the Workout Anytime in Athens, has always had a heart to help people meet their physical fitness goals as well as physical therapy needs. He received his Doctor of Physical Therapy from Washington University in St. Louis and completed the requirements to be a manually certified physical therapist. After graduation he worked in several Benchmark Physical Therapy clinics, and had the desire as an entrepreneur to "own something for ourselves." In 2016 Steven married his wife Ashley, who is a nurse, and they are expecting their first child. They both have pursued the American Dream through hard work and perseverance, and their sacrifices are paying off to the benefit of Alabamians.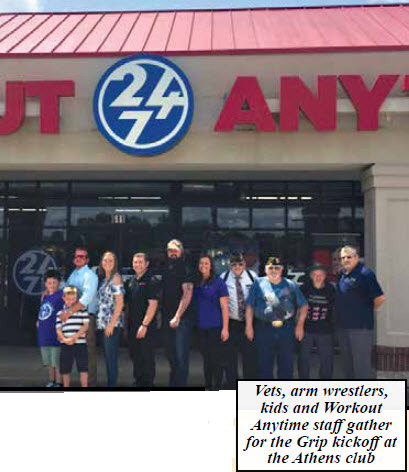 Steven and Ashley are now the owners of six Workout Anytime clubs, and the seventh will be opening in Lawrenceburg, TN later this year. Workout Anytime started in Atlanta 20 years ago, and the franchise has grown throughout the Southeast, now having 175 locations. Steven is also the area developer for Alabama and helps train and support franchisees, their managers, and employees, so they can serve clients with a high degree of professionalism.
One of the core values of Workout Anytime is giving back to the community, especially to military service members. Workout Anytime has partnered with the Lift For The 22 organization to decrease the number of veteran suicides. They also support finding a cure for ALS through fundraising. This fall they are going to sponsor the First Annual Limestone County Arm Wrestling Competition on October 26, which is the brainchild of Grip Events. I spoke with Charlie McMullins, Brendon Lewter, and Ali Pieper, the Grip Events team, and learned that arm wrestling is a big deal elsewhere in the country. They are working with Workout Anytime to make it a major competitive sport throughout the South.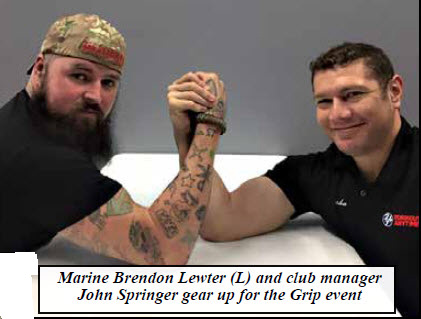 Brendon is a former Marine who served in Iraq when I was there, is a professional arm wrestler, and the guy has arms like tree trunks. He is the "face" of Grip Events as well as their major competitor, and the team has decided to donate a portion of the proceeds from the October event to the Disabled American Veterans. On the day of our interview, several volunteer members of the Alabama Veterans' Museum were on hand to get in on the launch of the event and have pledged to "build the buzz" for the competition. There are sponsorships available that range from $250 to $4500, and for more information on sponsoring or signing up to compete, you can stop by the club, which is located at 611 US-72 in Athens, near Big Lots. You can also contact Ali at 256-227-4920, or Monica at 256-633-8001, and Grip Events' email address is griparmwrestling@gmail.com. They are requesting that sponsors get their information in by August 31 in order to get the maximum benefit from participating in this inaugural event.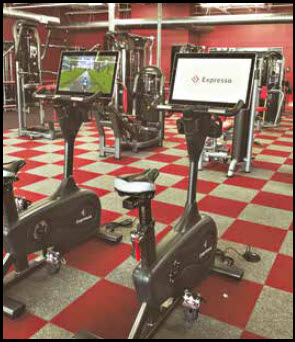 When I asked Steven to tell me about Workout Anytime and why it is the best fitness center choice in the area, the first thing he said was, "We are the best-value gym for all fitness levels." Their most popular membership is the Premium membership, which offers 24/7 key card access to all Workout Anytime clubs across the county, hydro massage, tanning, access to small group classes, and a monthly session with a personal trainer. For just $29 per month, the Premium membership offers no long-term commitment, and members can cancel with a 30-day notice. Workout Anytime also offers Basic memberships starting at $19 per month, as well as Family plans starting at $39 per month. On your first visit, staff members will take you on a tour of the facility and help you determine which membership plan best meets your individual needs. Once you are a member, you will receive a complimentary Success Session with a personal trainer who will assess your health and fitness goals, familiarize you with the equipment, and help set you on a path to success.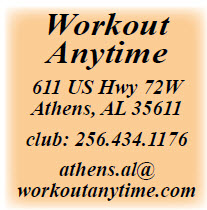 All members receive their complimentary Success Session after joining, and Premium members receive a monthly Success Session. "It's really important to remember, no matter which membership you choose, that it takes on average three months of consistent workouts to see results," said Steven. Small group classes are available for members who enjoy working out in a group setting, and personal trainers are available for hire for any members looking for consistent one-on-one training. Club employees are also trained on equipment safety and are available to answer any questions regarding equipment use. Workout Anytime offers a wide variety of equipment to accommodate all fitness levels. The cardio area offers multiple treadmills, ellipticals, and interactive bikes with plug-ins that allow members to watch TV while they work out. The PIN equipment, which is designed to be safe for independent use, has pictures as well as "yellow labels" which educate users, thereby increasing the level of safety. There is also a separate, spacious free-weight area for lifters. Safety is a priority at Workout Anytime, and surveillance cameras and panic buttons are located throughout the facility to ensure members are always safe when working out.
In addition to everything Workout Anytime has to offer, they have also partnered with a rewards program which gives an average of 6% cash back on money spent at over 250 national retailers, including Lowe's, Disney, national chain restaurants, and more. Stop by today and let the genuinely friendly, well-trained Workout Anytime staff set you up for long term success in meeting your fitness goals.
By: Ali Elizabeth Turner