By: Ali Elizabeth Turner
Bargain Jungle has been a familiar Athens sight on Hwy 72 for decades, and Brandon Downs has been there since he graduated from Ardmore High School in 1999. Brandon never expected a job that started out as being a "Guy Friday" to morph into a satisfying career, but twenty years later, he's so glad it did. Bargain Jungle was started by the Hill family, who treated Brandon like one of their own and taught him everything he knows about the furniture business. Brandon did it all: warehousing, inventory, delivery, painting, furniture repair, and learned about quality furniture lines. One of his favorite things has been to take a damaged piece of furniture that is missing an important part, finding something that will work well, and creating something that was better than if the original piece had never been hurt. "I became good at it," Brandon told me, and also mentioned that he especially loves helping customers.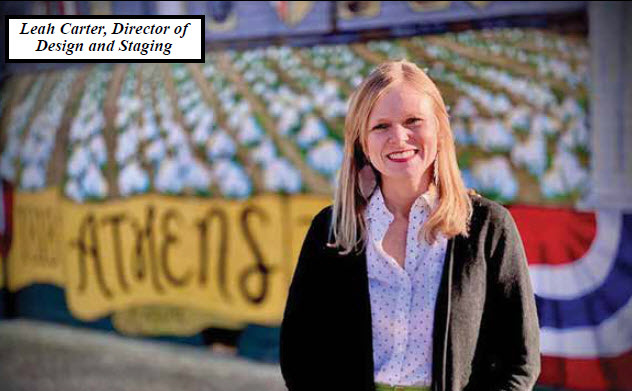 Over time, Brandon got to the place where he went to markets all over, in Atlanta, Tupelo, and High Point, NC. He found amazing deals for Bargain Jungle, bought whole showrooms for the store, and with his co-worker, Tony Rogers, made Bargain Jungle a place where folks from North Alabama could get beautiful furniture, help with staging for sales, and suggestions for interior design, all for a true bargain. Brandon said, "Tony became like a brother to me," and Tony's sense of style and design for the past 15 years have been invaluable. Tony told me that his favorite thing is seeing a smile on the face of the client when they leave the store, knowing that he helped them find exactly what they wanted. Finally, at Bargain Jungle, Brandon also met his beautiful bride, Jennifer, and they are now the blessed parents of two kids.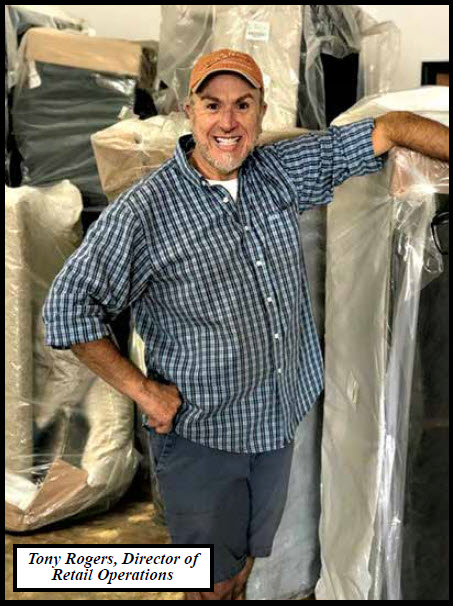 One of my favorite "Brandon stories" sounds like something out of a Frank Capra movie along the lines of "It's A Wonderful Life." It goes like this: There was a man of substantial means in our area who made a point of going into stores dressed, shall we say, "lower than his station." He found that because he did not look like someone who had much to spend, in other stores he was either treated poorly or ignored. Long ago, Brandon made the decision that everyone would be treated the same no matter what they looked like, as though every person who walked into the door had a million bucks to spend. The mystery gentlemen finally revealed his identity and told Brandon his story of how he had been treated elsewhere. The result was the man spent a goodly sum of money on furniture and became a raving fan customer. It was a lesson Brandon never forgot, and something his team has lived by since Brandon purchased Bargain Jungle from the Hill family in 2016.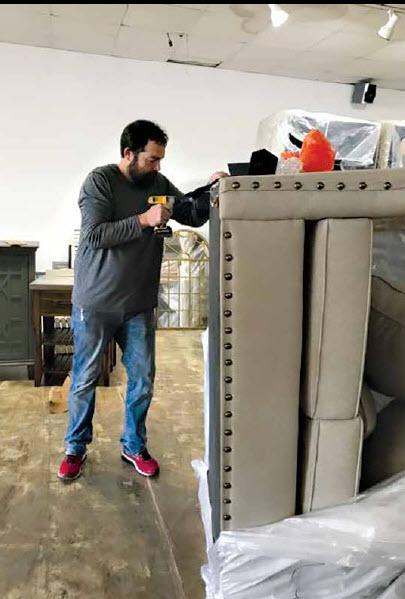 Now for Leah Carter. She was sent by Zach Walker, formerly of Revolved Realty to find items to stage homes being placed on the market. Leah and Zach are on the worship team at Summit Crossing Church in Athens, and Zach told me he just "knew" he needed to ask Leah to join the design team. The remarkable part was that Zach had no idea if Leah was any good at it, and he soon found out that she was. His fateful question was, "Can you stage a house?" She answered in the affirmative, and for awhile, Leah almost felt like she was living at Bargain Jungle because of how quickly the houses were turning. She found both Brandon and Tony to be a great help, and was excited to partner with them. This fall, they all went in together to form Cotton Row Interiors, which now has three locations to serve you. The former-Bargain-Jungle-now-Cotton-Row is located at 1027 US-72 # B, in Athens; the old Gray & Holt building on the Square at 214 Market St. W; and the warehouse is at 1620 Lindsay Lane.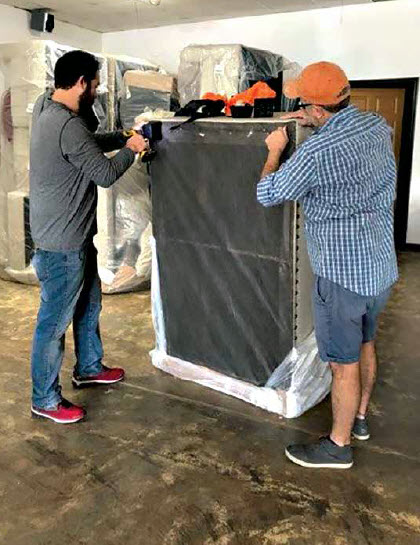 Leah and her husband, Sean, came to Athens 7 years ago to plant the Limestone Campus of Summit Crossing Community Church. They have four kids, mostly teenagers, and Leah has her kids help with all manner of projects. Through Cotton Row Interiors, Leah is able to help with seasonal decorating, home staging, and interior design projects. She loves to add all the personal touches so that a customer is completely pleased. When it comes to their selection, she says, "I want clients to be able to touch it, smell it, sit in it, feel it, look at it, and love it."
I have experienced firsthand how the newly-formed Cotton Row Interiors goes above and beyond to meet customer's needs. For years we have wanted a recliner couch and perhaps a loveseat, and could never find what we wanted either in terms of style or at an affordable price. I am happy to say that at this last sale, which was held at the warehouse, we found exactly what we have been looking for literally for years, and we are grateful.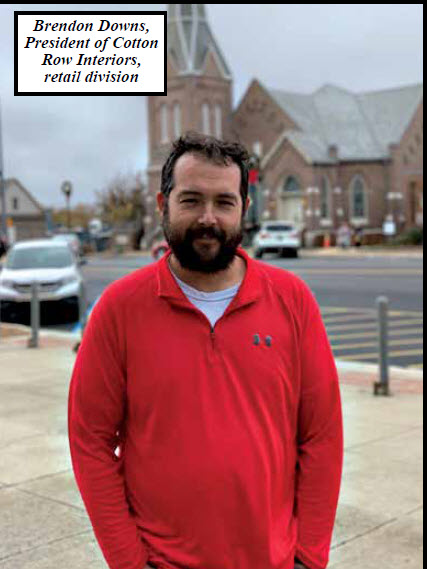 Zach wanted Athens Now readers to understand that Cotton Row Interiors can acquire high quality national brands, imported furniture, lamps, tables, and art work; and they offer design services, delivery, and more at significant savings. He says their mission is to provide "affordable exclusivity." I looked up the word "exclusivity"; the definitions are as follows: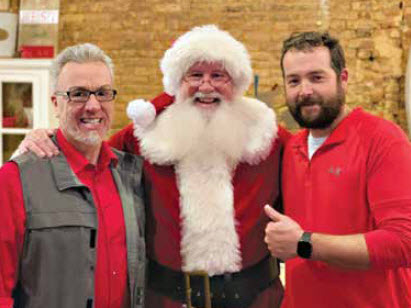 the practice of excluding or not admitting other things. In the case of Cotton Row, that means that what will be excluded is over-priced furniture and less than stellar customer service.
restriction to a particular person, group, or area. The person is you, the group is us and the area is ours.
the state of catering for or being affordable by only a few, select customers.
Now, that last one is the best part. Cotton Row Interiors exists to make sure that "the few" are the many, and that means YOU. Stop by any one of their three locations today and find out what affordable exclusivity is all about. You are in for a pleasant surprise.
By: Ali Elizabeth Turner