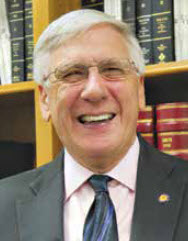 By: Ali Elizabeth Turner

Monday, November 2, 2020, was the day that the government of the city of Athens, AL, was sworn into office and which officially made them ready to serve us for the next four years. It was a ceremony that was both touching and humorous, and became the newest entry on my ever-growing list of reasons as to why I love being an Athenian.
After President Frank Travis opened the meeting/ceremony with an unabashed word of prayer, there were heartfelt tributes expressing the universal sentiment of his colleagues, which was, "Talk about not being able to keep a good man down…" Mr. Travis has remained at the helm despite unspeakable personal tragedy. To see Sharon and Frank later stand together while he was being sworn in, brought a tear to more than one eye. Incoming President Wayne Harper said it best when he noted, "We don't always agree, but we never get disagreeable, and called Frank "a hard act to follow." Councilman Harold Wales said, "I enjoy your prayers, Frank." For his part, Frank quipped with his trademark humor, "There have been sighs and cries, but thank God I survived." Later on, Frank told me that his top three priorities for the next year were, "pavin' and drainin'," dealing with traffic, and finishing the relocating of Jimmy Gill Park.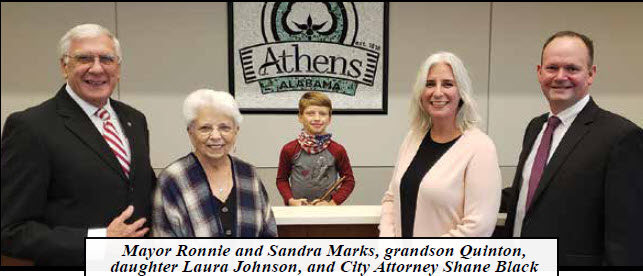 Mayor Ronnie called up his grandson, Quinton, to assist with the Pledge of Allegiance, and was joined by his family later for the swearing-in ceremony. At the end of the meeting, Athens City Attorney Shane Black gave a tribute to Ronnie, thanking him for his leadership and vision during a time of huge growth and changes on many fronts.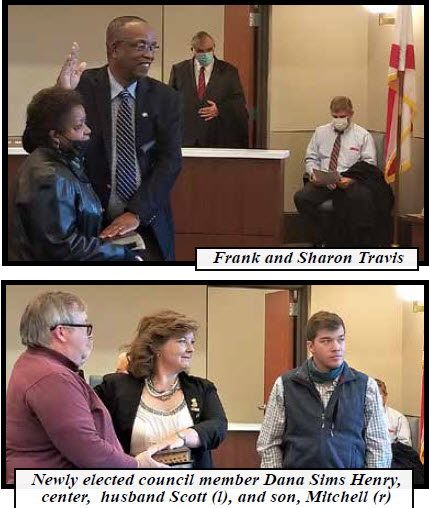 Newcomer Dana Henry thanked the entire council for walking her through her time as a "freshman," and they in turn complimented her for her hard work getting up to speed with regard to the ins and outs of being a member of the council. She is looking forward to the next four years of learning from the more "seasoned" servants.
Chris Seibert was sworn in by Judge Chad Wise, and when I asked him later what were some of the things he especially wants to tackle in the next year, he told me, "The Pilgrim's Pride project; getting that finished, as well as Jimmy Gill Park." Chris also added, "We need to properly manage growth: industrial growth, jobs, and people." Chris will also serve as President Pro-tem.

Each member of the council had the opportunity to choose a judicial official to swear them in, and Judge Don Mansell spoke of his friendship with former Athens Police Chief Wayne Harper, which started in the early '80s when Wayne was an officer and Don was an investigator.
Judge Wise also swore in Harold Wales, and spoke of how grateful he was as a kid to have had Harold for a coach. Mayor Ronnie said of the entire council crew, "We have a wonderful city and a great team," and I for one am looking forward to "four more years" here in Athens, Alabama.
By: Ali Elizabeth Turner