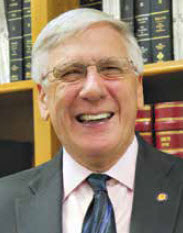 By: Ali Elizabeth Turner
For once I was the first one to our usual Monday morning meeting, and Mayor Ronnie came bounding in, ecstatic over the fact that the Auburn basketball team had made history, and the Tigers are going to the NCAA Final Four for the first time, ever! Now, while the fall football season is in full swing, the mayor favors Alabama, but is always ready to support the SEC at large when it comes to a championship.
The mayor asked me if I was familiar with the 1983 Final Four Championship — the one when the North Carolina State Wolfpack, a true Cinderella team, came from way behind to win it in the last second. The Wolfpack was under the legendary leadership of Coach Jimmy Valvano, and together they made history. We watched a video of the last few minutes of the championship game, and then Mayor Ronnie fast-forwarded ten years to 1993 when Jimmy Valvano, known by most as Jimmy V, was given the Arthur Ashe Award at an ESPN banquet. By that time Jimmy's body was full of cancerous tumors, and he gave one of the most gracious and uplifting speeches regarding living life fully in the face of death that I have ever heard.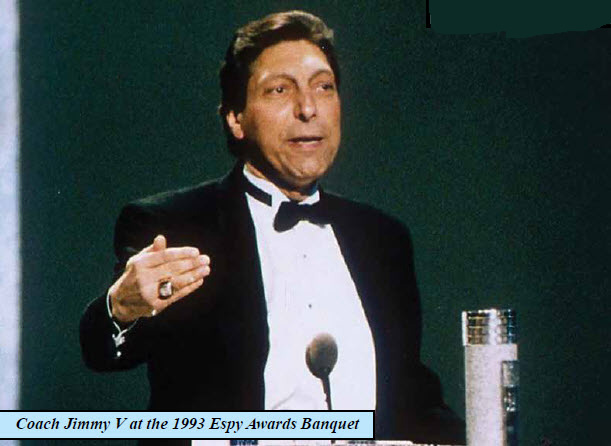 "To me, there are three things we all should do every day. We should do this every day of our lives. Number one is laugh. You should laugh every day. Number two is think. You should spend some time in thought. And number three is, you should have your emotions moved to tears, could be happiness or joy. But think about it. If you laugh, you think, and you cry, that's a full day. That's a heck of a day. You do that seven days a week, you're going to have something special."
Jimmy V finished his speech by saying, "Cancer can take away all of my physical abilities. It cannot touch my mind, it cannot touch my heart, and it cannot touch my soul. And those three things are going to carry on forever. I thank you and God bless you all." He received a standing ovation. He also made it clear that his goal was to live another full year, and at the next Espy Awards season, be the one to present the Arthur Ashe Award to the next recipient. However, he died two months later. In the last year of his life, Jimmy V dedicated his life to raising funds for a cure for cancer through his foundation. Their battle cry was, and is, "Don't give up. Don't ever give up."
Then Mayor Ronnie told me that he felt like Auburn's win and Jimmy V's story were a perfect way to kick off our cancer-fighting season through the various Relay for Life events. The first will be the annual Celebrity Waiter's Night at Applebee's restaurant on Hwy 72. Mayor Ronnie will be joined by Athens High Coach Cody Gross, East HS Band Director Jennifer "Miss Sam" Janzen, Athens City Councilman Frank Travis, Athens Police Officer Michael Stainbrook, and Athens Firefighter Jordan Pugh. April 9 is the night, and all tips earned by the "waiters" go to Relay for Life. There will also be a Relay fishing tournament this month as well, to be held on April 27 at Lake Guntersville. Most people know that Mayor Ronnie lost his brother to cancer when they were young men, and finding a cure is a deep desire of his heart. Bolstered by Jimmy V's legacy, it was now time to pray. Then it was time for Ronnie to roll.
By: Ali Elizabeth Turner