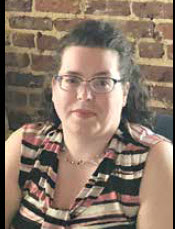 By: Cayce Lee
Fall is here, and isn't it a welcome change, with crisp air and leaves shimmering with colors? This year has been full of loops and hurdles for events and venues – and November is seeing organizers adapting to make their events still happen, including going virtual. Be sure to check the calendars at VisitAthensAL.com for the full details of the events below as well as for frequent updates on your favorite November and December events, and the many others being added daily.
The spooky thrills of Halloween carry over to the first weekend of November. Help contain the zombie outbreak aboard Zombie Assault Vehicles at the Zombie Paintball at Grace Hill Farms on November 6 and 7. Or enjoy a final good scare at Doomsday Haunt's new location in Athens on U. S. Highway 72 at The Doomed Town on November 6 and 7.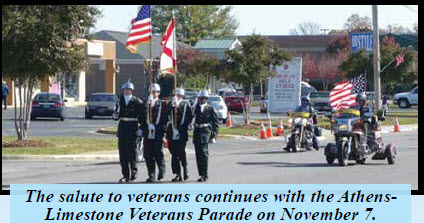 Looking for a little patriotic fun for the family this November honoring Veterans Day? November 7 has the Ardmore Veterans' Group hosting their Chicken Stew Sale. The Alabama Veterans Museum will be bringing the Athens-Limestone Veterans Parade to downtown Athens on November 7.
Coming together as a community is always on the calendar, and November isn't any different. The Steve Smith Memorial Golf Tournament, benefiting Calhoun's health program students, will be happening at Canebrake Golf Course on November 6. The Will Haney Foundation, which supports area families battling cancer, cancer research, and scholarships for graduating seniors seeking a nursing degree, has moved its annual race to the "In It To Win It" 34-mile/34-day Virtual Race celebrating the life of nursing student Will Haney, who lost his battle with cancer at age 34; the virtual race runs from November 1 through December 4. The True Grit Cowboy Church Arena Benefit Auction happens November 14. Piney Chapel Fire and Rescue will be hosting a Swamp John's To-Go Fundraiser Dinner on November 14 to benefit the station. Redstone Harley-Davidson with Heroes for the Homeless will have a Homeless Ride on November 22 dropping off much needed camping and winter supplies to area homeless camps.
If you're beginning to feel the Christmas Spirit, don't miss these events. Athens-Limestone Tourism is accepting tree sponsors for the December event, Athens North Pole Stroll, until the 10th of November. Athens Christmas Open House will be November 20– 22. Ardmore Tinsel Trail is accepting sponsors through November 24.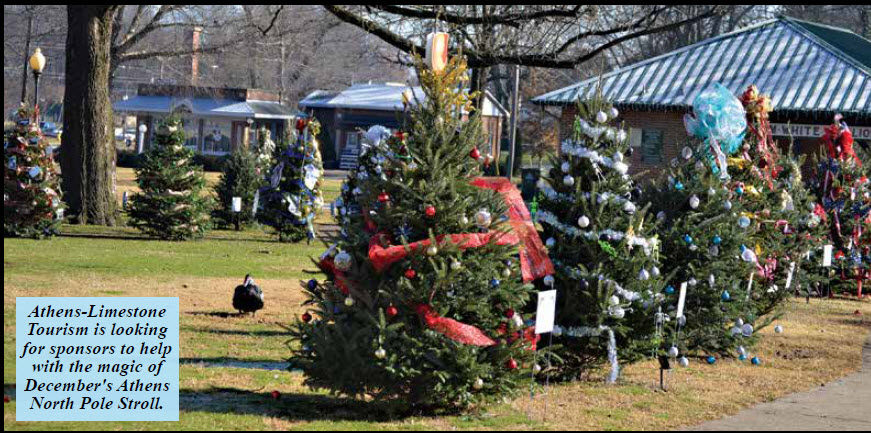 Explore the fall colors by visiting one of our trails. The Richard Martin Rails to Trails, Noah Bike Trail, Swan Creek Greenway, Marbut Bend, and Limestone County Canoe and Kayak Trail are all great ways to get outdoors and take in the colors. The Richard Martin Trail passes through the heart of the town of Elkmont, which is a great place to start and chose a direction to walk, cycle, or horseback your way along the trail. The Noah Bike Trail is on paved roads in Limestone County and the city of Athens and is suitable for bicycles, motorcycles, a Model T, or the family car and has 89-miles of scenic byway to enjoy. The Swan Creek Greenway stretches from the Athens SportsPlex to U.S. Highway 72, with arching branches overhead and babbling creek alongside the trail. Marbut Bend is an accessible trail near Salem-Lester in northwest Limestone County, with a raised walkway over a beaver pond and amazing views. The Limestone County Canoe and Kayak Trail stretches from Veto, TN, to Sportsman's Park at Elk River Mills, with towering bluffs, pastoral scenes, and an amazing abundance of wildlife.
You can always find these and more events and information about the trails on the Athens-Limestone County Tourism Association's website at VisitAthensAL.com. Or you can drop in for a visit to the Athens-Limestone Visitors Center 100 North Beaty Street in Athens from 8 a.m. – 5 p.m. Monday-Friday (except holidays).
By: Cayce Lee
Social Media Specialist, Athens-Limestone County Tourism Association