By: Ali Elizabeth Turner
For many years, the C & R Sheet Metal shop on the Corner of Pryor and Clinton in Athens served the people of North Alabama. They closed a couple of years ago, and the prime location corner property was just waiting for the chance to be re-purposed. That objective has been achieved through the relocation from Elkmont of Vinyl Revival, a shop that carries vinyl records that range from folk to funk.
Keith Montgomery is the owner of Vinyl Revival, and is a native of Athens-Limestone although he spent several years away from the area. He had a career for a while as part of a rock band during his youth. He also played bass for several cover bands, but realized once he married and had kids that it would make sense to come back home to the South. Keith also has owned a custom printing business for years, but his true joy is helping people find that rare record or analog equipment on which to play it.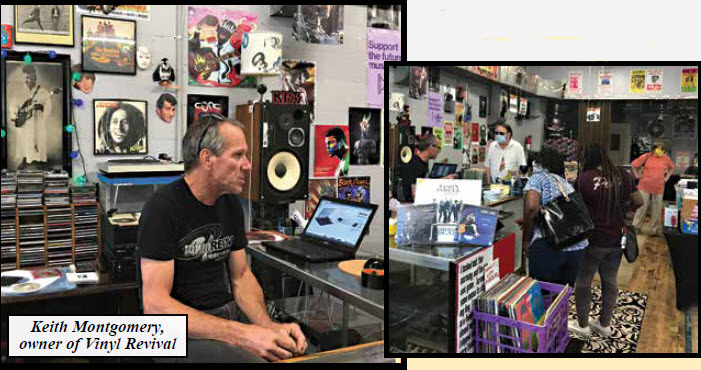 Like many of us small business owners, Keith had his own set of adventures getting through COVID, and needed to find new digs. The old C & R shop was perfect, and he has made it comfortable, quirky, inviting, and eye-catching. There are bright colors, wooden signage crafted by Keith, a small patio and place to sit, posters from Aerosmith to the Blues Brothers, a hand painted door featuring familiar icons from the world of music, and zillions of vinyl albums all neatly catalogued. He literally carries such diverse works as Shostakovich's Symphony Number 8 to classic rock produced by Styx. Oh, and throw in several selections of sacred music while you are at it. It's all there waiting to be explored.
I asked Keith what was different about this shop as opposed to the Elkmont venue. He said, "The customers are more diverse. There are more of them, and they are coming in looking for everything: jazz, classical, children's, R & B. Two high school girls saw the shop for the first time when they drove by and came in, so excited that we are here. It is a blessing," he concluded. While I was there a woman and her granddaughter came in, and the granddaughter was looking for classic Motown and R & B albums. The young woman bought several, including an early album by the Supremes. One included Roberta Flack's "Best Of" album which included her iconic rendition of "The First Time Ever I Saw Your Face," and it was no problem with Keith that singing it in the store was part of the procurement process. The young lady is interested in learning how to effectively operate turntables, and Keith promised both to help her find just what she was looking for, as well as how to get good at running it.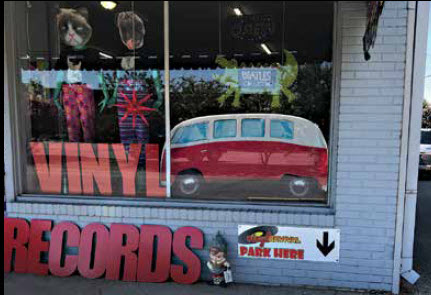 Speaking of procurement, Vinyl Revival garners their inventory from a number of sources. Sometimes Keith goes to estate sales, thrift stores, and yard sales. "One time a guy sold me 8,000 albums, all at the same time," he told me. I asked Keith what was currently the most valuable album in the shop, and it is a rare Steely Dan album valued at $100. You could stay at Vinyl Revival all day and never come to the end of the treasures there. If you are looking for that special album or piece of analog equipment, try Vinyl Revival. But if he doesn't have it, Keith will get on the trail of it for you; and if it can be found, he'll find it.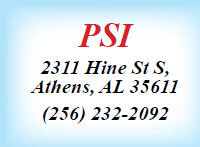 Another feature of the shop is the "room next door," which has been converted into a venue for movies as well as intimate musical performances. Soon he hopes to show art-house films, depending on COVID regulations. Keith will always have a preference for analog equipment and feels that it just sounds better. However, he is adapting to the digital age, and wants his customers to develop the same love for the oldies has he has had for decades by making it more accessible on current platforms. Keith will also help people track down analog equipment for their albums, and does a brisk business in Asia, where analog still reigns. It is clear, however, that Keith has learned that "there's no place like home," and being back in Athens is "just the ticket." If you are looking to find that special "blast from the past," Vinyl Revival is the place to go; Keith Montgomery is the guy who loves what he does, and is ready to help every week on Thursday, Friday, or Saturday from 10 a.m.-6 p.m.
By: Ali Elizabeth Turner