By: Ali Elizabeth Turner
When you walk into Toodlebugs during this fall season, the first thing you are going to see is a rustic dollhouse displayed on an antique table, surrounded by autumn leaves. It was a treasure put together for Jeanette Blackwood by her mother when Jeanette was a little girl. As captivating as it is, it really only inspires shoppers to look through every nook and cranny of the inviting children's shop that is located in a recently restored historical building at 107 Market Street East in Athens. Jeanette works with owner Melissa Anderson as well as Melissa's mom, Maxine Sides, and Linda Rodgers. Together they are a force that loves every square inch of the building, all that is in it, and most importantly, the families that walk through the door.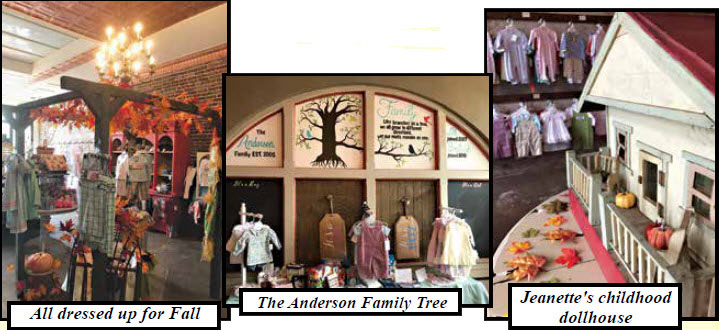 I first interviewed Melissa in 2010 when the business was a gift shop called The Myrtle Tree, and greatly appreciated her heart for children and families. There came a time when Melissa decided she wanted to focus on children's clothing and accessories, and Toodlebugs was born. "Actually, it was my son Will who named the store. He was about six years old at the time, and 'Toodlebugs' was what I called him for a nickname. He said, "Mama, we need to call it 'Toodlebugs,'" and they have ever since.
Melissa loves the building and told me, "It is my dream shop. I wanted a historical building with the old brick, a cement floor, and the feeling of 'Mayberry.' I love the Square — seeing families walking, talking, and shopping together…maybe ending up at Kreme Delight when they are finished." She has filled the place with high quality clothing, toys, and accessories which are reasonably priced.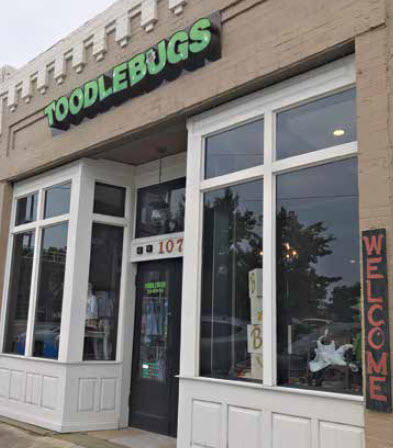 Another thing that is extremely important to Melissa is giving back to the community, and several of her favorite clothing lines have give-back programs where a percentage of the sales go to various non-profits. For example, Mud Pie donates to the March of Dimes, Charlie's Project supports autistic and Downs' kids, and over the years, Toodlebugs has contributed to several local projects. "We not only sell stuff, but we give to kids. A few years ago, we were able to get some I-Pads for the autistic class in Ardmore," said Melissa.
Additionally, Toodlebugs has donated 100 books to the Athens Elementary School library, sponsored work for Kids to Love (which works to meet needs of kids in the foster care system,) has given auction items for Sacred Selections (a faith-based group which helps offset the costs of adoption,) sponsored a beauty pageant for Eli Williams Cure for Childhood Cancer Foundation (where they raised approximately $3,000), and this season they are focused on helping with the Full Tummy Project. The Full Tummy Project is one where kids who are at-risk for hunger are given food to take home on Fridays when they end their school week. "We also collected Easter Baskets for 30 under-privileged kids," Melissa told me.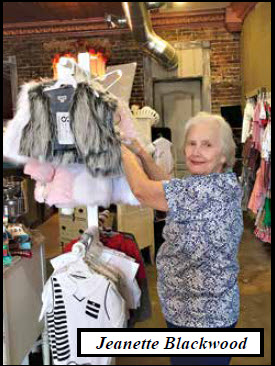 Years ago, Melissa had a goal of becoming a manager for the Alabama Department of Labor, and she has met it. She has been with them for 21 years, but eventually she plans to finish her career there and make Toodlebugs the home of her fulltime career. She has a biological son who is triumphing over A.D.H.D., and a daughter that was part of the foster care system whom the Andersons hope to adopt. Husband Gary is a minister at Salem Church of Christ and has always been a strong supporter of Melissa's work. Toodlebugs was given the Readers' Choice Award in 2017 as Best Children's Store, and back in the Myrtle Tree days, was voted Small Business of the Year in Ardmore.
I asked Melissa what was new this season, and she talked about a line called ML Kids, which come in separates. They are high quality, trendy, reasonably priced, and are made to mix and match, which helps to stretch a back-to-school budget and still look adorable."Three outfits become nine outfits," said Melissa. Toodlebugs' most popular baby line is Kissy Kissy; one of their best-selling shoe lines is L'Amour, and Ruffle Butts (for girls) as well as Rugged Butts (for boys) are also hot items. Their heirloom line is handmade and called Sarah Louise. As a matter of fact, Prince George, Princess Charlotte, and Prince Louis of England have been seen several times in clothing by Sarah Louise. The smocking, embroidery, hemming, and attention to detail is a throwback to beautifully crafted children's clothing of yesteryear.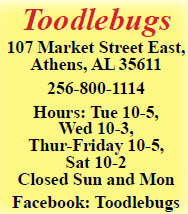 "We try to strike a balance between trendy and traditional," said Melissa, and as far as toys are concerned, she is a long-term Melissa and Doug Fan. She finished our time by letting me sample some skin lotion for kids that is called Noodle and Boo. "It has a soft feel and fragrance," she said, "and all of us here in the shop use the Elasticity oil on our own faces."
Toodlebugs also has a baby registry that is one of the most important services they offer, and they love to serve children, families, parents, grandparents, and people who are looking for "just the right gift." Come see them today as a customer, and leave as a friend. Be sure to be on the lookout for plans later this fall to celebrate their anniversary!
By: Ali ElizabethTurner