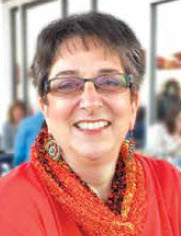 By: Lynne Hart
Christmas is a time to gather with friends and family. It is a time for laughter, lots of food, and plenty of gift exchanging. The KALB staff and commission members wish you the most wonderful holiday season!
What may not come to mind when we consider the holidays is the amount of waste that is created. Holiday cards fill our mailboxes. Approximately $2.9 billion in wrapping paper will be used and discarded in the United States. Amazon alone ships an estimated 608 million packages each year which equates to 1,600,000 packages a day. Add in all the other stores shipping items across the country during the holidays, and it adds up to a LOT of cardboard headed to the waste stream!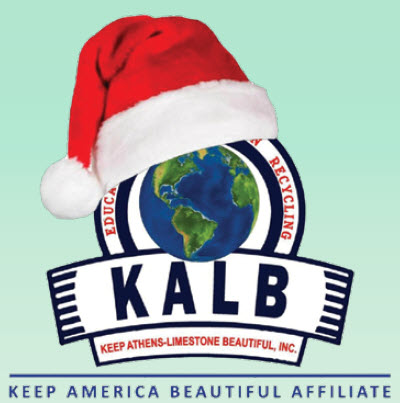 The addition of glass bottles and jars, plastic containers, aluminum, and cooking fats/oils/grease (FOG) to the waste stream will increase during the holidays as well.
Let's be mindful now and throughout the year of the natural resources used to create these items. The number of trees cut down to create the cardboard boxes, wrapping paper, and Christmas cards alone is huge! We can spare 17 trees from being cut down for every ton of paper products we recycle! Every little bit matters!
There are some things we can do to decrease the waste we create. Here are a few examples:
Wrap gifts in cloth sacks or scarves, dish towels, or pillowcases that become part of the gift.
Forget the foil wrapping paper and use plain paper that can be recycled.
Decorate packages with candy canes, or other usable items, rather than ribbons and bows that are not recyclable.
Remove all ribbons and bows from packaging before recycling.
Save this year's holiday cards to use as gift tags and decorations on next year's packages.
Decorate with winter berries, holly, and evergreen that can be given back to nature after the holidays.
Purchase a living Christmas tree that can be planted, if you have a place for it.
Choose gifts that create experiences, give of your time and talents, or can be consumed.
Avoid gag gifts that will eventually find their way to the landfill.
There will inevitably be waste we can't avoid. We should, however, be sure to recycle all that we can. Here are some guidelines for recycling at the Athens-Limestone Recycling Center, a division of KALB.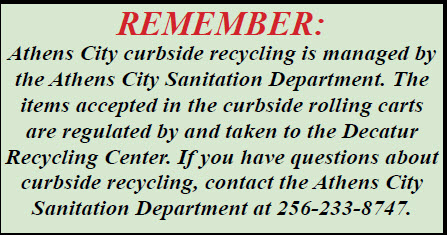 ACCEPTED ITEMS (* indicates materials also accepted at County Community Collection Centers)
Plastics: #1, #2, and #5 containers such as water and soda bottles, milk jugs, juice bottles, laundry soap and shampoo bottles, and more.
Glass: Any color bottles and jars ONLY. No other glass/ceramic items are accepted.
Aluminum: Aluminum cans and scrap aluminum. Wash aluminum pans and foil before recycling.
Metals: Metal food cans and scrap metals.
Paper: Newspaper, including all inserts, junk mail, magazines, phone books, hard and soft-covered books, and mixed paper are accepted. If it tears, it's recyclable.
Cardboard: Please break down boxes to save space in the recycling trailers and bins. They fill up very quickly!
Electronics: Any item that runs on batteries or electricity is accepted at our center. There is a $10 fee for TVs; all others accepted free.
Cooking Oils: All cooking fats/oils/grease (FOG) are accepted. Containers are provided free at the Recycling Center, KALB office, and Athens Utility building.
Motor Oil: May be poured into the collection tote to the right of the recycling center building, or it can be left in a container with a secure lid.
If you have questions about something that is not listed here, please call the Recycling Center at 256-233-8746. DO NOT leave items you are unsure of as this is costly to our non-profit center in time spent and disposal costs.
By: Lynne Hart
Executive Coordinator – Keep Athens-Limestone Beautiful