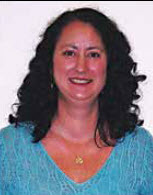 By: Holly Hollman
After performing a Birmingham show a few years ago, The Secret Sisters met a group known as The Shakes.
Duo member Laura Rogers said "these kids" approached her and her sister Lydia Slagle with a burned CD with the group's name handwritten with a green Sharpie. The group offered to open for The Secret Sisters.
Rogers said because of touring, it was a month or two before they listened to The Shakes' CD. Once they listened, The Secret Sisters knew the group had a great sound. A few months later, The Shakes morphed into The Alabama Shakes receiving worldwide acclaim.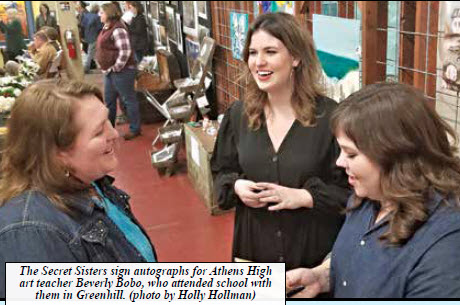 "We're going to take them up on that offer one day," Rogers laughingly told fans on Saturday, Jan. 26, during a concert hosted by Athens Arts League at Athens State University's McCandless Hall. "We still want them to open for us."
The Grammy-nominated duo The Secret Sisters hail from Greenhill, Ala., where the support of a music-based family helped propel them into their music careers. During a pre-concert interview, they talked about how they had limited access to music-related curriculum.
"We were both in marching band and loved it, but you can't take that and have an adult career with it unless you are going to teach band," Rogers said.
If a community and its schools do not have art-related opportunities for youth, and families cannot afford lessons and are not musically inclined, that limits a child's resources, Rogers said. She said some students go outside of their community to gain access to training, lessons and other opportunities.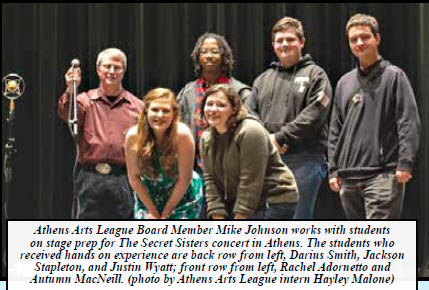 "Any place where you can invest in the youth of the community, it's the most important investment," Rogers said.
"(Students) are the minds of now and the minds of tomorrow," Slagle added.
Slagle and Rogers commended Athens Arts League and the community for supporting visual and musical art opportunities. For their Athens concert, five high school students from the city and county schools and a college intern participated in stage setup, photographing the event, selling merchandise, event prep and interviewing the performers.
Slagle said the popularity of this area's music means those interested in music-related careers need to "strike while the iron is hot."
"There has been a surge of people coming out of North Alabama like Jason Isbell, Alabama Shakes and Anderson East," she said.
Rogers said there is "something about being from here geographically that makes for a different kind of music."
"When that music gets somewhere on a national or international level, people see that all of these bands are from this one spot in the world," Rogers said. "Kids are inspired by Jason Isbell, Anderson East and Alabama Shakes. Those kids need a place to go, a platform, encouragement, a push so the legacy of Alabama music is as special as it always has been."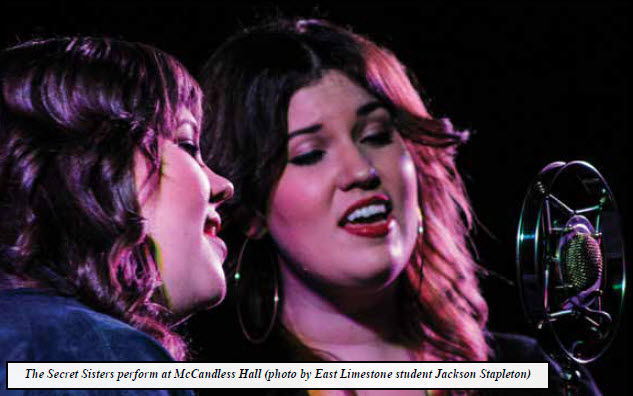 Slagle said the Tennessee Valley is "right in the hub of all of it" from blues to country to Appalachian music. Her sister added, "We are the melting pot of all good things that are music."
Both said those interested in a music-related career need to build their talent but also understand the business side of the field because that is where most people fail. Giving students hands-on experience for events like their concert help cultivate that learning.
While in Athens, The Secret Sisters visited High Cotton Arts, a downtown visual art incubator operated by Athens Arts League. They also learned about Scout Music House, which Athens Arts League is renovating into a musical venue that offers hands-on experiences for students.
"Having that kind of resource in your area as a young person is vital. There are so few places where kids can go and do something creative and meaningful in a safe and productive environment," Rogers said.
For The Secret Sisters, music is an outlet and a way to express their life experiences, something that students can learn to develop.
"We don't know how to process struggles, heartbreak and loss without writing about it," Rogers said, adding that many of their fans have experienced similar things.
By: Holly Hollman – City of Athens Communications Specialist