By: Katie Clark
A new service is now available at Athens-Limestone Hospital. The Right Choice, an addiction withdrawal treatment program, began accepting clients on July 1. The much needed treatment program welcomes new patients and offers hope and healing for those battling addictions.
"We hope to reduce the stigma of addiction," said Selisa Williams RN, the coordinator for the program. "We hope to assist people on their journey to sobriety."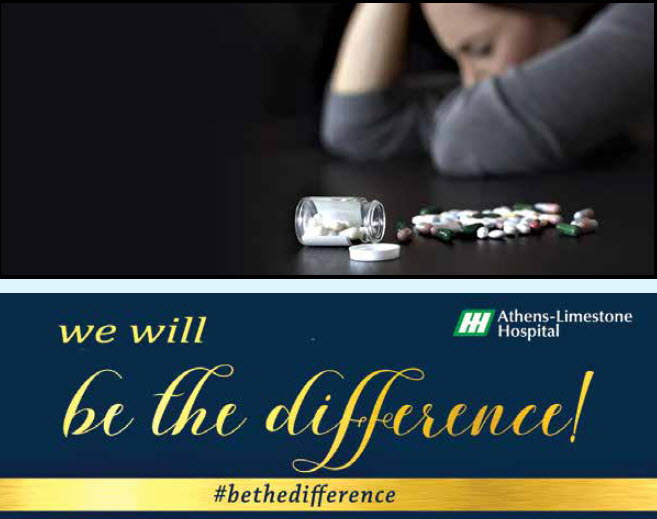 The program was created when a demand within the community was identified following a strategic analysis of the area. Athens-Limestone Hospital treated nearly 900 patients in 2018 whose diagnosis was associated with some form of substance abuse. In less than a decade, the overdose deaths in Alabama have increased by 82%. For the second straight year, US opioid deaths have led to a nationwide decrease of overall life expectancy, according to the CDC.
Right Choice Addiction Withdrawal Care assists adults in the withdrawal process from:
Opioids
Alcohol
Cocaine
Benzodiazepines (Xanax, Valium)
Combined Substances
"We thought, 'Let's do something about this,'" said Selisa. "Let's be proactive instead of reactive."
The program is intended to be the first stepping stone on the path to recovery. Patients can call or visit the hospital to be evaluated for their need for treatment. Once approved, they will be admitted to the hospital to begin this journey.
Patients will be cared for by doctors and nurses just as any other patient in the hospital. Addiction is considered a chronic disease process, and the nurses at the hospital have been trained to offer care with the same urgency and compassion as any other disease.
Once the withdrawal treatment is completed, Right Choice will work with patients to create a discharge plan so they will know what to do once the withdrawal treatment is done. Plans are highly personalized for each patient. For some, it might include enrolling in a rehab center or sober living facilities for thirty or sixty days. For others, it might include getting help closer to home, such as receiving intensive outpatient treatment or joining a 12-step recovery support group. Life circumstances, prior commitments, and finances can all be taken into account.
"We are hoping changes come to our community," said Selisa. "We are working on getting more help in the Athens area."
Right Choice will work with local outpatient centers to get their patients continued support, as needed.
When asked what motivated her to participate in this type of program, Selisa passionately described her desire to guide patients battling additions in getting the help they need. "I want to help the community. There's a need for it."
As with anything else in life, taking that first step is vital. "At Right Choice, we want to help patients take that first step, which is withdrawal treatment," said Selisa, "After that, we will help arrange discharge needs, work with the insurance companies, and consider lifestyle needs."
Patients can refer themselves to the program by calling, or they can be referred by family, friends, and even employers. The Right Choice works with a wide selection of insurance companies as well as private pay.
The Right Choice is located inside Athens-Limestone Hospital. For more information or to refer a patient, contact them at (256) 233-9542.
By: Katie Clark