By: Ali Elizabeth Turner
Jason Santo and Bridgette Brown served honorably and built successful careers in the US Army. They have been stationed all over the world, including Iraq and Afghanistan. When the time came for them to retire, they had as one of their top goals to become franchise business owners with a parent company whose focus is both serving the community and "giving back" generously.
"We researched several franchises and knew that UPS was 'the one' when we saw how they emphasized the importance of supporting the community," Jason told me. He, Bridgette, their family, and their newly hired crew are putting the final touches on the store, which is located on Hwy 72 just a few doors down from Starbuck's. The address is 1260 Hwy 72 E, Ste B in Athens, and on June 22 they will be fully open for business. Their grand opening and ribbon-cutting ceremony with the Chamber of Commerce will be soon, and the date is yet to be announced. It will be sometime in the next 60 days.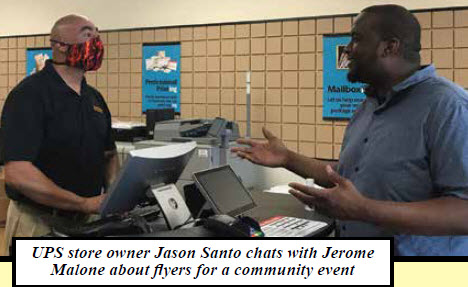 Jason and Bridgette consider the opportunity to own and operate a UPS outlet to be nothing short of miraculous, as the corporation had absolutely no plans to open anything in Athens. Jason did his research on the growth forecasted for Athens-Limestone County, and, as he puts it, "sold the [UPS] corporation on the city." Like the rest of us, they know that Athens is a special place, and they want to be a part of a viable franchise in a thriving city. We talked at length about the "awesomeness" of Athens, and Jason told me, "You can just feel it." The other miracle was how his recently-hired staff "found" him. "All we need now is one more full-time person, and we are set," said Jason. The crew trained this week, and they can't wait to serve you!
"We really want people to understand that our choice to go with UPS was not based on finance. More than anything, we wanted something that allows us to get into the community. It's a have-to," Jason said. By that, he means that he and Bridgette can't be happy if they can't serve in a significant way, and Jason particularly loves the UPS ads that say, "We do every 'ing.'" (If you have seen the TV ads, the list of services is hilariously endless.)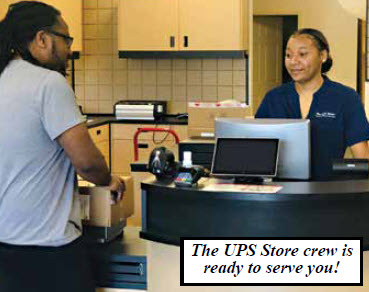 So, what does a UPS store in general, and the Santos' shop in particular, do to serve the people of Athens? In a word, Jason says that they are "your small business solution." UPS is already well known for giving the USPS a run for its money in terms of on-time deliveries, prices, and service. The price of a UPS mailbox is comparable to one at the post office, and instead of a PO Box, you get a real address. The access to the mailboxes is protected after hours, and you can get your mail 24/7. That is only one of the many services offered by their store. The store packs, ships, does printing, makes banners, and can assist you with marketing campaigns, large and small. They can help you with recruiting for your own business; they provide notary service, and can help with accounting, expense tracking, direct mail, financial services, telecommunications, and even business coaching. Just remember, whenever you see the famous brown UPS truck out making deliveries, the company that is behind that driver in the brown uniform has the ability to highly impact your success as a business owner, and surpassingly meet your needs as an everyday consumer.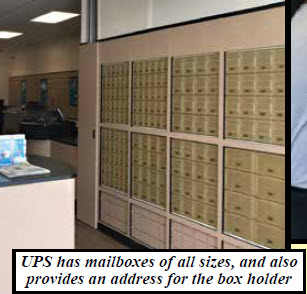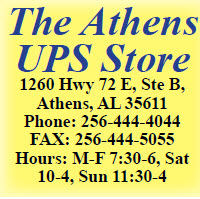 As retired Army veterans, Jason and Bridgette wanted whatever business they entered to be highly supportive of present and former members of the armed services. I also heard Jason discuss with Splash of Ink shop owner Jerome Malone ways that they can help Jerome and his wife Tiffany advertise a project they are planning with the intent of bringing healing and reconciliation to our whole community. It was a joy to watch these guys fellowship, and listen to their dreams to do good for Athens by doing well in their respective businesses. Jason and Bridgette want to help schools, churches, civic groups, businesses, anywhere with anyone and anything that is consistent with the Golden Rule.
"We want to be a part of the community, and when you support me and us, you support the community," Jason told me. And that is really how it works. What goes around comes around, and you will find that Jason and Bridgette's commitment to serve others will give you a chance to join them in making Athens even more amazing. Stop by and see just what I mean!
By: Ali Elizabeth Turner