By: Ali Elizabeth Turner
In 1987, Sylvester Stallone's movie, Over The Top, caused the timeless and somewhat organic sport of armwrestling to enter a new era, complete with professionals, paychecks, and PR. There is a World Armwrestling League, which has headquarters in Chicago and rules by which competitors must abide. After the movie's release, armwrestling took off and "became a thing" in many parts of the country, except here in the South. Then, about seven years ago, Brendon Lewter was talking with a friend from work on the way to do a job in Decatur, and they brainstormed about bringing it here. Life happened, and the idea stayed on the back burner while Brendon built an ancillary professional career doing all manner of strength competitions. The guy has won titles by doing such things as dead lifting tractor tires, weights, been a Strong Man champion, has been on TV, and also broke his back. He is a determined competitor, as well as someone who has worked very hard to get his back healed. When Brendon was in the Marines, he served in Iraq; and let's just say his arms say it all, both in terms of tattoos as well as sheer size. Recently, he and his friends reconnected and decided to form GRIP Events, and the inaugural armwrestling event will be held at Workout Anytime Athens from 8 a.m. to 8 p.m. on October 26.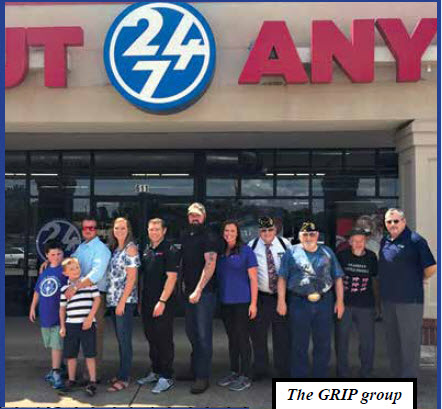 I spoke further with Brendon and he shared that several things motivate him to do what he does. One was that his own mom had her first heart attack at the age of 40, and he saw firsthand what happens when someone does not actively build their health. He took care of her until her death, and it was hard on him. As a result, he describes himself as having been motivated to build his own health not because of her illnesses, but something stronger, and that's being "determined." When Brendon uses the word, it means that it's a done deal. He is a Tennessee resident who loves Athens, is a graduate of Ardmore High School, and has a fierce heart for veterans, especially those who have been wounded in combat or are disabled.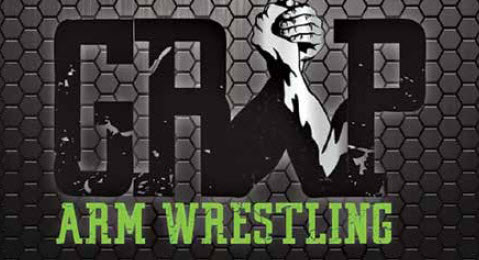 The GRIP Events team has decided to donate a portion of the proceeds from the October event to the Disabled American Veterans. There are sponsorships available that range from $250 to $4500, and for more information on sponsoring or signing up to compete, you can stop by the Workout Anytime Athens, located at 611 US-72 near Big Lots. You can also contact Ali McMullins at 256-374-5647, and Grip Events' email address is griparmwrestling@gmail.com. They can also be found on Facebook, and be sure to type in "GR1P Events," (with a 1 in place of a capital I) when you key into the search bar. GRIP Events wanted the people of Athens to know that Workout Anytime has a commitment to give back to the community, and thanks the fitness club for being willing to house the event.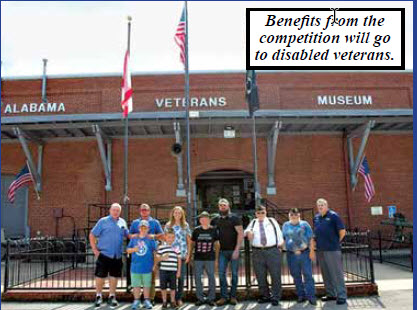 Ali McMullins of the GRIP Events team recently told me that this competition is not just for people who look like Brendon. "Kids can compete, and so can women," she said. The event is also regulated. There are special tables that have padding and pegs for gripping. There will be judges who will strictly go by World Armwrestling League (WAL) regulations. There are rules about having one foot on the floor at all times, as well as how to use the pegs. You can also compete in the event by either sitting or standing, but again, there are WAL rules for that as well, and the judges will be watching.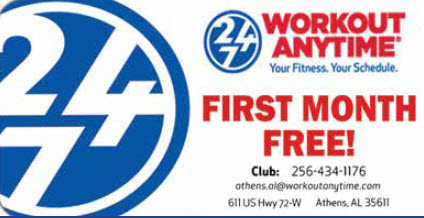 Ali also told me that because of sponsorships, there will be some generous cash prizes. "The individual adult trophy winner will receive $100, and the winning teen will receive $75. There will also be some promotions on the Facebook site, so check there often, and more so as the 26th gets closer. The entry fee to compete is $45 for adults, $25 for teens, and you can register the day of the competition. The Disabled Veterans of America Chapter 51 will be on hand at Workout Anytime to help set up booths, and there is room for more vendors. Come be a part of the history of Athens and the South on October 26, and join in the GRIP Events Inaugural Armwrestling Competition! You'll enjoy a competition whose focus is to give back to our veterans, and have a hollerin' fun time while you do!
By: Ali Elizabeth Turner