By: Ali Elizabeth Turner
In 2013, Jessica Pratt-Miller, owner of the Broken Brush Studio on the east side of the Square, had one of those "straw-that-broke-the-camel's-back" moments that eventually led to her opening her bustling shop with the cheery green and black sign. The "Broken Brush" moment mentioned above occurred when Jessica was teaching an art class in Decatur and her favorite brush, her "teaching brush," broke. "That symbolized my life at the time," Jessica told me, and she mentioned further that she went outside and wept her heart out. She found, however, that staying creative was one of God's graces that got her through that dark time. In 2013, her traveling art business was called "Creative Canvas." She first opened Broken Brush on Market Street in 2014, and then moved to its present location in January of 2017.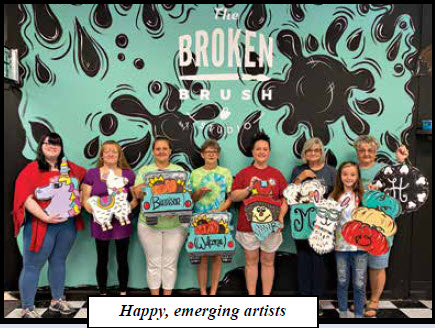 Art of all types had always been a part of Jessica's life and her family's legacy. Jessica worked as a jewelry designer from 2009-2014. Her mother, Lisa, is an artist as well, and her grandmother, Minnie Self, has been at it for 55 years. Long ago, Jessica's grandfather, Joe Self, built his wife a kiln, and in the summers, Jessica would make pottery with her grandmother.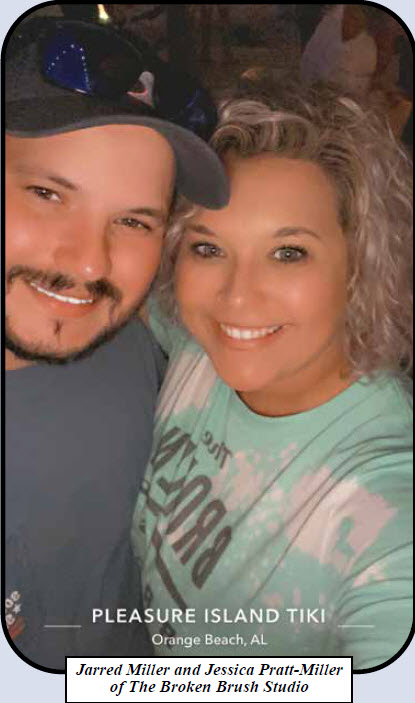 In 2018, Jessica married Jarred Miller, and their blended family includes Emma, Tyson, and Jarred's little guy, Brier. The Pratt-Miller family including Lisa is involved in running Broken Brush, and they have witnessed miracles when people are able to experience the pleasure and relief of creating something beautiful. That 'Look-Mommy-at-what-I-made' feeling doesn't go away just because you are 30 or 80, and Jessica told me that one of her favorite things about operating the Broken Brush is "seeing them leave here knowing they did that themselves." There have been people who have come in that were going through extremely difficult things in their personal lives, and having the chance to create something with the help of someone who understands how powerful the therapy of art can be greatly lifted their spirits.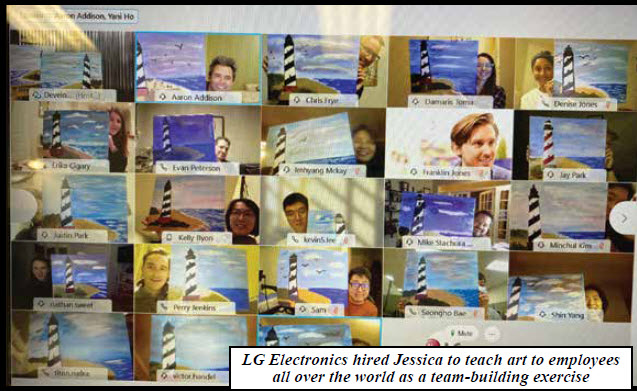 Broken Brush features painting and ceramics classes of all sizes and types. Jarred uses CAD software to cut out the wooden figures, and currently there are all kinds of Christmas ceramics just waiting for a creative touch and then being fired in the kiln. They do baby handprints and footprints, have classes for preschoolers, do Kids' Camps, and their oldest student to date is 80 years old.
Recently, Jessica went global by teaching her first online class for LG Electronics. Employees from Canada, Hong Kong, and the US were taught step by step how to paint a picture of a lighthouse, and the exercise was a team-building endeavor that brought a smile of creative satisfaction to each of the students.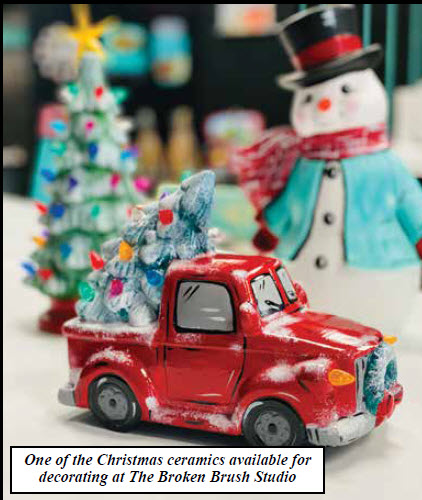 The Broken Brush Studio has also been asked by the Greater Limestone Chamber of Commerce to offer outdoor classes this weekend during the annual Christmas Open House on Friday and Saturday, November 20 and 21. They will be located right next to the ice-skating rink, and prices will start at $15. You and your kiddos can create a Christmas memory while you are watching the skaters. Hours for the outdoor classes will be 10 a.m.-6 p.m. both days.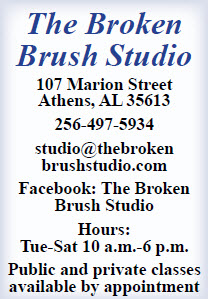 If you have no experience at all, you are in good company. If art has always been a part of your life, you can take private lessons to improve your skill. The Broken Brush is perfect for parties, and you will provide your own food and beverages. Most sessions are two hours, and the costs are dependent on the type and size of item that is being painted. Classes start at $15 and go up to $100.
Jessica, Lisa, and Emma's secret with their students is to help them break down the project into manageable portions and as Jessica says, to "trust the process." That means to believe that the teacher knows how do "draw forth" your creativity and give hope. The added benefit is that Broken Brush Studio also helps to build community. We are coming up on the holiday season, and the Christmas Open House on the courthouse square is this weekend. You owe it to yourself to check out what is offered at the Broken Brush Studio and either take the creative plunge yourself, take it with a buddy or a group, or give a session as a most unusual and welcome Christmas present. You'll leave having had fun and having something to remind you of your courage.
By: Ali Elizabeth Turner