By: Ali Elizabeth Turner
There is a chill in the air and it's time to begin thinking about your plans for the Christmas season. The Greater Limestone County Chamber of Commerce and Athens Main Street are excited to host the annual Athens Christmas Open House coming up November 22-24. This is a wonderful Christmas event you don't want to miss. Our local merchants are geared up and ready for the holiday shopping season and are ready to help you tackle your Christmas list. And, several merchants will be serving holiday refreshments and offering holiday discounts and specials in honor of the Christmas Open House weekend. Thanks to our wonderful partnership with the City of Athens and the Limestone County Commission, Christmas Open House will also once again feature Skating on the Square and the Blizzard Bash located on Marion Street, directly in front of the Limestone County Courthouse. Skating on the Square hours are Friday, November 22 from 4-8 p.m., Saturday, November 23, 11 a.m. until 8 p.m. and Sunday, November 24, 1-4 p.m. Skating costs $5 per skater. The Blizzard Bash will take place periodically during skating hours, and a special thanks to Delmore Mortgage for their sponsorship of the Blizzard Bash.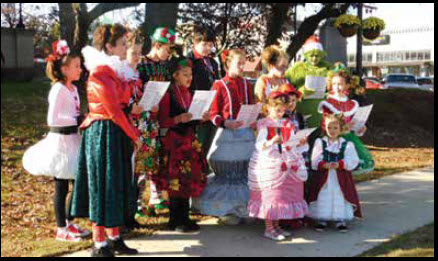 There is an exciting new addition to Christmas Open House this year, Santa's Workshop, located in the Gray & Holt building on Market Street. Thanks to a wonderful partnership with Cotton Row Companies, Santa's Workshop will feature several holiday activities throughout the weekend. Activities include photos with Santa, a visit with Mrs. Claus, and a meet and greet with holiday characters. Photos with Santa will take place Saturday from 1-3 p.m. and Sunday 1-3 p.m. and the cost for photos is $10.
Cookies and Storytime with Mrs. Claus will take place on Saturday and Sunday at 3 p.m. Space is limited, so please keep this in mind if you are planning to attend this event. Character meet and greets will take place Saturday from noon-1 p.m. and from 5-6 p.m. Also taking place at Santa's Workshop is the Merry Market, featuring local home-based businesses with their holiday pop-up shop. The Merry Market is a popular part of the Open House, and provides a way for shoppers to find items that are unique, and for vendors to build relationships with their customers while displaying their wares. There will also be complimentary gift wrapping available for all Christmas Open House shoppers. Any purchases made during Christmas Open House with a participating merchant will be eligible for complimentary gift wrapping courtesy of Pimentos.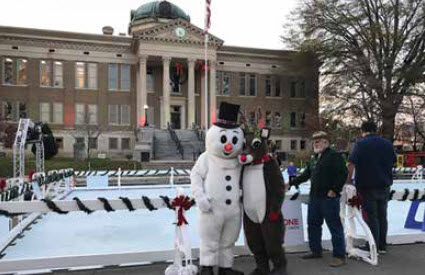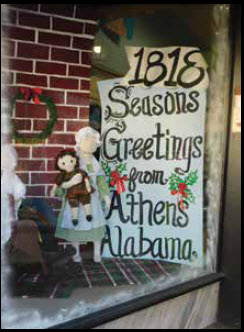 Other entertainment activities during Christmas Open House weekend include local carolers and musicians who will be strolling around downtown and popping into stores singing classic carols and holiday jingles for all to enjoy while they shop. Christmas Open House would not be Christmas in the 21st century without the chance to see a beautiful light show on the Limestone County Courthouse synchronized to Christmas music on Friday and Saturday evening at 8 p.m. You can also enjoy local merchants' Christmas window decorations as many of the merchants will be competing in a decorating contest sponsored by Athens Main Street. This year's window decorating theme is "Your Favorite Christmas Song." The winner of the window decorating contest will be announced following the Sippin' Cider event held later in December. And, we can't forget to talk about the beloved Athens Lions Club train. Our local Lions Club is a wonderful partner of Christmas Open House and offers free train rides for the little kiddos. The Lions Club train will be located at Jingle Bell Junction on Marion Street, right beside the skating rink.
We also have several merchants participating in Christmas Open House who are not located in downtown. Those merchants still get in on the holiday fun by participating in "Elf On The STORE Shelf." Each merchant off the Square will have an elf hidden in their shop. If you find it, bring your elf to the Chamber on Monday, November 25 to receive a special prize. This year Hobbs Jewelers will be the sponsor of the Grand Prize, and the drawing will be on Sunday, November 24. Each Open House participant will be able to fill out a registration form for the drawing at each of the participating Christmas Open House merchants.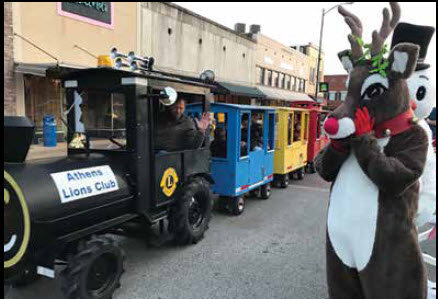 Come join the Chamber, Main Street, and our wonderful merchants of Athens on the weekend of November 22-24, and start off your holiday in an atmosphere that is cozy, friendly, and relaxed. Christmas Open House is a great way to support our local businesses. They are the heart and soul of this community. Always remember to shop local first! See you there!
For more information, please call the Chamber at 256-232-2600, or email them at info@tourathens.com.
By: Ali Elizabeth Turner