By: Ali Elizabeth Turner
From June 3 through June 7, area kids ages of 13-18 are going to have the chance of a lifetime to get safely up into the air and discover the joys of flying. The camp is being run by John Besherse and Judith Burleson of Learjetjohn Aviation, and I have rarely seen adults more excited about the prospect of spending a week with teenagers! The school's tagline is "Changing Attitudes with Altitude," and I can't think of a more powerful way to take the truth of that statement out for a spin than at an aviation summer camp.
Both John and Judith are relative latecomers to flying, and to say that they are "hooked" is an understatement. John was a graduate of Athens Bible School, and worked at Steelcase for 23 years. He had always wanted to fly, had never been up in a plane, and one day walked on the field and took a lesson. He knew instantly this was what he would do for the rest of his life. He got all required licenses, and now flies a corporate plane and runs the flight school. Judith was a student at Calhoun when she decided to take a Discovery Flight. It was so awesome, she couldn't think of anything else. Later in the evening as she tried to complete a presentation on Steve Jobs, which was due the next morning for her literature class, her mind kept wandering back to that flight. With only 8 hours left to finish the presentation, she stopped and wrote about the Discovery Flight instead. When she presented it the next morning, her professor could see that Judith had tapped into something she was passionate about, and she got a great grade.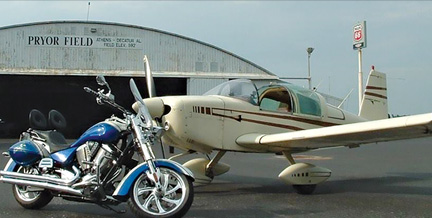 Neither John nor Judith expected life to take this kind of a turn. Through dedication and hard work, as well as the support of their respective spouses and families, Learjetjohn Aviation is beginning their fifth year in business. The flight school has grown to include four instructors, several students who have completed their training and gotten their pilot's licenses, and others who are working to get a license or add a rating to their current license.
The 2019 Learjetjohn Aviation Camp will be June 3-8, from 8:30 a.m.-12:45 p.m. and lunch is included. Attendees will get two airplane flights at the controls under the guidance of a seasoned instructor!
Five days of ground school will include:
*Introduction to career opportunities. Aviation offers many opportunities in piloting, engineering and mechanics, airport operations, and aircraft manufacturing.
*Ground school covers airplane engines, instruments and aerodynamics.
*A Rockstar tour of the airport FBO, maintenance facility and hangars. Learn about communications, radio procedures, and avionics
· *Weather and aviation maps. Safety ground school.
· *2 airplane flights with ATC communication and avionics experience. Flight time will be recorded in your very own log book.
On June 5 at 11:00 a.m., guest speaker, Retired Air Force Lt. Colonel Ed Yeilding will add an extra element by talking about his distinguished career as an SR 71 Blackbird Pilot. He is a decorated veteran who set the coast-to-coast speed record in the world's fastest flying airplane!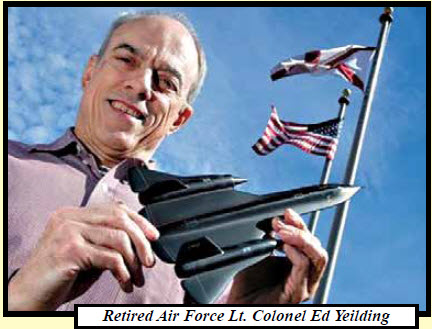 All this for only $699! Seats are limited!
To register or for info, call or message Judith
256-777-8625
Judith_learjetjohn@aol.com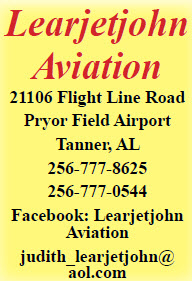 The following is a quote from the brochure, but I had the chance to talk at length with John and Judith, and hear their heart that resides in "the back story," and I'll share that in a moment. All you have to do is see how John's face lights up when he talks about flying medical missions, especially to Haiti, and you'll "get it."
"Learjetjohn Aviation's Summer Camp is designed to encourage and inspire students to pursue careers in aviation, ranging from piloting to aviation management, engineering and mechanics. Each topic will be presented by instructors with over 100 years of combined firsthand experience. Students will have their questions answered by professionals in their prospective field. They will leave with the understanding of what aviation is really about, and be prepared to make an informed decision as to whether aviation is the right fit for them. Should they decide to pursue a pilot's license, Learjetjohn Aviation will help them achieve their goals."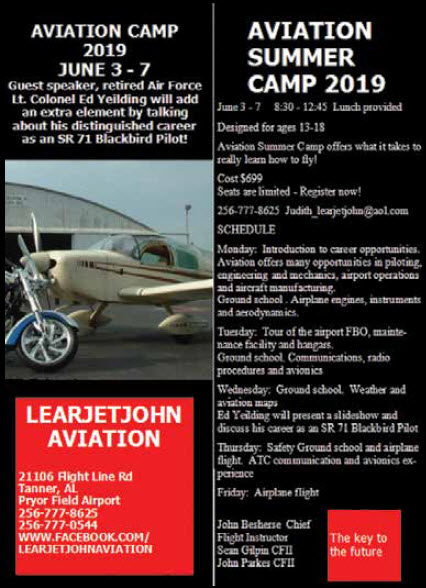 John spent several years coaching kids in sports and loved it. He found that there was just something special about 13-16 year olds. Judith has a deeply soft spot as well, but the secret to their heart is found in "changing attitudes with altitudes," which also serves as the school's vision statement. Of course, they are wanting to groom the next generation of aviation professionals—nobody's getting any younger, and everybody in every profession needs to have a vision to hand off the baton smoothly. But at its core, it is how their own lives were profoundly changed, the self-imposed limits that were annihilated, the teambuilding, and learning to follow instructions that can be life-or-death in terms of the consequences, contrasted with learning to trust the plane, their instincts, and God — that is what drives them. In short, it is the sheer love and respect for the air and the airplane. If that is something that you want your child or grandchild to have a chance to experience, then contact Learjetjohn today to complete your enrollment. There is room for 50 kids, and it's filling up. I will close by saying, if I were 13, this is definitely what I would want to do on my summer vacation!
By: Ali Elizabeth Turner