By: Ali Elizabeth Turner
For the past 12 years, our dear town of Athens has been the site of one truly special event, the annual Storytelling Festival. From its humble beginnings in 2006, it has grown to be one of the best in the country, and the tellers will tell you that we are their favorite festival! This is because of the way we have made them part of our city's family, and they genuinely love to make Athens the place to be for a few days each October where they spin yarns and get hugged. This year's festival is October 22-26.
There are several things that set the Athens festival apart. One is that we are the only one in the entire nation that each year makes a way for students to attend free of charge during the School Days performances. Years ago our legislators recognized the fact that while entertaining, the award-winning 'tellers who come each year for the festival intentionally design their stories to teach important life lessons. In addition, they teach communication skills and active listening; they just happen to be hilarious in the process!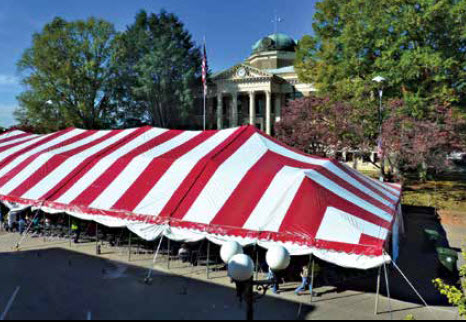 Once again this year, there will be time during School Days, (the Wednesday-Thursday daytime event reserved for students in Athens-Limestone County) for school-kid 'tellers to get up in front of their peers and "tell." There will be six tellers from the county schools, and six from the city, and who knows what career could come of it? The reaction of the kids to the tellers has always been one of my favorite parts of the festival, and watching the kids last year enjoy their peers taking their tales out for a spin was an added bonus. Andy Offutt Irwin, who is both an excellent musician as well as teller, is coming for School Days. Andy started his career at Disney World, does mouth sounds, and is known as a Whistler Extraordinaire. Also coming to tell to the kids is Randy Evansen, a retired teacher and professional storyteller from Utah.
There is another positive aspect of the Storytelling Festival that we can all celebrate, and that is the impact on the local economy. Wayne Kuykendall, one of the founders of the festival, told me that between vendor food purchased by attendees, ticket sales, restaurant meals served, hotel rooms filled, and "building the Athens buzz," all told, last year 'Tellers brought in close to a million dollars.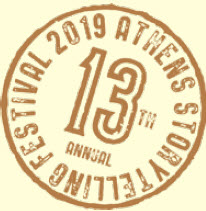 For the 7th year, the annual Dan Williams Local Tellers' Competition (also known as Amateur Night) is going to be on Tuesday night, October 22. The plan is to have ten local tellers compete for the chance to be a part of the opening "Olio," or "variety act or show," which will be held on Thursday night. If you are thinking of entering, you need to get on it and get your "tale trimmed out and ready to sale!" I think with great fondness back to the days when Dan would compete, before he passed away. Mercy, that man could make me laugh! For more information on entering the contest as well as ticket sales, go to www.athensstorytellingfestival.com.
The line-up for the 2019 festival is filled with beloved familiar faces. Back again are Donald Davis, Bil Lepp (yes, Bil is supposed to be with only one "l") Josh Goforth, and Kevin Kling. Donald is considered the "elder statesman" of the storytelling world, and his people have lived in western North Carolina since 1781. In "another life" he was a Methodist minister, and I can't imagine how funny, as well as impacting, his sermons were. Bil has been a featured teller at the National Storytelling Festival and has appeared on Comedy Central. Josh plays ten instruments and has been a part of many well-known bands, including Ricky Skaggs and Kentucky Thunder. He is a native son, and is the great-great-great grandson of Madison County fiddler Asbury McDevitt. Old timey music is simply a part of Josh's DNA.

Kevin Kling makes overcoming adversity and physical hardship a sheer joy. Kevin was born with one arm that did not work, which he named "Scarlett O'Hara" because it was useless. Then he lost the use of his one good arm in a near-fatal motorcycle accident, and so it was up to Scarlett to step up. Those stories of triumph will shut self-pity right down, and crack you up while doing so! Kevin can often be heard on NPR's All Things Considered.
The performers' books, CDs, and other wares will be for sale at the Center for Lifelong Learning, and on Thursday night there will be an auction. Donald will auction off his items from his infamous Grand Canyon trip, and the annual quilt auction will be held on Thursday night as well.
Hopefully, by October 22, autumn will arrive indeed, and the nights will be crisp as they should be! One thing you can count on, and that is nearly a week of family-friendly, heart-warming hilarity. Tickets are available online at www.athensstorytellingfestival.com, as well as at the Center for Lifelong Learning, 121 S Marion St. right across from the east side of the Courthouse. See you there!
By: Ali Elizabeth Turner