By: Ali Elizabeth Turner
Tammy Raney is an Athens native whose family has deep roots in the Tennessee Valley. She spent 27 years in the jewelry business doing something she truly loved. She saw her fair share of sweethearts and blushing brides-to-be over the years, and then the time came when she felt that the "retail jewelry season" in her life was finishing, but she had no idea what was next. She had options for employment, but nothing felt right. At the end of her notice, she said goodbye, and the next day Tammy, her husband Kip, sons, and a daughters-in-law headed out for what she just thought was going to be a lovely cruise and special family time. It was indeed that, but she found that when she would relax out on the deck, she could not stop seeing herself having her own place. The dreams she had as a girl basically came roaring back and wouldn't leave her alone. "All day long I took notes," she told me. "Things like the theme of the shop, a business plan, suppliers, the layout; it all just kept coming."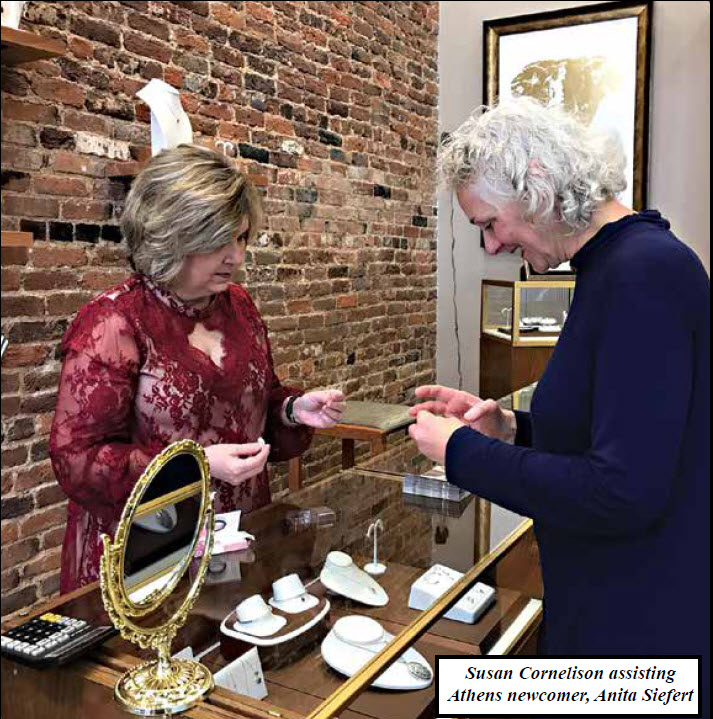 When Tammy returned home, knowing that the former Carole Fôret Gallery on the Square was available, she spent a month going up to the shop, looking in the window, and dreaming. She consulted carefully with her extended family, and they basically told her to go for it. It was then time to make a decision and either take the risk or just do what was comfortable, predictable, and safe. So, she contacted realtor Tony McCormack, who showed her the building, and when she walked in the door, she said to herself, "This is it." She fell head over heels in love with the historical building—the high ceilings, the exposed brick, and the lovingly worn hardwood floors. "It was perfect," Tammy said.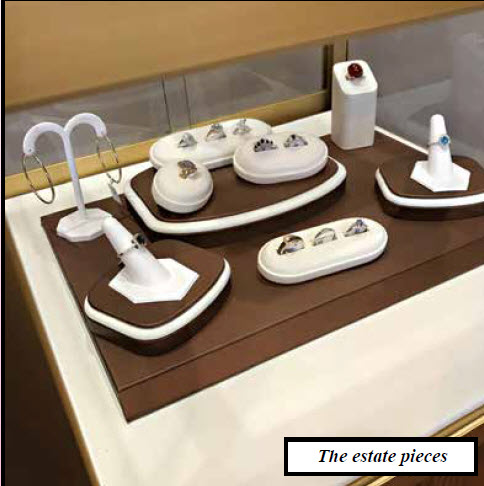 One of the things that drove Tammy to "yield to her entrepreneurial spirit" was that she wanted to leave a legacy to her kids and grandkids, which is tough to do unless one actually becomes a business owner. So, she took the plunge, and Tammy's Fine Jewelry, located at 206 Market Street W in Athens, drew its first brave breath. "It all came together basically in one weekend—the property, the display cases, the suppliers, and the staff," said Tammy. I personally had the blessing of sticking my head in the shop to say hello that first week in December, and could honestly say, "I love what you've done with the place." More importantly, I appreciated the way I saw people being treated. Tammy told me, "One of the things that has always been important to me is that no matter who you are, or how much you have to spend, you are treated like royalty." She continued and said, "Whether you are purchasing a ten dollar watch band, or a ten thousand dollar piece of jewelry, we want you to get the same treatment." Tammy often thinks of the proverbial teenage boy wanting to purchase a piece of jewelry for his first sweetheart, and how much she would want her own kids to be treated with care if they were in the same situation. Customer care is one of her non-negotiables; something her staff shares as well.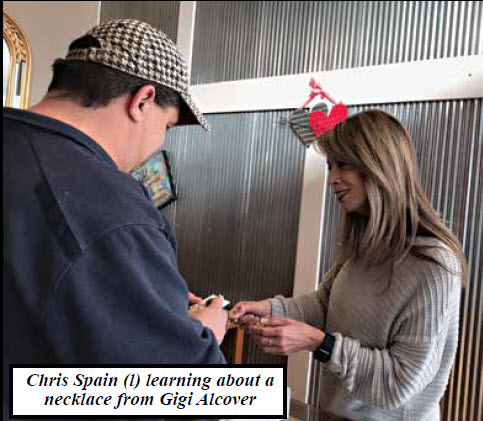 Speaking of staff, between Tammy, Jane Vaughn, Gigi Alcover, and Susan Cornelison, collectively they have around 50 years of experience in the fine jewelry business. They all have a handle on what is known in the diamond world as "the 5Cs"—color, clarity, carat size, cut, and certification, and if a sixth one could be added, it would be providing "confidence" to the buyer. That comes from being willing to educate, and it is something people greatly appreciate. They are all also close friends, and genuinely enjoy each other as well as their new endeavor. "We want to have a small-town feel to the shop, and we want to serve a broad spectrum of customers," I was told.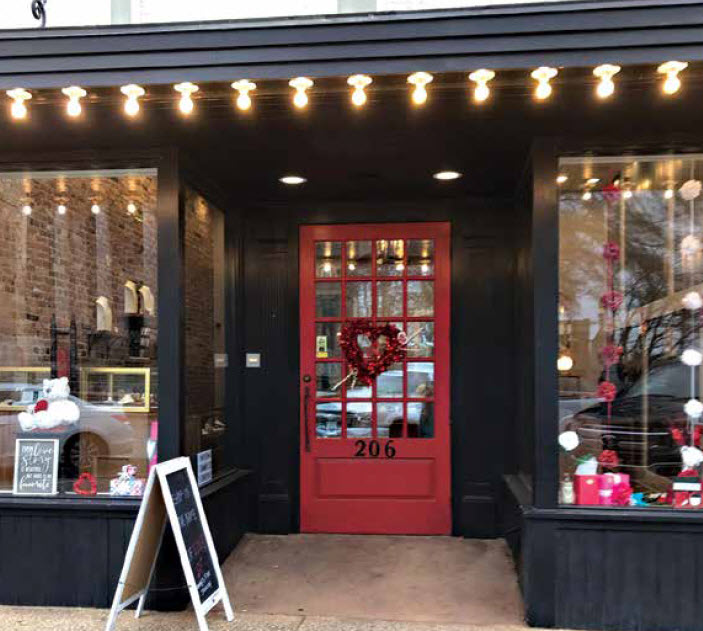 We moved to a discussion of the types of jewelry offered at Tammy's, price points, specific lines, custom services, as well as repairs. The bridal line is called Imagine Bridal, and Tammy told me she selected them for a number of reasons. "They are versatile, and they are established. They do yellow gold, white gold, and platinum. They feature engagement rings, wedding sets, and bands," she said. Imagine Bridal will also do functionally custom work; for example, if you like a particular setting, but want to have a completely different stone shape, they can accommodate you. Tammy also appreciates the fact that they do a quick turnaround. "We get our orders back in two weeks, compared to 4-6 weeks with other lines." Tammy told me that Imagine Bridal genuinely carries the highest quality at the most reasonable price. She also loves their designs because they embody simple elegance. Tammy's also has a small selection of carefully chosen estate pieces beautifully set with diamonds and precious stones.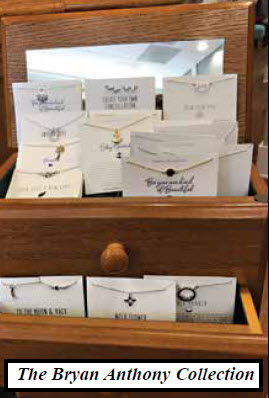 Another of the jewelry lines available at Tammy's is based in Florida and called Sterling Reputation. There is a select display in the store, and a large catalogue from which to choose. The silver pieces range in style from classic to contemporary, and people walking into the shop think they are white gold. "They are coated with rhodium, which holds color and prevents tarnish," said Tammy. Sterling Reputation has been so popular that they have had to re-order their entire stock three times, and that does not include what has been selected from the catalogue.
Tammy's also carries Enso rings, which are trending in the industry, even though they are not technically considered "fine jewelry" because they are made out of silicone. The creators wanted to make something that was safe and beautiful for every activity or job situation, and they have become a hot item. Enso is also involved in a number of "give-backs," or charitable causes, and the rings can be engraved. I tried some on, and they are both kicky and comfortable.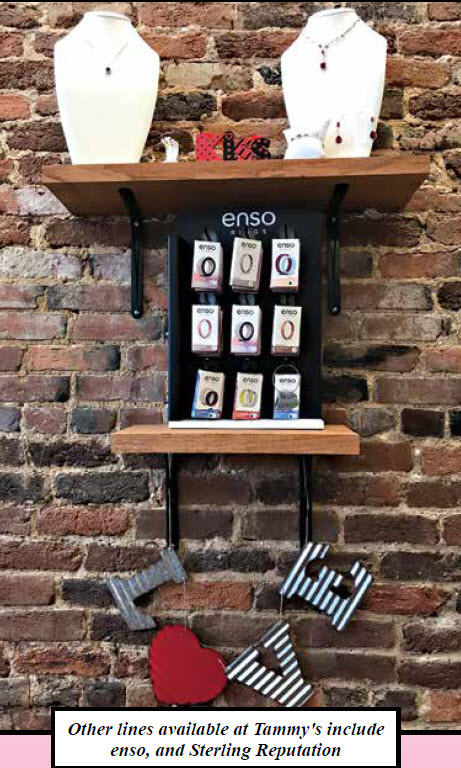 The last line we discussed is Bryan Anthony, and it brought tears to my eyes. They are under fifty dollars, and were created in memory of Bryan Anthony, who died suddenly from meningitis. They have a different positive message attached to each necklace, and each piece is designed to illustrate the message physically. "Life is fragile, make every moment count," is their message, and the pieces have names such as "Water your thorns," "Stick together," "Go with the waves," "Stay grounded," and more. Bryan Anthony's also carries rings, chokers, bracelets, and anklets, and they describe their pieces as "dainty jewelry layered with meaning."
I think the best way to tell "Tammy's Tale" is to share a story with you about a young man who contacted her before the shop even opened. He was in his late 20s, and was in love with the woman he wanted to be his bride. "My jeweler's tongs had not even arrived yet, so I held the diamond he had selected in my hand, and he, his mom, and his sister told me what they thought would be the perfect setting. We ordered the ring, it came in, and I drove it personally to Huntsville before he took her out to dinner to propose. It was EXACTLY what she had dreamed of, and he took a picture of it on her hand and sent it to me. These people have become like family to us and have come back to the store to purchase other pieces," she told me. I sighed with a happy heart, and thought, "Now THAT's customer service!"
If you are looking for beautiful jewelry in a historical building with an experienced staff that cares about finding your heart's desire, you need look no further than Tammy's Fine Jewelry!
By: Ali Elizabeth Turner