By: Ali Elizabeth Turner
It is hard to believe that Tammy's Fine Jewelry, which is located on the north side of the Courthouse Square at 206 Market Street W in Athens, is now a year old. To celebrate a most remarkable year, owner Tammy Raney and her lovely colleagues will host a special Anniversary Party/ Black Friday Bash from 4 p.m.-8 p.m. on Friday, November 29, and you are invited! They are only going to be open for those few hours on that day.
Tammy knew that after more than a quarter of a century in the retail fine jewelry business she was ready for the next season of her life, but she had no idea what she wanted to do. She had absolutely no intention of opening a jewelry store; but during a family cruise, the idea bit hard and just would not let go. She spent days on the deck of the cruise ship fleshing out every aspect of her dream shop, from layout to lines of jewelry to location, and when she got back home, she went to work to make it happen. Tammy will be very quick to thank her customers and to give the glory to God for the success of the shop, and basically the take-away from our most recent time together was a happy and heartfelt, "Whew, what a year!"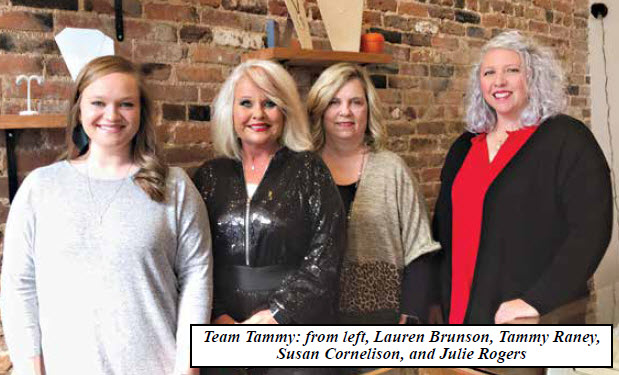 It is said that the mark of a successful entrepreneur is that they surround themselves with talented people who reflect their values, and as the boss, to not be afraid of how brightly they shine. Tammy has done that, and her relationships with her staff go way back and are deep. Susan Cornelison and Tammy worked together for decades and fit together "like peas and carrots," as the saying goes. By contrast, Lauren Brunson, a young wife and mother, worked with Tammy while studying psychology at Athens State, and re-joined "Team Tammy" this past August. Julie Rogers has also known Tammy a long time, and both Julie and her husband Brian have custom pieces they have created for sale in the shop. Each staff member brings a specific gift to the team—Lauren says she is a good listener, and as such is skilled in helping clients find exactly what they are looking for in their price range. She especially loves working with members of our military who have brought back stones from overseas and has helped them find the perfect setting. Julie is the owner of Pennycuff Designs, and works largely with metal and leather. Her husband, Brian, makes handmade pens and wine stoppers, amongst other custom items. Julie pointed out that people are looking for honesty, including how a piece actually looks on them, and she will hold to that. If the client wants her opinion regarding a choice, Julie will give it respectfully, even if the best piece is less expensive.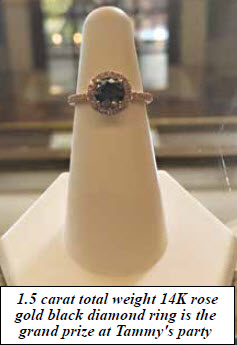 Since Tammy's Fine Jewelry opened, I have noticed that everyone, including me, is treated like royalty, and Tammy has made it a point to have everyone who works for her feel like family. They spoofed Susan on her birthday, made up a reason for her to come to the shop, and surprised her. Lauren's hours are very flexible to work around her kids' needs, and Julie's work has a place of prominence in the shop. Tammy also exhibits books written by local authors, which I greatly appreciate.
In terms of jewelry lines, they are widely varied both in style and price point. Imagine Bridal is their wedding line, and Earth Grace has a Boho flavor to it. Tammy's also carries Enso rings, which are trending in the industry, even though they are not technically considered "fine jewelry" because they are made out of silicone. The creators wanted to make something that was safe and beautiful for every activity or job situation, and they have become a hot item. Enso is also involved in a number of "give-backs," or charitable causes, and the rings can be engraved. There is a case of select estate pieces, and Tammy's also offers repair and appraisal services, of which I shall take advantage soon.
It seems that every few months there are stand-out stories of customer service and satisfaction that go above and beyond. One has to be kept vague because the person who will receive the gift at Christmas is a raving fan reader of Athens Now. The lengths the staff went to in order to get the perfect item and keep it a secret is what makes gift giving so fun. Another is a touching story of soon-to-be parents who have waited a long time for the "blessed arrival." The father wanted to show his appreciation to his wife for all that she has gone through for them to get to this place; and when the baby gets here, he will give the ring so carefully selected with help from the staff. Tammy said that the family is going to come in to the store for pictures once baby is able to go out in public. Everyone is genuinely excited about this special arrival, and it shows.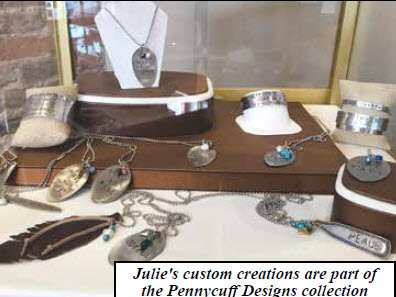 For the Anniversary/Black Friday celebration, the store will be closed all day, and will only be open for the hours of 4-8. There will be a party with marvelous food and drawings for door prizes at 5, 6, and 7 p.m. The grand prize drawing for the black diamond ring will be held at 8 p.m. The 1.5 carat total weight ring is set in 14 karat rose gold, and is truly gorgeous. So, make your plans to come and enjoy being a part of Tammy's dream-come-true. As she says with her signature smile, "It's about the people, not the jewelry."
By: Ali Elizabeth Turner