By: Ali Elizabeth Turner
Since they were five years old, Ardmore natives Matt Teeples and Jacob Lewter have been fast friends. They were in sports together, got through adolescence together, worked together, and are now in business together. Between the two of them, they have 18 years of experience in installing garage doors, and know how to do everything from standard installations and repairs on up to installing or repairing high-end doors on custom homes. Garage installation started out as a summer job while they were studying at Calhoun, and the desire to be the best at what they do is what got them to where they are today.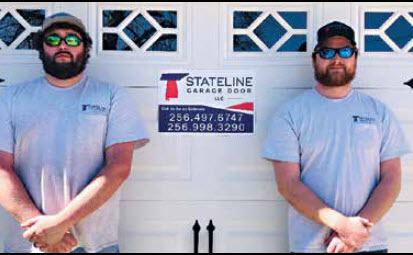 I asked them, "What caused you to go into business for yourselves?" Their answer was one that thankfully is often heard in our Athens Now interviews, and that is, "We wanted to own our own business, run it the way we felt was right, cut out the middle man, make a decent profit, and be able to pass savings on to folks." It must be working, because these guys are busy, and their customers are happy. Here's an example of some of their reviews:
"Anyone needing a new garage door or a repair at a reasonable price with excellent customer service should contact Stateline Garage Door. Sooo happy with the work they did for us! Would recommend 100%."
-Olivia C.
"These guys came out on a Saturday morning after lightning struck my door opener. They were super helpful, honest, and very quick with a professional install. I would definitely recommend them for any garage door work or repairs!"
-Ben W.
"Excellent service. Techs are friendly and explain everything to you. They worked quickly and efficiently. And they left no mess after the install. Highly recommended!!"
-Rose P.
I told Matt and Jacob that I always try, if it's at all possible, to put myself in the position of being a potential customers. To that end, I kind of decided to put Matt and Jacob to the test with a situation we were genuinely facing in real time. We replaced our garage door about nine years ago, and contracted the purchase and installation through a local big-box store. The install itself went decently enough, and we have been satisfied with the garage door. But let's just say with regard to the installers, there was not the warmth and the willingness to educate me as the customer that I had already experienced while chatting with these guys from Stateline.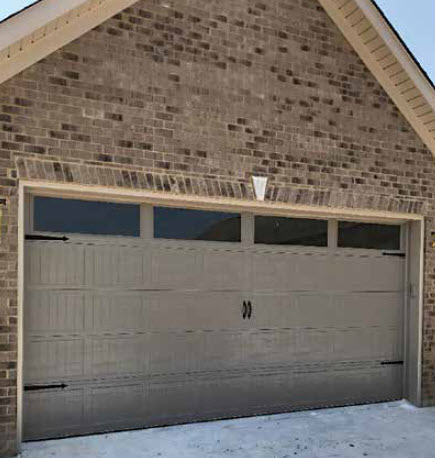 It is obvious that Matt and Jacob genuinely enjoy what they are doing, and they fully understand the power of word-of-mouth and referral advertising. I mentioned that while I had been satisfied with the install back in the day, because of the minimal sense of customer service, I would not seek out the installers again to come to my house and check out the need for a possible repair. They nodded, acknowledging that this is a common fault amongst installers, and Stateline clearly wanted to be the exception. I explained that while the button on the wall of the garage clearly wanted to lift the door, something was preventing it, and there wasn't anything visible getting in the way.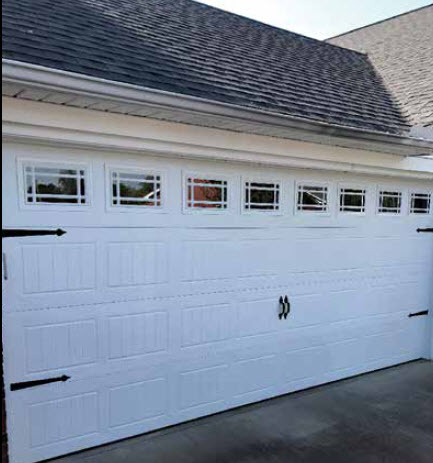 "It could be mud daubers," Matt said. My response was an incredulous, "What?" "Yep, sometimes they build nests up in the housing and it can stop the door from lifting. Or, it could be a part that has worn out," he added. He told me about the possible part replacement costs, depending on the need, and at no time did I feel like I was being "treated to the up-sell." I was impressed, and I was convinced that Matt and Jacob had my best interests at heart, and what's more, I could heartily recommend them to our readers.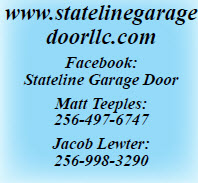 size-full wp-image-25566″ />
I then asked, "I have choices, why should I come to you?" The answer was quick: "We are affordable, honest, and experienced." Jacob and Matt went on to say that their work is guaranteed, and a one-year warranty is standard with each install. Regarding the materials, doors are covered from 15 years to lifetime. They talked about a "gorgeous door" that they were lined up to install, and they both broke into smiles at the prospect.
If you are in North Alabama or Southern Tennessee, and are in need of a garage door that brings with it experienced installers who genuinely love what they do, then contact Matt Teeples or Jacob Lewter of Stateline Garage Door, LLC, today for a free, no-obligation estimate.
By: Ali Elizabeth Turner