By: Ali Elizabeth Turner
When you head past the cheery pots of geraniums toward the main entrance to Limestone Manor, there is a sign over the door that says, "Welcome to our porch." To me, both features are so inviting.
I was asked by Shameka Gregory, Administrator of Limestone Manor, to interview Jo Ann Gant for this installment of the Spotlight series. The original intent of this periodic special feature was to capture the history of local residents, as well as talk about the excellent care they get at the many outstanding long-term facilities we have in our area. It has always been one of my favorite parts of producing Athens Now.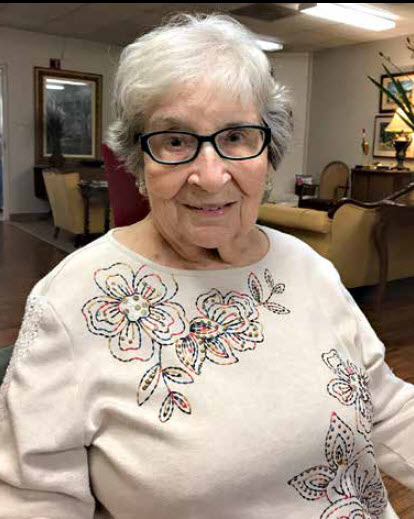 Limestone Manor is one of the smaller assisted living communities in Athens, and has the feeling of an intimate, cozy cottage. It is peaceful here, even though Highway 31 is close by. I asked Jo Ann how she liked it here, and she said, "It's pretty, (the surroundings) easy to like, and there is good food." She also likes the activities, such as Bingo, but she told me that as a girl she loved painting, and now she enjoys doing that again. "The latest one we did was with Q-tips, and my great-grandson liked it so much that he asked if he could have it. One thing I learned while I was making flowers is that you don't need very much paint." Jo Ann is one of the newest residents at Limestone Manor, and my husband Steve and I worked for her and her husband Tom on their 40-acre farm on Nick Davis years ago. I was glad to see her looking so content.
Jo Ann was born in Dublin, Texas, on August 29, 1934. She said with enthusiasm about her recent birthday, "I just turned 85!" She went to Abilene Christian College, where she met Tom Gant. She graduated from ACC with a degree in secondary education, and a minor in English as well as music. They have three sons, Bruce, Barry, and Bradley, and have a bunch of grands and great grands. Tom was an electrical engineer and worked on the Arsenal. As soon as he got home every night from work, he and the boys worked the farm. At one point they were raising 40 head of Black Angus cattle.
We moved on to her list of favorites:
Color? "Green."
Food to cook? "Salmon croquettes."
Actor/Actress? "Gregory Peck and Vivien Leigh."
Movie? Gone With The Wind. Jo Ann told me that the first time she watched GWTW on the big screen, she came out with a headache from all the visual and auditory stimulation. "Then I realized, it was only the intermission, and I went right back in," she said, grinning.
Hymn? "A Mighty Fortress Is Our God." "That's a good one," I said.
Scripture? Psalm 23, which is almost everyone's favorite
President? Trump and Reagan
Biggest change in her lifetime? "Having the chance to travel. I grew up in one place in Texas, and Tom and I got to do a lot of travelling, which I really liked, and that was the biggest change for me."
Advice for young people? "Learn to take advice from your parents. Learn the pitfalls and how to avoid them. Have a good friend to help you along the way. And, be a good friend." Good advice from a good woman, Jo Ann Gant.
By: Ali Elizabeth Turner