By: Ali Elizabeth Turner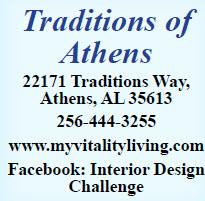 On April 3 at 2 p.m., Emmy Award winner Chip Wade and his wife, Pauli Wade, both of whom are veteran celebrities of several shows featured on HGTV, will declare the winner of a design contest being held at and sponsored by Traditions of Athens. The lovely retirement facility is located near the south side of Hwy 72 and Lindsay Lane in Athens. Traditions features both independent as well as assisted living units, and found itself in need of some specialized interior design advice for the spacious studio apartments located in the main building. Thersa Allen, Executive Director of Traditions, shared that their studio apartments are in high demand as the rate appeals to so many and wanted to challenge local designers to share their vision with this living space.
Responding to the call to beautifully solve a problem while having a lot of fun, five local designers have taken on five studio apartments and are going to decorate and furnish them from top to bottom. They will have different themes, display varying levels of independence, and will be voted on by the residents and attendees of the challenge; and Chip and Pauli will be the ones to declare the winner. The studios will reflect the wide spectrum of residents that are present at Traditions, and the furnishings will be for sale after the contest. Or, if you like what you see, and want to come and live at Traditions, you may just find the exact motifs in the perfect setting for which you are looking! There will also be a Peoples' Choice award that is chosen by the residents and the celebrants. Thersa explained to me, "Some people come here because they have just lost a spouse, and they just don't want to cook any more. They are totally capable of driving and taking care of themselves, but would rather eat in a community. Others may be more comfortable driving to a location close by but are not comfortable driving on the highway because of congested traffic; so we find them back roads to help them get where they need to go. We want to change the perception of senior living and create a vibrant community where residents thrive and families are engaged."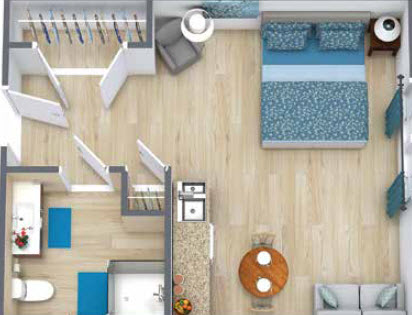 Other scenarios may include residents who are still very active but their family lives out of town or can't check on them every day; so for the sake of their family's peace of mind they come to Traditions. "Every resident and family story is unique," Thersa told me. "We tailor their experience to fit their needs and the needs of their families. The Design Challenge is an expression of the level of care and options which are available at Traditions, and everyone at Traditions is looking forward to the contest.
For those of you who may not be aware of how well-suited the Wades are to judge this contest, here is a bit of their background and bio. They hail from Atlanta, and Chip has been featured on such HGTV shows as Curb Appeal, The Block, Elbow Room, Ellen's Design Challenge, Designed To Sell, Design Star, Showdown, and Wise Buys. He has also been on CNN and Oprah. Chip won an Emmy for Elbow Room, and here is what is said about what they do: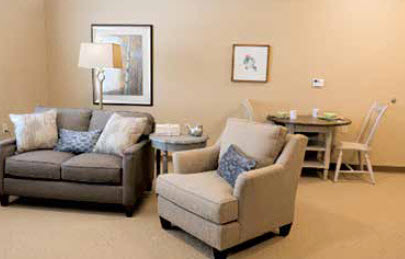 Chip & Pauli have partnered together to create Wade Works Creative, a cross-over real estate, architecture and design firm. Pauli is a graduate of both Georgia Tech (BS in Management, 2004) and the University of Georgia (Masters of Accountancy, 2005) and is also a contributing editor to several home and lifestyle publications. She spent years in the Real Estate business as a REALTOR© and also holds a license as a CPA. She is thoroughly familiar with all aspects of real estate transactions.

Chip began working with his father at an early age – and over the years developed an interest in design, carpentry, landscaping and renovation. After graduating with a degree in mechanical engineering from Georgia Tech, Chip moved on to earn his certification in residential construction while working for an Atlanta-based home builder. Chip's career is devoted to using his expertise to help people make educated home improvement decisions. Chip & Pauli reside in the Atlanta area with their three children.
There will be live music provided for the Design Challenge, refreshments, a party, and tours of the facility. Reservations are not required but are greatly appreciated. To let Traditions know that you are coming, please call them at 256-434-8706
By: Ali Elizabeth Turner