By: Ali Elizabeth Turner
Tommy Tran came to this country from Vietnam, became a citizen, worked hard as someone who deeply understands the glorious freedom of the free market, and for several years had a successful nail salon. A few years back, he decided to bless the people of Athens-Limestone with the opportunity to experience authentic food from Vietnam, and on Hwy 31 S opened what is called the Pho Can Tho Vietnamese Restaurant, or Pho for short. It is one of my favorite places to eat in our area. It has done well, and yet Tommy was feeling that it was time to sell. Recently Tommy sold his restaurant, his experience, and his recipes to Carina Garza Askins and her brother, Carlos Garza. Carina had been a customer for years in Tommy's nail salon, and he knew that Carina and Carlos had the culinary skills, experience, and work ethic to carry on his legacy. Both Carina and Carlos grew up in their family's restaurants in Michigan and Florida, and have been intensively involved in all phases of what it takes to be successful restaurateurs.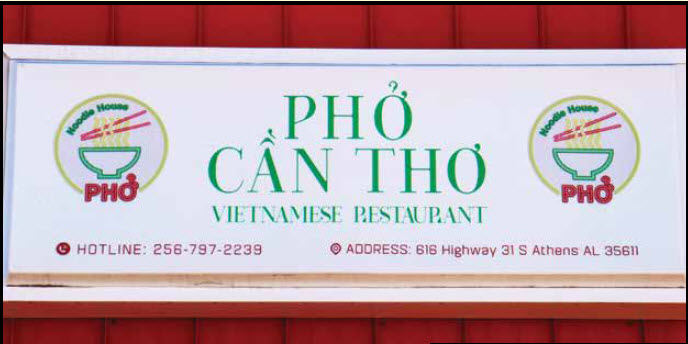 In May, Carina began an intensive four-month stint learning "all things Pho" as Tommy's apprentice, and Carlos started about a month later. This meant far more than just cooking Vietnamese food, but learning a skill that utilizes specific spices, cooking methods, and recipes that go back generations. While Pho (pronounced FUH) technically refers to a specific type of soup, it has come to mean a special approach to cooking Vietnamese food, and is indigenous to Western Vietnam. Tommy's father taught him three generations' worth of culinary art, and teaching Carina and Carlos to take over was more than a business transaction, it was the creation of a new legacy.
To that end, Carina and Carlos are going to have a "Grand Reopening" on November 9 from 11 a.m. to 2 p.m. They want you to come and get a taste of truly delicious food that is beautiful and flavorful, served in a down-home setting. That is also the day of the Veterans' Day parade, and you can come straight from the parade to the party!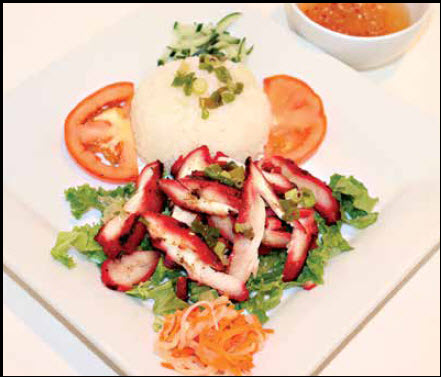 I have several favorites at Pho Can Tho. One is shaking (pronounced Shah-KING) beef. While it is technically an appetizer, there is enough to make a meal, especially if you decide to get a side of broken rice. It is made of thin slices of marinated beef, cooked quickly with onion and pepper, and served over a bed of lettuce with fresh tomato slices for the garnish. Another is the lemon grass chicken, which is definitely enough for two meals and is spicy, but not too much so. Its name in Vietnamese is Com Ga Xao Sa Ot, but you can just ask to order H4! There are homemade spring rolls, authentic hot tea, Thai tea with boba, (an amazing tapioca dessert tea) and Carina and Carlos' next step is to add desserts, with maybe some secret "phosion" items that they are working on.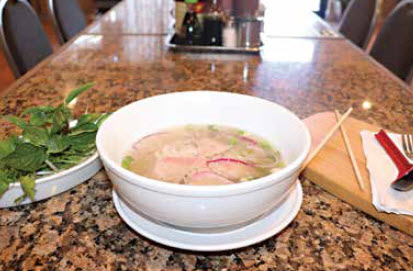 One of the great benefits of Pho food is that it is as healthy as it is delicious. Carlos noticed that he dropped a few pounds once he started working there and quit eating as much fast food. Some of his favorites are the vermicelli dish with pork, the grilled shrimp, the rare stake Pho, and chicken fried rice. The chicken fried rice is a combination of yellow rice and broken rice, and the addition of fresh carrot and tomato make it stand out. All the food is guaranteed to be MSG-free.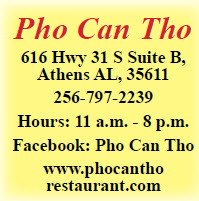 Those who have cooked traditional foods from every culture on the planet since the beginning of time used to know how important it was to consume homemade broth often, and thankfully that understanding is returning to our hometown, courtesy first of Tommy, and now Carina and Carlos. The health benefits of broth include a generous dose of minerals, protein and vitamins, as well as a reduction in inflammation and improved joint health. Because broth is the basis of Pho, it is their most closely guarded secret. What Carlos did tell me is that it is made on-site from all natural ingredients, and it takes 12 hours to get it just right. It is entirely worth the wait, and sometimes when the restaurant is super-busy, getting a chance to down a quick bit of Pho broth will keep him going for hours.
Come, taste and see that Pho is phabulous, and celebrate the continuation of Tommy's legacy on November 9.

By: Ali Elizabeth Turner