By: Ali Elizabeth Turner
On Saturday, September 26, from 11 a.m. – 2p.m., the Oasis Center along with the people of Athens are going to throw what Oasis Senior Minister Jerome Malone is calling "a big family reunion for our city." The idea for this get-together was born out of the desire to show the world what can happen when people from every type of background come together in love. This has nothing to do with political strategies, the upcoming election, or even the good stuff that has happened in the past and worked well. It also doesn't have anything to do with the level of unrest that some cities have experienced this summer. It has EVERYTHING to do with the fact that we are called to love each other, and it's high time we get to it. It's something we need to do because it's the right thing to do, period.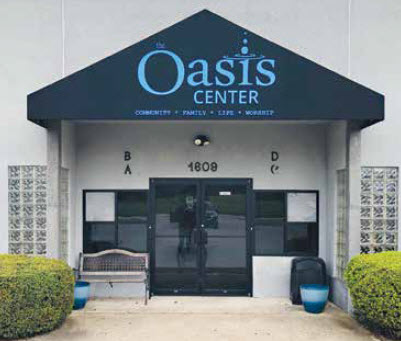 Jerome Malone and his wife, Tiffany, are people who literally make me want to sing, and I do when I am with them. When they first opened A Splash of Ink and became members of the Chamber of Commerce, I had the joy of telling their story about a year ago. Briefly, Jerome left a comfortable, stable job in logistics at the Target Distribution Center and opened a custom T-shirt store on Hwy 31. More importantly, he was also teaching entrepreneurial skills to young people. Jerome started pastoring at The Oasis: Christ's Church at Athens, a body that longs to be an instrument of reconciliation and restoration of all kinds throughout the community. He and Tiffany have been in ministry for decades, and are passionate about what they do. Jerome has also been involved with the Mayor's Youth Commission, and he and his family love this city. Earlier this summer they were able to move both the business and the fellowship into one building, located at Highway 72 and South Hine Street in Athens.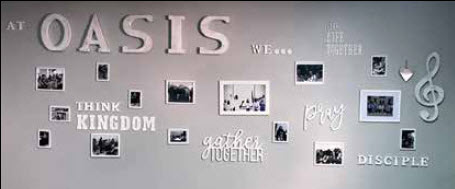 The Oasis Center has four spiritual pillars: to worship, to build community, to strengthen families, and to live life well, both individually and as a church body. They do not shy away from "the tough stuff," and their theme scripture chapter is John 4, the exquisite parable about the woman at the well. She is promised the living water that will forever slake her thirst, and is invited to join the army of those who make it their life's quest to respond to the love of God by worshipping in Spirit and truth. When she responds to that invitation, she goes and tells all, and the life-giving water she just received is shared quickly and authentically. That is how the Oasis Center wants to live life and give life.
As you can see from the picture of the vision wall at Oasis, they are dedicated to live life together, think in terms of the Kingdom, pray, disciple, and gather together. Add in lots of music, tons of laughter, a solid dose of God's Word, and top it off with celebrating communion together, and you have the heartbeat of this crew of committed believers. They are located at 1609 S. Hine Street in Athens, and they are waiting to be a blessing in your life.
By: Ali Elizabeth Turner