By: Ali Elizabeth Turner

Athens Mayor Ronnie Marks and Mildred's Angels are asking citizens to reveal their teal in September.
Teal is the awareness color for Gynecologic Cancer Awareness Month. Mildred's Angels, the City of Athens and its Relay for Life Team urge women and men to support Teal Tuesdays by wearing teal as a reminder to stay informed about the warning signs, screenings and treatment for gynecologic cancers.
Marks joined Mildred's Angels volunteer Angie Norwood to sign a proclamation to celebrate September in Athens as Gynecologic Cancer Awareness Month.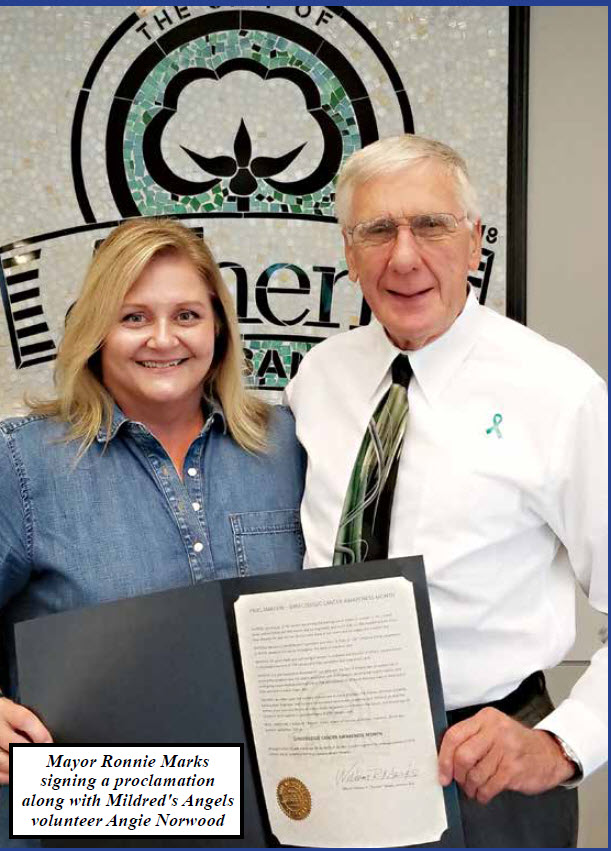 Norwood's mother, Mildred Grisham, battled ovarian cancer and died from the disease. Her family created Mildred's Angels in her memory to raise awareness and assist families financially.
"Many angels followed and assisted our family during our mother's battle," Mildred's Angels states on its Facebook page. "They assisted without our asking. These angels inspired us to create a resource so that we can assist others."
According to American Cancer Society estimates for 2019, there will be 109,000 women diagnosed with a gynecologic-related cancer this year and 33,100 deaths. Ovarian cancer is one form of cancer that is hard to detect early because there are no obvious symptoms.
The American Cancer Society states that women who experience persistent, nonspecific symptoms, such as back pain, bloating, pelvic or abdominal pain, difficulty eating or feeling full quickly, or urinary urgency or frequency on a daily basis for more than a few weeks should seek prompt medical evaluation. The most common sign of ovarian cancer is swelling of the abdomen, caused by the accumulation of fluid.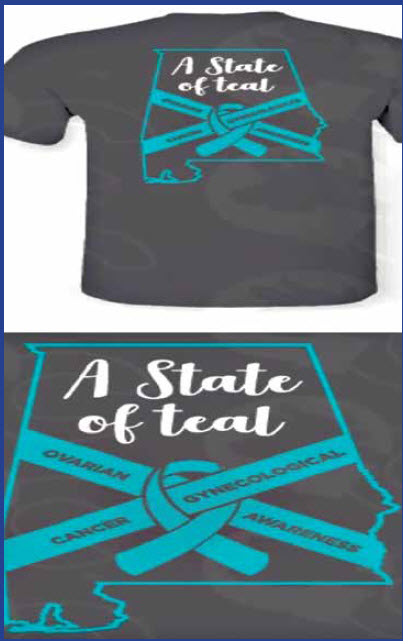 "This is not just an issue for women, but also for men," said Athens Mayor Ronnie Marks. "Men need to support this for the women in our lives."
Share your Teal Tuesday photos online and use #revealyourteal and #feeltheteal.
Mildred's Angels has State of Teal shirts for sale. T-shirts are $20 and sweatshirts are $40. Orders are due by Sept. 5. To order a shirt, contact Mildred's Angels at mildreds.angels@outlook.com.
By: Ali Elizabeth Turner