By: Ali Elizabeth Turner
Ronnie Marks is campaigning to be re-elected as mayor of Athens and would like your vote. He did not arrive at his decision lightly, knowing from experience that public service is something that is both costly and highly rewarding. Thankfully, he has the energy of a man many years his junior, and is ready for "four more years." Given the growth of our area since 2010, and the fact that we are the fastest growing county in Alabama, he is going to need it. He told me, "Our greatest strength is also our greatest weakness, and that's growth. My aim has always been to help our city handle it well."
Ronnie was born in North Alabama and moved to the Athens area as a teenager. He chopped cotton, got a degree in education, taught science, and served in Vietnam, where he received a field commission and seriously considered pursuing a career as an officer in the U.S. Army. He turned it down because he had a wife and child, and chose a different and varied path of public service. He has held several positions in our area and for the State of Alabama. They include serving on the board of Athens-Limestone Hospital, the Alabama Veterans Museum, the Greater Limestone County Chamber of Commerce Board of Directors, the Limestone County Economic Development Board, and the Council on Aging. Last year he was asked to serve as president of the Alabama League of Municipalities, and routinely gets calls from mayors all over the state who need someone with experience with whom they can talk. Ronnie has been married to Sandra for 52 years, and they have two kids and three grandkids. Quinton, their grandson, lives with them, and they are members of Friendship Methodist Church. One of Ronnie's favorite things to do is teach the adult Sunday school class, and over the years, on Mondays, he has told me about lively discussions which have occurred in those gatherings.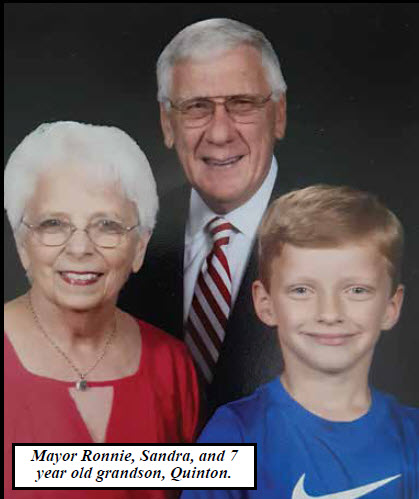 After Mayor Ronnie got home from Vietnam, he got his master's degree in social work and spent many years working for DHR. He had to deal with the grim realities of child abuse and poverty in our state, and when Hurricane Katrina hit in 2005, Governor Bob Riley asked him to head up the task force that dealt with the aftermath. The man has led men through literal jungles, dealt with the blighted property that was Pilgrim's Progress, advocated for Athens' securing funding for major projects in the financial maze of New York City, helped Athens fight cancer through Relay for Life, and made Athens laugh as a veteran cast member of Poke Sallet Follies.
Ronnie served as a member of the Athens City Council. However, it wasn't until former Mayor Dan Williams ran for and won the District 5 Alabama State House position in 2010 and appointed Ronnie as mayor, that he fully understood the rigors of the position. It has been Ronnie's vision for Athens that has been kept ever before him, and there are five things that are his chief concerns: public safety, (which means more now than ever), quality of life, education, economic development, and improvement of government operations. And, it is the special energy and heart of the people of Athens that is one of the main reasons he is seeking re-election.
One of the things about which Ronnie is most proud with regard to his time in office is the creation in 2012 of the Mayor's Youth Commission. Since that time, he and his staff have made a difference in the lives of high school students as they have learned about city government and how to be engaged citizens. "I am extremely proud of this program because we have been able to pair students with community service projects, teach them about our city departments, and give them the responsibility of overseeing a community grant program," he said. He added, "These students are learning to take ownership in our city and share their ideas and concerns. In return, they are teaching us to be open about giving youth a voice and challenging them to use their talents to make a difference." Since that time, other mayors of cities in Alabama have asked him to help them start a similar program in their towns through the League of Municipalities.
Other accomplishments during Ronnie's time as mayor include:
Helping the Athens Police Department become one of the first in North Alabama to adopt the use of body cameras
Removing condemned properties which had been eyesores, sometimes dangerous ones
Developing the new Sportsplex facility
Working with reorganized tax structures that have resulted in millions of dollars in new business revenue and hundreds of jobs
About his decision to run again for mayor, Ronnie said:
After much thought, prayers, and discussions with family and friends, I am seeking another four-year term as mayor of Athens. Being mayor is truly one of the most humbling experiences I have had. I would be honored if the voters would allow me to have another term. I continue to have a high energy level, and my passion is stronger than ever to help lead Athens into 2020 and through the next four years.
And about his love for Athens, the mayor said:
To me and my family, Athens is more than a home. It is also our heart. I love serving this city and am honored to serve as her mayor."
If that is the type of leadership you want to see continue in Athens for another four years, then re-elect Ronnie Marks for mayor.
By: Ali Elizabeth Turner