By: Ali ElizabethTurner
Bernard Hendricks and Roddric Ellsberry grew up in Birmingham together and graduated from Woodlawn High School. While they remained friends throughout, their original career paths could not have been more divergent. Bernard went to Jefferson State, Birmingham campus and graduated in Human Relations. He went straight into the corporate world and worked in HR for more than two decades.
Roddric spent 30 years in the United States Army and retired as a command sergeant major. He has an extensive list of medals, ribbons, awards, certifications, and commendations, and has served all over the world in combat and in peacetime. Recently Bernard's and Roddric's career paths converged, and the result is the brand new branch of QS Professionals, a different breed of employment agency.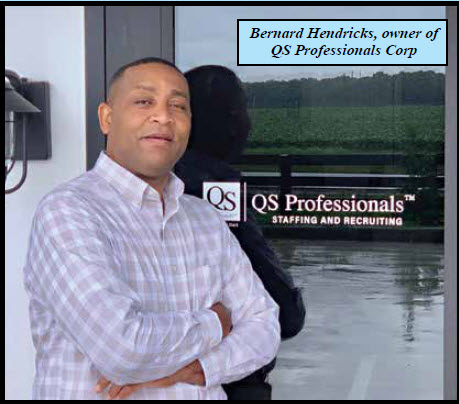 Bernard has been the "HR guy" for companies whose employee roster ranged from 50 employees to more than 300. Specifically, he is the most familiar with HR as it pertains to manufacturing, and knows what is needed to keep a manufacturing facility "humming." He also understands the needs of the corporate market, and can help with "head hunting" for a CEO or filling contract slots in an administration or professional setting. While he is grateful for every moment he spent working for other companies, the time came when he knew he wanted to own a firm, and opened QS Professionals' first office in Suwannee, GA, in 2012.
Roddric finished up his military career at Ft. Hood, and he is deeply involved with helping soldiers on Redstone Arsenal transition to civilian life, volunteers for the Red Cross, and is a professional speaker. He was recently elected as the secretary of the Redstone Arsenal Sergeants Major Association. As the rapid economic development and population influx in our area put forth a demand for quality contract workers in a number of sectors, Bernard did his market research, realized North Alabama was the perfect market, and Roddric came on board to open the brand new QS office. It is located in the Storage Port complex on Mooresville Rd. between Belle Mina and Mooresville. The address is 5750 Mooresville Road, Tanner, AL 35671.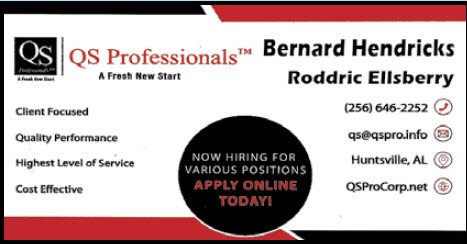 What makes QS Professionals different from other employment agencies? Bernard stated that the last thing he wants to do is send "a warm body" — someone who just shows up, does the minimum and doesn't have much of a work ethic. "QS Professionals is committed to finding qualified candidates," says Bernard, and is willing to invest to do so. "In addition, through testing and orientation, we are filling positions with capable, safety conscious employees." Staffing has its challenges. From day to day things are different; every agency can place employees, but when a problem arises, how it's handled is what separates the agencies. Bernard says, "It is our endeavor to build strong business relationships with our clients so that we can work through employee relations, issues, and successes together."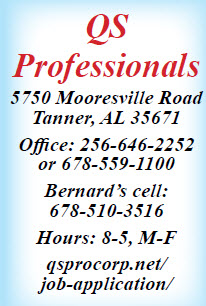 Measures have been put in place by QS Professionals to hold associates accountable throughout their temporary assignments. Along with their measures, they will sometimes mirror a client's merit program, which helps smooth the transition from temporary to permanent. Realizing that each client is different when it comes to hours and shifts, a 24/7 answering service has been set up to make sure any situation that needs immediate attention is handled. It is important to Bernard that every employee goes home to their family safe after each shift. Before he commits to a client, he does a safety evaluation. If a site is not safe, he will pass on the account. He has learned that all business is not good business.
One of his company's policies is that everyone experiences TLC from the very first time they come in contact with QS Professionals. TLC stands for a Total Life Cycle. Bernard says he expects all his employees to treat everyone with respect and how they would want to be treated from the very beginning throughout. He stated "People will not always remember what you said, but they will remember how you made them feel." Bernard realizes that he will not be able to help everyone, but he has created a resource manual which houses contact numbers for multiple situations. He feels that even if he cannot put someone to work, he wants them to walk away with something.
Besides Roddric, Susan Fox works as the regional director of recruiting, and Tiffany Townsend takes care of all the IT/web needs for the corporation. Because Bernard is back and forth between Georgia and Alabama, he says he is blessed to feel confident about leaving the shop in such good hands. If you are looking for a fresh, new start in one of the many new places of employment in North Alabama, or are in need of a qualified contract worker, give QS Professionals a call today at 256-646-2252, or go online to apply for a position at various locations at qsprocorp.net/job-application/.
By: Ali Elizabeth Turner