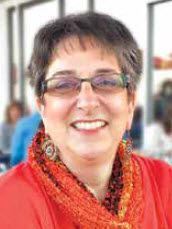 By: Lynne Hart
If you are looking to enjoy a couple of hours of great toe-tapping, sing-along, grab-a-dance-partner music, then plan to join the First Presbyterian Mission Committee and Keep Athens-Limestone Beautiful at this year's Boogie Shoes Bash.
Admission is free and all ages are welcome.
The church's mission committee does several events through the year to assist non-profit organizations. This year, KALB will be the recipient of all funds raised at the Boogie Shoes Bash.
The fun will take place on Saturday, June 1, at First Presbyterian Church's Revival Building located at 303 W. Washington St. in Athens from 7:00-9:00 p.m.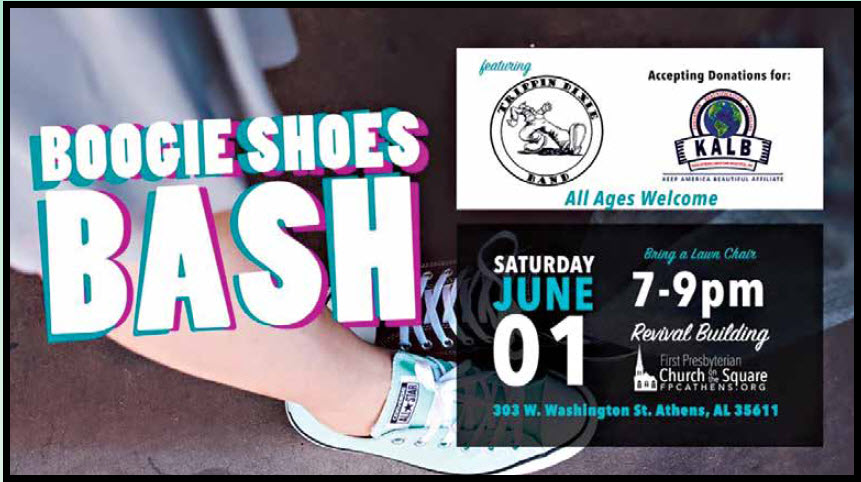 Trippin' Dixie will provide music and guests will be treated to free refreshments and light hors d'oeuvres. Tables and chairs will be available; however, guests should feel free to bring lawn chairs and enjoy the courtyard.
A variety of items will be included in a silent auction with all proceeds to benefit KALB projects and programs. Last year, I came home with a wonderful painting and some great items for my grandchildren. The 2018 Boogie Shoes Bash supported Learn To Read, which is another great organization worthy of support. The KALB Commission is very pleased that KALB has been chosen to be the recipient of funds raised at this year's event.
Membership Drive
April and May are important months for the KALB organization. This is when we hold our annual membership drive. We ask our community to support our mission to empower citizens of Athens and Limestone County to take greater responsibility for enhancing their community environment.
We do this through numerous educational presentations covering many aspects of litter abatement, recycling, and beautification at all city and county schools for students from preschool through 6th grade, and by invitation to club meetings and other adult gatherings.
KALB provides a variety of volunteer opportunities, including our annual Elk River Cleanup and Trash Attack, Adopt-A-Spot program, #OneBagChallenge, and at our Duck & Run 5K Race and Wacky Quacky Ducky Derby.
Important information is also shared through twice-monthly articles here in the Athens Now, our monthly eNewsletter, social media, and other media outlets.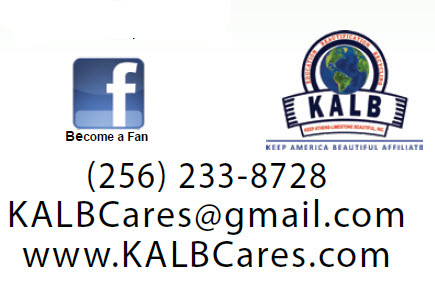 KALB's budget is about $70,000 for the year and that includes payroll, taxes, office supplies, insurances, projects, programs, and more. It is a very frugal budget and is tightly managed to make it work.
Unfortunately, over the past few years, we have lost our appropriation from the Limestone County Commission, making our membership drive so very important.
Memberships are as follows:
Individual/Family – $25
Business – $50
Industry – $100
Anyone sending in an Individual/Family membership will receive a coupon entitling them to a free duck in our annual Wacky Quacky Ducky Derby ($1,000 grand prize) or $5.00 off registration fee for our annual Duck & Run 5K.
Mail Checks: KALB, Membership, P.O. Box 1089, Athens 35612.
Online: www.KALBCares.com/membership
We are grateful for every dollar we receive and promise to spend each one with great care.
By: Lynne Hart
Executive Coordinator – Keep Athens-Limestone Beautiful