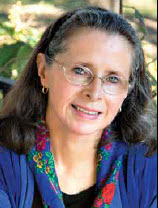 By: Ali Elizabeth Turner
I am still floating in sheer wonderfulness after having attended the Women's Resource Center fundraiser dinner featuring actress Ashley Bratcher on August 10. It was held at the Limestone County Event Center; the meal was delicious, the music provided by Claire Carpenter was memorable, and I have rarely been prouder to be an Athenian.
For several months, Athens Now and WKAC's Tennessee Valley Spotlight have been talking about the annual dinner as a "blessed event" whose purpose is to help people look upon a baby's birth as an undeniably "blessed event," even when a pregnancy is unplanned. Speaking of Unplanned, the movie in which Ashley stars, the DVD came out yesterday, and we will be adding it to our tribe's video library post haste. It is the true, well-acted, beautifully filmed story of Abby Johnson, the woman that Planned Parenthood believed would be their perennial poster child of empowered pro-choice womanhood until the day came when she saw an abortion in real time via ultrasound. As the tag line on the movie poster says, "What she saw changed everything."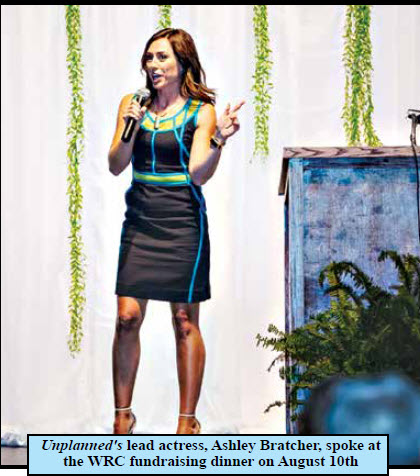 Abby was the director of a Texas Planned Parenthood clinic, worked there while over 20,000 babies died, and ironically her colleagues threw her baby shower in the lobby of the clinic after the area director left for the day. Since that "Damascus road" experience, Abby has relentlessly and with an unexpectedly endearing sense of humor, exposed Planned Parenthood, letting us in on things that they do, believe, and promote that are as disturbing as they are now well-documented.
What made the evening so beautiful was having the experience of what felt like a singular, tender, funny, intimate conversation with a brave young woman in the form of Ashley Bratcher, and it was like just the two of us were having coffee. The only thing was that there were literally hundreds of other people in the room. That is a skill that public speakers figuratively would give their eyeteeth to attain, which may not be an appropriate analogy here, seeing as we are discussing an organization which sells fetal body parts to the highest bidder over lunch and Chablis. Okay, let me rephrase. As someone who communicates for a living, I want to be like Ashley when I grow up.
Ashley was real, raw, and dear. She herself had an unplanned pregnancy, married the father, and said with courage, "We worked very hard to make this work." They have a beautiful son, and learned on the day that she got the part in Unplanned, that her own mom had literally been on the table getting ready to abort Ashley but couldn't go through with it. She gave honor to her grandmothers, who long ago implanted faith in her heart and waited for it to take root and rise up. Most importantly, she gave real live hope, and that is one of the most powerful forces on the planet.
As I heard Brooke Thompson, the Executive Director of the Women's Resource Center Athens, talk about the triumphs of this past year, I saw before me a highly professional, compassionate woman with a humble heart give God glory for accomplishing the impossible, things that a few years ago were fond entries on the WRC Wish List. What are some of those impossibles? — An ultra-sound machine that nearly always results in a woman or couple deciding to let their child live, even if they give it up for adoption; a beautiful building on Market Street that only has $65,000 left on their mortgage, extended hours; more supplies; and my personal favorite, men who have stepped up to mentor men who find themselves facing down an unplanned pregnancy from an often overlooked perspective, that of fathers.
What sealed the deal as far as a night I shall never forget was hearing about some of the carefully trained volunteers. A young woman could not remember the name of the women who had helped her arrive at her own life-affirming choice, but knew they had made themselves available to her, including by cell. What comes up on her phone when she needs help? "The Nice Ladies." We have courageous "Nice Ladies" here in Athens, along with volunteers, companies, churches, and individuals who are saving lives. And, we have now been graced with Ashley, who is my most recent entry on my own wish list of people I hope to meet someday. If not here, then on the other side, forever.