By: Ali Elizabeth Turner
A little over five years ago, Kimberly Gosser opened a pet grooming salon at her home in West Limestone and more recently moved to a new location at 16217 Shaw Road in Athens. The new shop is on the corner of Hwy 72 and Shaw.
Kimberly is the mother of four and is married to Logan, who honorably served our country with distinction while in the Army. They left Colorado to come here for Logan's new job as well as for Kim to do what she does so well, and that is, groom animals.
To say that Kim's background and experience in the dog grooming world is impressive is no exaggeration. She was born and raised in Los Angeles, and her uncle was a legendary handler/trainer/groomer for the film industry. Whether that gifting can be inherited or not, I don't know, but Kimberly herself has groomed the dogs of such celebrities as Kevin Costner, Selma Hayak, and Betty White.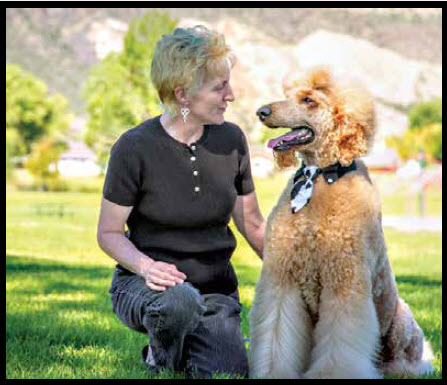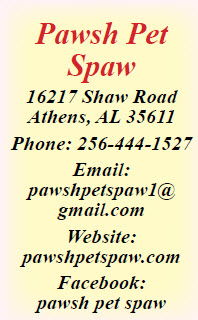 Kimberly showed her first dog at the age of 7, groomed her first dog professionally at the age of 12, and now has more than 35 years of experience grooming every type, size, and breed of dog, along with a few cats! She has worked in California, Kentucky, and Colorado, and her LA shop and staff were able to groom nearly 90 dogs a day.
In the past, Kimberly's focus in the industry has been the "high end" realm of the dog competition world. She has been responsible for preparing dogs for famous shows with the intent of dazzling the judges, and she has certainly succeeded. However, one of the things I so enjoy about her is her heart for animals in general, not just the "canine elite." I have watched her literally by the hour groom scared dogs, grumpy dogs, big dogs, little dogs, skinny dogs, obese dogs, dogs that sound like Chewbacca from Star Wars, dogs that snapped at her; and I can say that her patience has been stunning. In the case of the dog who tried to bite her, she looked at me and said matter-of-factly, "I was waiting for that. I could feel his muscles tense up." By close to the end of the grooming session, the dog literally put his face in her hand, was totally relaxed, and fell asleep as she finished up. If I had a dog, I would run, not walk or trot to Pawsh Pet Spaw to have it groomed!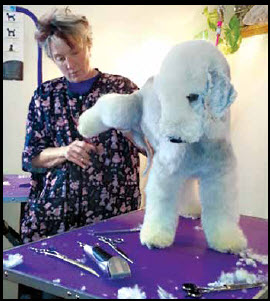 Besides having the highest certifications in the grooming industry, Kimberly is also a Certified Canine Behavior Specialist; essentially she is a true "dog whisperer." She is the founder of the Alabama Professional Groomers' Association, which is her brainchild. The APGA is an organization which she hopes will help to make certification for groomers become mandatory. One of the things that is distressing to Kimberly is the fact that licensure for dog groomers in Alabama is not required, and people will often cut corners that stress everyone out — the dogs, the owners, and the groomers.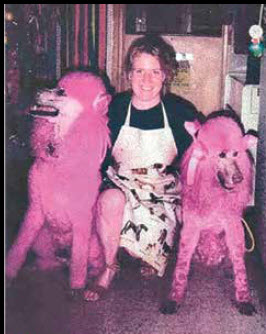 While chatting with Kimberly, I learned that dogs can have special needs for their skin just like humans do. Most of us would not use dishwashing detergent to wash our own hair, but will do so for our dogs, and it can cause skin problems. She will take a look at your dog's skin and determine what would be the best for their breed and state of health. I also learned a lot about dog's nails, and how important it is to keep them trimmed. If dogs have nails that get too long, it can cause great pain, and getting them trimmed without understanding the length of the quick can be even more painful. Kim has several ways of dealing with it, including using a mini-Dremel with a light, and can usually do just a bit at a time in order not to traumatize them further. Sometimes, she has to recommend that a vet sedate them and have the procedure done in the vet's office, but she avoids that if at all possible.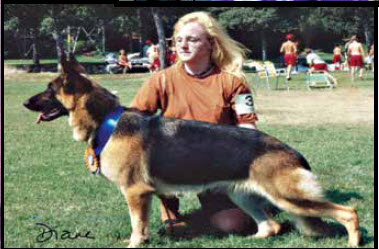 Kimberly's prices for grooming are slightly more than those charged by other groomers, but she specializes in the cases that are not necessarily the easiest, and has a brisk business of repeat customers. In any profession, you get what you pay for, and her work speaks for itself.
If you want a very down-to-earth groomer who can make your dog look like a champion, contact Pawsh Pet Spaw for an appointment. Your animal will be in loving, capable, skilled hands, and you and your dog will greatly enjoy the results.
By: Ali Elizabeth Turner