By: Libby McGaw
Since 2009, Old Mill Iron has been providing the people of North Alabama with expertly crafted ornamental iron work which can be seen all around the region, and most recently on the north side of the Limestone County Courthouse square. We were all grateful to see that there was extra outdoor eating space beautifully cordoned off with custom iron work, which made it possible to "beat COVID in style." Eating space even went beyond the confines of restaurants and came close to the doors of several adjacent businesses, with the result being that Athens was weathering the "shutdown storm" just fine. Patrons could happily dine or do curb-side pick up, and still safely maintain social distancing. Subsequently, surrounding businesses had visitors come in their shops as soon as lunch was finished.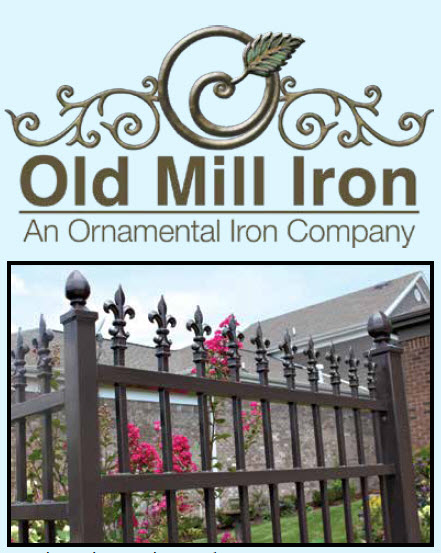 Old Mill Iron has a long history of working with customers in the North Alabama area, and was co-founded by Jeff and Glennis Witmuss. Jeff has extensive experience in tool and die as well as engineering in the automotive manufacturing industry. Reading blueprints, working on designs, and helping to find solutions are everyday occurrences for Old Mill Iron.
Jeff's background in the automotive industry has helped greatly to meet the fabrication needs of several area plants, businesses, and builders. Jeff expressed, "We are pleased to be able to help the local suppliers with their requests for fabrication and powder coating, and to help them move forward with their projects. Watching Limestone County become a growing, successful area has been great for us to be a part of."
In addition to commercial work, Old Mill Iron also creates unique ornamental ironwork for many of the local custom home builders; everything from fencing to handrails and driveway gates…they do it all.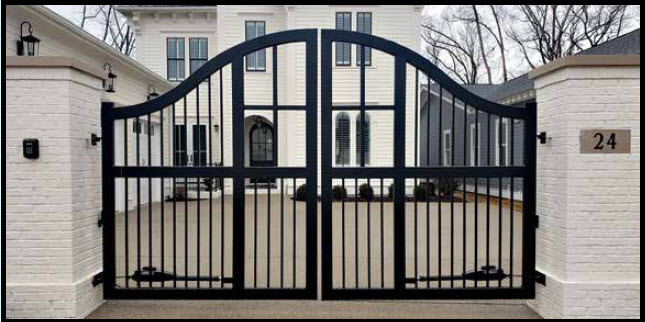 As local small business owners know, success does not happen without its struggles. Five years ago, Old Mill was almost shut down for a period of time after an unfortunate event happened. The company moved from their Madison, AL, location onto their own property and were overwhelmed with friends and family that helped them fulfill their contracts. "We had every intention of closing the business after fulfilling the contracts, but it just kept growing," said Glennis. For many years they worked out of the barn on their own property, and ran the business office out of their home. "Slow and steady wins the race," and after a period of time, Old Mill Iron was able to expand the business to a currently expanding team of 14 outstanding employees. "We are thrilled about our next steps, and the team of experienced employees that are now driving us forward," she added. Glennis grinned as she said, "They are all over-qualified, and have become like family."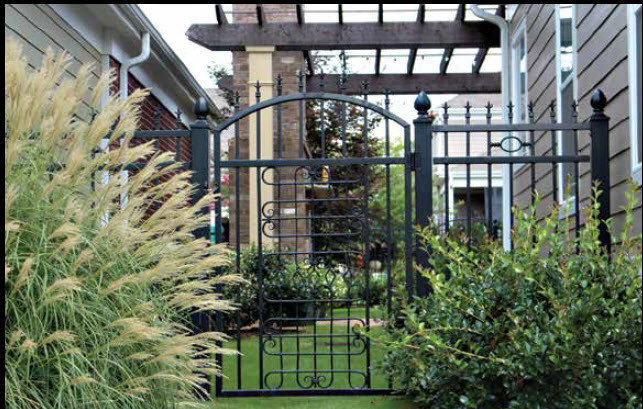 Business is growing, and with giving back in mind, Old Mill Iron began to look for a new locale in Limestone County. They are pleased to announce that in December they are moving to a new site in Elkmont, which will be located at 25423 Elkton Road, and will be in the feed store next to the old BP station. Speaking for the entire Old Mill Iron team, Gaines Smith, who heads up their sales department, said, "Five years ago Old Mill Iron made the decision to bring everything to Limestone County because it is what we call home. We all share a love for the Athens area and want to express to our readers that we are happy we are moving to Elkmont soon. By being able to relocate to a larger building in Elkmont, we will be able to help keep our community growing and flourishing. Our drive and focus is and always will be the great folks that make up Limestone County and surrounding areas."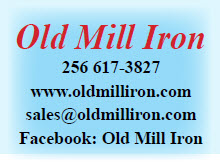 What is Old Mill Iron able to provide for you? Residential ornamental work, fencing, and gates. They fabricate handrails, stair rails, driveway gates and fencing. Their work ranges from highly ornate to commercial and structural. In 2017, the powder-coating service was added, and they are able to powder-coat fencing, outdoor furniture, auto parts, farm equipment, and much more. Some of their recent powder-coating projects have been for the City of Madison, Athens Public Schools, and H&R Agri-Power. They have CAD software and have in-house subject experts with decades of experience on staff. They are also an authorized dealer for LiftMaster gate operators.
Old Mill Iron is nationally certified as a woman-owned small business through the WBENC. They are also members of the Athens Home Builders' Association, they support Limestone County Churches Involved (LCCI), and this year they hope to be a part of the Christmas in Limestone County North Poll Stroll.
You can contact them today at 256-617-3827 and schedule your appointment to have a member of their experienced sales team (who always follow CDC guidelines on COVID-19 precautions) come out and provide a professional and detailed quote.
By: Libby McGaw