By: Ali Elizabeth Turner
When Derrick Mitchell was younger, he had one dream, and that was to be a commercial pilot. Aviation was in his blood; he got his degree from Alabama Aviation College, and little did he know that just one required Econ class would change the direction of his life. His professor was an "entrepreneur's entrepreneur," and lit Derrick on fire with the possibility of being his own boss. While Derrick still did commercial aviation, he became involved in real estate, construction, flipped houses, and even purchased the bankrupt Moontown Airport in Huntsville at the tender age of 20. He then sold it for a profit at the age of 23, and when he sold Moontown, he had turned around a failing company by clinging to one thing: principles before profit. He lived at the airport, built a positive culture amongst the pilots and the staff, and told me that "people were glad to see someone who had a sincere commitment."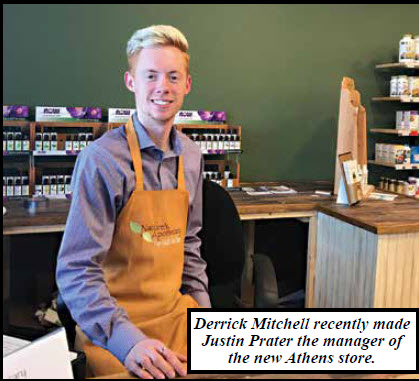 Derrick was successful in his other ventures, and was a "man with a plan." He had met Karen when they were kids in Lawrence County, and while they dated other people, he made a point of calling her every two years to see if she was dating someone, and if she wasn't, would she like to go out with him? "All I heard for years was no," he said, and as I listened, I marveled at the idea of someone having such a tough hide that was so resistant to rejection.
The right time came around once again to reach out to Karen, but he hadn't seen her in years. When he saw her, he told himself, "I am going to have tall kids!" They were married not long after that, and besides getting married, Derrick's life was going to change again. Karen was a biologist, and had become interested in eating healthy and taking supplements. By contrast, Derrick had lived off of junk food for years, and it was beginning to take its toll. At first, Derrick began to look into a healthy lifestyle because he wanted to be a supportive husband, but the more he read, the more things began to make sense, and his career changed once more. By the way, he is now a father of two, and his kids are on track to be taller than he, which with him is just fine.
When I met Derrick and Karen in 2007, they were in the process of purchasing Herb-n-Life in Madison. It became their first store with a new name, Nature's Apothecary. Derrick picked the name because his studies had convinced him that for so many of our ailments, the answer was in nature itself. He also told me that he "was blown away that he could actually help people, and make a living at it!"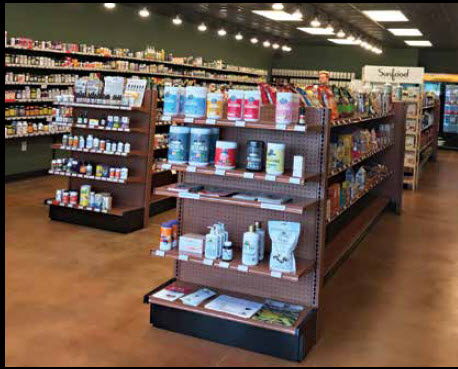 Their next store was the old Foods for Life in Huntsville. That had been one of the original health food stores in Huntsville, and just like the Moontown Airport, they were able to turn it around. That was five years ago, and this past March they opened their new store, which is located right next door to the Athens Publix. Derrick told me that the plan is to open more stores in the area, and what he does with each store to ensure success is find staff members that truly want to help people. Then he shows them how. The two most important things he teaches are, "Principles before profit," and, "If you do the right thing, the rest will follow."
Derrick went on to tell me that he doesn't think having a heart to help is something that can be created, but rather it's only something that a mentor can draw forth. He has codified Nature's Apothecary's mission statement and corporate culture tenets for his stores, and personally interviews each potential employee. "We have been given two ears and one mouth," he said with a smile, and added, "So I tell my staff to close your mouth and open your ears." In addition, he tells them, "Everything in this store can be bought cheaper somewhere else. 'Sincere help' is not just showing a customer where something is on a shelf, it's cultivating a relationship that is based in genuinely wanting to help solve the customer's problem. It's an intimate business because it involves someone's wellbeing." That kind of client care is a good reason to go pay them a visit!
Nature's Apothecary is having a Grand Opening celebration on June 8 from 9 a.m. to 6 p.m. There will be a drawing for a gift basket, the first 30 people will get goodie bags, and the treats served will be both tasty and healthy. See you there!
By: Ali Elizabeth Turner