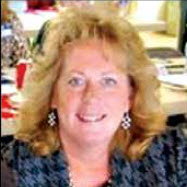 By: Sandra Thompson
A committee made up of members from the Alabama Veterans Museum, local service organizations, and volunteers is working to make this the most memorable Veterans Day parade yet. With many Veterans Day activities being canceled, the committee feels it is more important than ever to ensure the Veterans Day parade is bigger and better than ever before. We are seeking marching bands, floats, historic vehicles, small groups, big groups, and plenty of spectators. It is our way to say a heartfelt "Thank you" and honor and recognize all veterans who have served in the United States Armed Forces. Thank you for the sacrifices you made and make every day to secure our freedoms. It has been a very unusual six months all over the country to say the least, and here at the Veterans Museum is no exception. We would like to bring a little normalcy back to our area, and what better way than a parade. We will not have a typical Grand Marshall, but will focus on our Korean veterans, although all veterans are welcome to participate.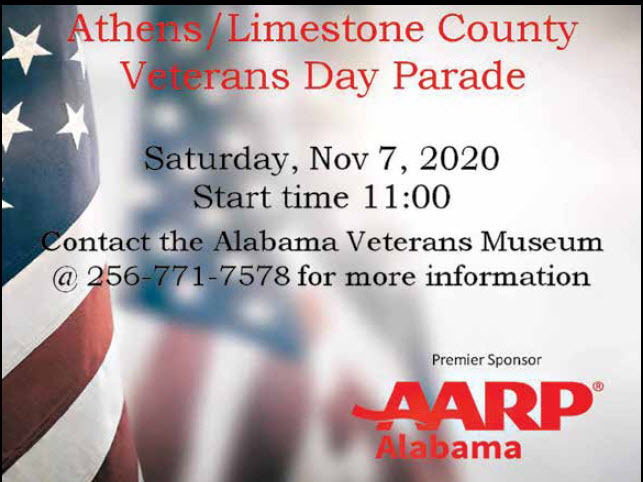 Originally known as Armistice Day, now Veterans Day, it signaled the official end to WWI, on the 11th hour of the 11th day of the 11th month of 1918, when the Armistice with Germany went into effect. At the urging of major U.S. veteran organizations, Armistice Day was renamed Veterans Day in 1954. Armed Forces Day, also in May, honors those members currently serving.
The parade will be held on Saturday, Nov 7 at 11:00 a.m. We are happy to have the American Association of Retired Persons (AARP) sponsor once again this year. AARP offers special discounts and rates for our veterans; they also provide information on veterans' services. Thank you for your support!
While we are accepting donations, the committee decided that there will not be an entry fee to participate in the parade. We will practice social distancing with our entries and hope that spectators will follow the rules of our state.
If you are unable to participate in parade activities, you can still honor our veterans. The Veterans Day Moment of Silence calls on all Americans to observe two minutes of silence on Veterans Day (November 11) beginning at 3:11 p.m. Atlantic Standard Time, in honor of the service and sacrifice of veterans throughout the history of the nation. Contact Sandy at the museum (256-771-7578) or Yvonne Dempsey at 256-431-3213 for more information or to sign up for the parade.
By: Sandra Thompson
Director, Alabama Veterans' Museum