By: Ali Elizabeth Turner
From the time Amber Dunlap was in the first grade, she knew she wanted to be a teacher. Education was in her blood, and at the time the only option that seemed to be available was being in a traditional public school system. Amber worked hard, got good grades, and graduated from Auburn University with a degree in elementary education. She got a teaching job, worked hard once again, loved her kids, but she was practically living at school in order to get all her work done. It was not at all unusual for her to put in 12-hour days, and as is currently the case with so many teachers, Amber was buying kids' school supplies with her own money. She began to experience burnout, and didn't know what to do — she loved the kids, but couldn't keep going the way she was.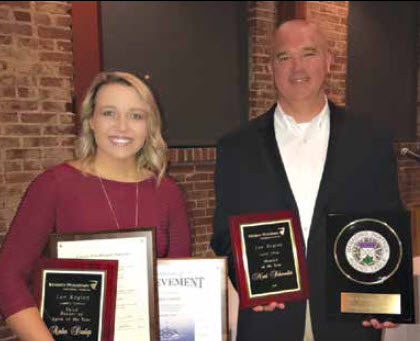 Amber had a relative who was working for Modern Woodmen of America, and he asked her during a school break to come with him to a few appointments "just to check it out;" and her new career was born. "I still do a lot of educating," Amber told me, "but it's just not in the elementary classroom." For Amber, the decision to leave public school education was "the crucible," and she struggled with her decision for a good while. Thankfully, because her financial firm (Modern Woodman of America is so much about giving back) she is once again in a position to strengthen teachers and kids through MWA's various grant programs. As a BNI member, I can attest that in Athens she has reached out to non-profit organizations, such as Keep Athens Limestone Beautiful and Hospice of Limestone County, with the intent of assessing their needs and seeing what MWA can do to help meet them.
Amber's professional lifestyle of helping people to plan their financial future as well as invest in the well-being of the community demonstrates the foundational principles of Modern Woodmen of America. MWA goes all the way back to 1883, and was formed by an Iowa businessman by the name of Joseph Cullen Root. In that day, private, fraternal, mutual benefit organizations were the ones who cared for "orphans and widows," and Root got the idea of calling his new group Modern Woodmen after hearing a sermon wherein the impact of pioneers coming together to clear land in order to provide for their families was described in detail. He wanted to be a "woodman," and was looking for others that would catch the vision and choose to join him.
Here is how Modern Woodmen of America describes who they are and what they do: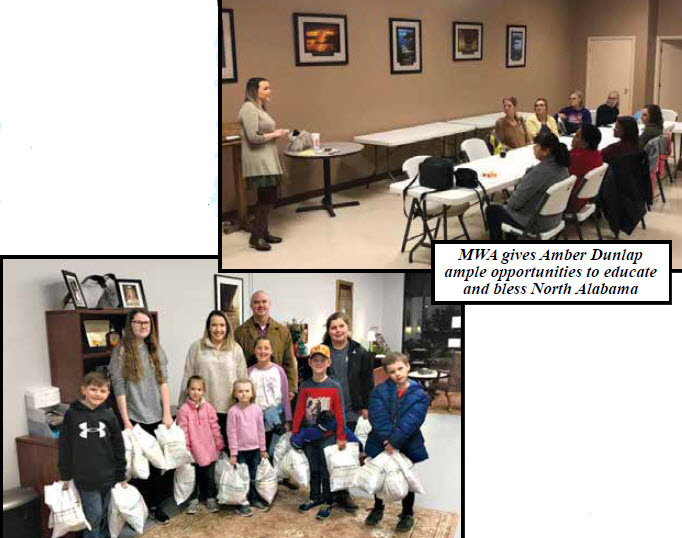 "What is a fraternal benefit society? Well, it begins with fraternalism. Fraternalism brings to mind friendship, fellowship and camaraderie – all qualities that describe a fraternal financial services organization like Modern Woodmen of America. Modern Woodmen has members, not customers. Members enjoy benefits, such as college scholarship opportunities and disaster relief assistance. They're part of local chapters which offer the chance to participate in fun, educational and community-minded events. Whether they're raising funds for a family in need, planting flower beds for a fire department or visiting a regional attraction, members have many opportunities to get involved. One of Modern Woodmen's most popular programs is the Matching Fund Program, which helps members make a larger impact in their community. Through the program, a portion of the dollars raised during a qualifying fundraising event will be matched by Modern Woodmen's home office. Modern Woodmen's greatest benefits are its financial products and services. From protection to saving to retirement planning, Modern Woodmen representatives help improve the financial strength and quality of life of members, their families and their communities. Modern Woodmen's quality products, dedicated service and life-enriching member benefits have helped make it the third largest fraternal organization in the United States. Proudly serving more than 750,000 members nationwide, the fraternal financial services organization has helped protect members' financial security since 1883."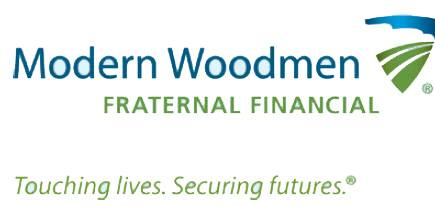 So, what does a "day-in-the-life of Amber Dunlap" look like? It can be anything from meeting with new or existing clients to see if their current plans truly meet their needs, finding ways to save them money, roll over their existing 401Ks or other plans to something that will indeed strengthen their financial future, or educating them so they can make informed choices that will truly benefit them. She is a big believer in the Golden Rule; she strives to treat her clients the way she would like to be treated if she were being called upon to navigate what can sometimes be the treacherous waters of financial planning and insurance. One of the things that I have come to appreciate about Amber is how willing she is to graciously educate people like me who tend to get intimidated by the world of finance. Amber's day also often includes meeting with community leaders, businesses, and organizations to see if Modern Woodmen can be of help to their employees, projects, or events. Amber is kind, smart, and ready to help; therefore, I strongly suggest that you give her a call today at 256-221-4048 for a no-obligation appointment. You will be glad you did!

By: Ali Elizabeth Turner