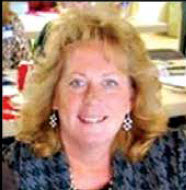 By: Sandra Thompson
It is with great pleasure that I announce this year's Memorial Day program guest speaker, Major General Jeff Drushal. General Drushal is the commanding general of the U.S. Army Security Assistance Command (USASAC). USASAC leads the AMC Security Assistance Enterprise; develops and manages security assistance programs and Foreign Military Sales (FMS) cases to build partner capacity; supports COCOM engagement strategies; and strengthens U.S. Global Partnerships.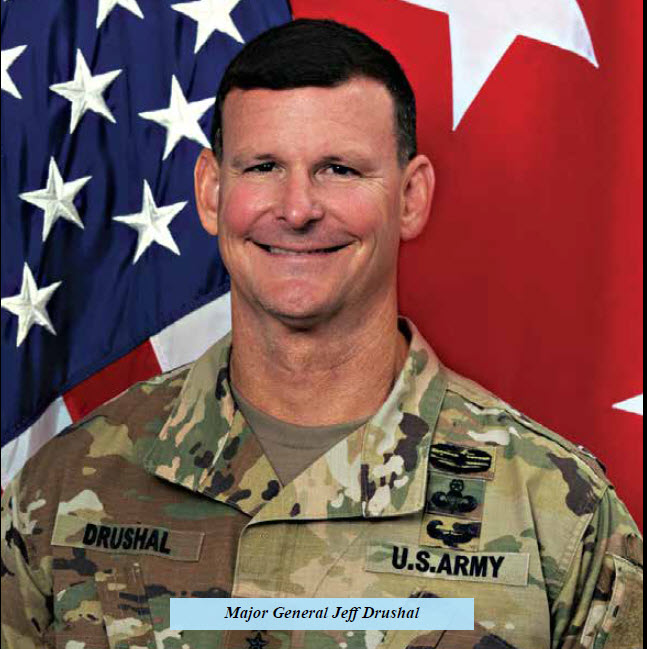 USASAC is the Premier Security Assistance Organization in the Department of Defense. USASAC advances U.S. Strategic Partnerships by providing exceptional support in Security Assistance and FMS.
Major General Drushal was commissioned as a Second Lieutenant in the Transportation Corps in 1989 after graduating from the University of Tampa as a Distinguished Military Graduate with a Bachelor of Arts in Business Management degree. He earned a Master of Science in Logistics Management degree from the Florida Institute of Technology and a Master of Strategic Studies from the United States Army War College.
Major General Drushal's operational experience encompasses a career spent mostly in tactical units with three deployments to Iraq, two deployments to Afghanistan, and one to Kuwait. He also deployed to New Orleans International Airport in support of state- and national-level relief operations resulting from damage caused by Hurricane Katrina. Major General Drushal most recently served as the 29th Chief of Transportation and Commandant of the United States Army Transportation School at Fort Lee, Virginia. During 27 years of service, his key assignments include Platoon Leader and Assistant Battalion S3, 7th Infantry Division (Light), Fort Ord, California; Battalion S1, 2d Infantry Division, Camp Hovey, Republic of Korea; Supply and Services Officer, DISCOM S4, and Company Commander in the 82d Airborne Division, Fort Bragg, North Carolina; Support Operations Transportation Officer, 2d Infantry Division, Camp Casey, Republic of Korea; Assistant S4, 1st Special Forces Group (Airborne) Fort Lewis, Washington; Division Transportation Officer, Battalion Executive Officer, Brigade S3, Brigade Support Operations Officer in the 82d Airborne Division, Fort Bragg, Afghanistan, Kuwait, and Iraq; Battalion Commander of the 57th Transportation Battalion, 593d Sustainment Brigade, 1st Corps, Fort Lewis; Task Force Commander of Joint Logistics Task Force 57, 593d Sustainment Brigade, 1st Theater Support Command, Arifjan, Kuwait, and Iraq; Brigade Commander, 45th Sustainment Brigade, Schofield Barracks, Hawaii, and Afghanistan; Executive Officer to the Deputy Chief of Staff, G-4, United States Army, Washington, D.C.; and Deputy Assistant Chief of Staff, C/J-4, United Nations Command/Combined Forces Command/United States Forces Korea, Republic of Korea. He is a graduate of the Transportation Officer Basic Course, Combined Logistics Officer Advanced Course, Command and General Staff College, Logistics Executive Development Course, the United States Army War College and the Army Senior Leader Seminar program. His training includes the U.S. Army Airborne School, 7th Infantry Division (Light) Air Assault School and the 82d Airborne Division Jumpmaster School. He is also a CrossFit Level I certified trainer.
Major General Drushal's awards and decorations include the Legion of Merit (1 OLC), the Bronze Star Medal (4 OLC), the Meritorious Service Medal (3 OLC), the Army Commendation Medal (4 OLC), the Army Achievement Medal, the Global War on Terrorism Expeditionary and Service Medals, the Iraq Campaign Medal with five campaign stars, the Afghanistan Campaign Medal with two campaign stars, the Korea Defense Service Medal, and the Humanitarian Service Medal. He has earned the Combat Action Badge, Master Parachutist Badge, and Air Assault Badge, as well as the British Parachutist Badge and Ukrainian Parachutist Badge.
Major General Drushal is married and has two children.
This year's Memorial Day program will be held at the Limestone County Event Center (across from the museum.) Our program will start at 11:00 a.m. Please contact Sandy at 256-771-7578 for further information.
By: Sandra Thompson
Director, Alabama Veterans' Museum