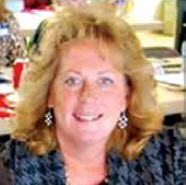 By: Sandra Thompson
With a new year come exciting new events, and on April 18, 2020, it comes in the form of a 2 Gun Pistol Match! This match will be hosted by Sergeant Shannon Thrasher. Thrasher is a combat veteran of the U.S. Army's 1st Special Operations Command. While in the Army, he participated in Operation Just Cause and Operation Desert Storm.
In 1992, Thrasher returned to his home state of California to begin his career in contract security and law enforcement while continuing to serve our country in the National Guard — participating in Operation Enduring Freedom, as well as working as an Executive Protection agent in the private security sector. He moved to Alabama in 2002 to advance his career with the Limestone County Sheriff's Department as a Deputy Sheriff, and continue operations as a Personal Protection Specialist (P.P.S.) providing close personal protection to VIPs, CEOs and at-risk clients. Mr. Thrasher currently serves as Senior Sniper on the department's Special Response Team. He holds qualifications as a Tactical Operator, Tactical Medic, Police Sniper, Personal Protection Specialist, and is a Nationally Registered Emergency Medical Technician (E.M.T.). Additionally, Mr. Thrasher currently serves on the instructor cadre for the FBI law enforcement firearms instructor course. As an F.B.I. Certified Firearms Instructor for handgun, shotgun, submachine gun, and patrol rifle, he brings 20 plus years of real-world, practical experience to the law enforcement officers and civilian students he instructs.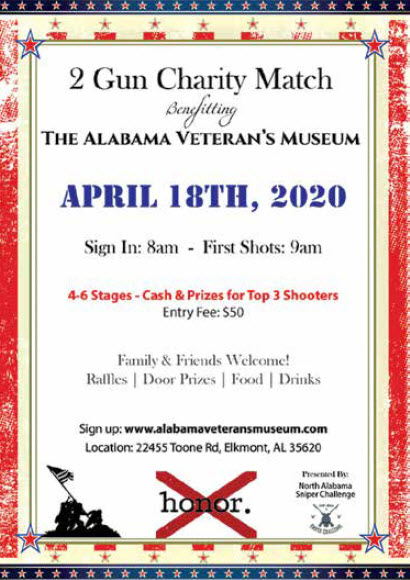 This event will be held at a private range in Elkmont and will consist of four to six different stages. Using both a rifle and handgun, the competitor will shoot at stationary steel, reactive steel and paper targets. Scoring will be done on a "total time" basis. The accumulated time of all stages, plus target points, minus penalties, equal total time. That is the final score. The top three shooters will win a cash prize. There will also be food, drinks, raffles, and door prizes; so even if you are not competing, come out and join the fun. Cost to enter is $50.00 per person.
Sign up at our website http://www.alabamaveteransmuseum.com/2gun.html or at brownpapertickets.com. Rules/Safety requirements are posted. For more information contact Sandy at the museum 256-771-7578
By: Sandra Thompson
Director, Alabama Veterans' Museum