By: Ali Elizabeth Turner
Editor's note:
Carissa Lovvorn's first book, Seeds For Sharing is coming out in February, and as someone who has seen the proofs, I can unreservedly say that if there are young children in your life, this book needs to be in your library. I had been hired to pen the press release, but a relative surprised her with the following tribute to the woman as well as her work, and asked to write the article remain anonymous. Enjoy, and lend your support to this talented new author.
As a young lady of unique determination, Carissa Lovvorn was greatly influenced by the authors that she read and the characters in their respected books. In particular, the independent tomboy Jo March in the Louisa Mae Alcott novel, Little Women affected Carissa. In the same spirit of Jo, Carissa lives her life to create and inspire those around her. The grandaughter of Christian missionaries who worked tirelessly to establish a church in poverty-stricken Eastern Kentucky, Carissa also grew to appreciate the compassion-filled lifestyle of people who live selflessly to help others. Combining the imagination and fierce passion of Alcott's Jo, and the real-life lessons learned through her family's mission of continually giving back, there is little surprise that Lovvorn's first work as a published author would be a charming children's book that will launch on February 23. Seeds For Sharing is a beautifully presented message of moving forward with the purpose of helping those around you.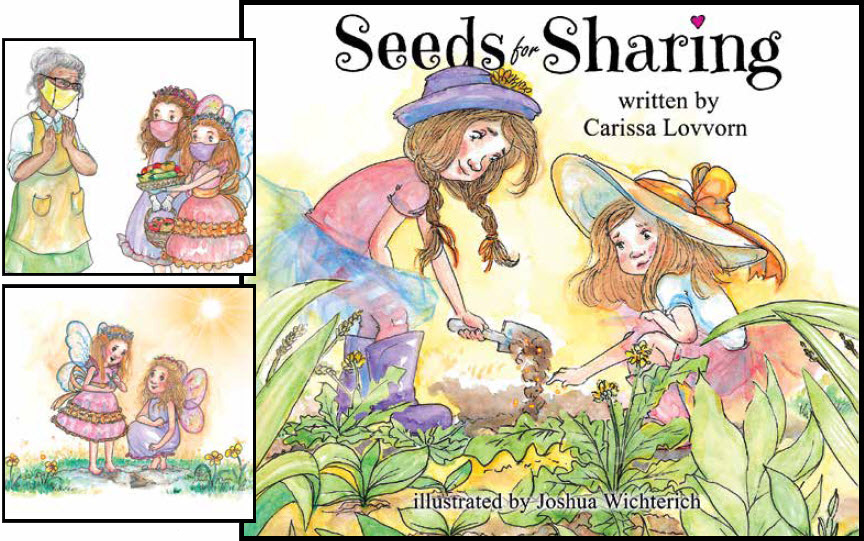 Lovvorn, who was born and raised as Carissa Behel, grew up in the small farming community of Harvest, Alabama. Along with her younger sister and two brothers, the Behel children shared many adventures in their rural setting. Their days were spent playing in creeks, climbing trees, fishing, and any number of youthful activities that one may expect in this pastoral setting. Carissa and her siblings were raised to understand the value of hard work, honesty, and determination. They were also taught to believe in themselves and to never give up on their dreams. Now, with a wonderful purpose in mind and a multitude of creative opportunities in her midst, Carissa Lovvorn is inviting everyone to share in her Godly gratitude and the belief in the ability to change things right where you are.
Along with writing children's literature, Lovvorn is also a gifted singer who regularly performs the National Anthem and the Alma Mater for graduation ceremonies at Athens State University. Carissa graduated Summa Cum Laude from ASU and earned her bachelor's degree in psychology. She has been involved in non-profit organizations, such as United Way where she was the president of the ASU student chapter. She was involved with Habitat for Humanity in Athens, Alabama, first as a volunteer and then later as the affiliate's first ReStore manager. Carissa decided to capitalize on her nonprofit experience and attended the University of Western Kentucky, where she received her master's degree in public administration and nonprofit management. She was also a member of the WKU campus chapter of Habitat for Humanity.
Mrs. Lovvorn, who is married to husband Garth Lovvorn, also enjoys playing piano and writing music. She is a mother of two daughters, and works miracles in their lives daily as most supermoms do. She enjoys painting, reading, hiking in the woods near her house, and gardening. Carissa has been inducted as a member into the Psi Chi Honor Society for Psychology Majors, the Phi Kappa Phi Honor Society, and also the Golden Key Honor Society. She is active in her church by teaching Sunday School to four and five year olds, and has worked on church plays using her creative spark to design sets and costumes. Carissa is an active member of the Athena League. She is a dear friend and counselor to all who know her, and truly devotes herself to making things around her genuinely better for everyone.
The book, entitled Seeds for Sharing is based on Lovvorn's experiences during the current COVID-19 pandemic. When the local school that her daughters Isabelle (7) and Ella (4) attended had to close due to the need to socially distance and remain at home, a new adventure was awaiting the three as the spring season moved in and it was time to plant! Initially the backyard garden was created as a means to grow food for the family and minimize trips to the grocery store. What followed was an education in using the seeds that God provides, along with soil, water, and a little patience. Soon there was an overflow of fresh vegetables coupled with an overflow of love and blessings to neighbors, relatives, and many throughout the community.
Seeds For Sharing is the first in a series of many books to come, and Carissa intends to use these literary works to inspire people to start where they are and to do something to make a difference in the lives of others. Seeds For Sharing can be pre-ordered on Amazon.com, Walmart.com, and Barnesandnoble.com. Please visit www.carissalovvorn.com to view her website, the inspiration behind the story, and her new blog Simply Growing in Grace.
By: Ali Elizabeth Turner