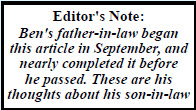 By: Arvid McGuire
Limestone County's Leading Voice for Better Roads and Fiscal Responsibility
Ben Harrison grew up on his family's farm just outside the Owens community. He attended West Limestone High School, along with his four siblings, before graduating from Auburn University. Ben is married to the former Beth McGuire, and together they have four children and three grandchildren. Family, community, and Limestone County values have always been important to Ben, and they are the main reasons he decided to get involved in politics.
Before running for public office, Ben worked in the business world as a technical services manager for the Kohler Company, and later as a small businessman. He is well known for his principled voting record on the Limestone County Commission, where he is often the only vote against unnecessary projects, wasteful spending, and giving taxpayer money to out-of-state corporations. "I'm not a normal politician, and I guess that sometimes gets me in trouble", Ben said with a grin. "I will always stand up for the people of District 4, and not back down just because it's not politically correct," he continued.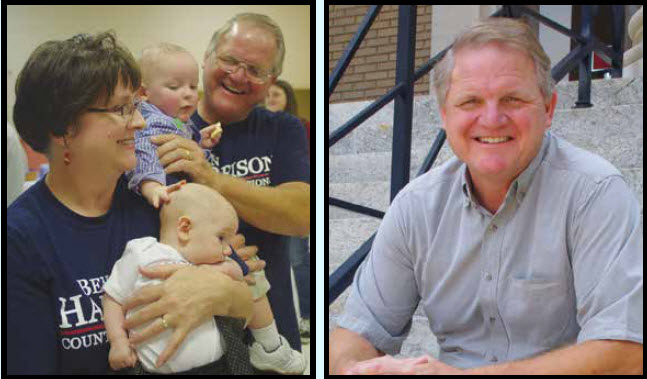 As a County Commissioner, Ben's top priority is serving the people of District 4, and he's been working hard to build a foundation for our future during his time in office. That foundation includes not only paving projects on 22 roads, but also paying off debt, streamlining operations, and repairing base failures on roads across the district. Ben's conservative values and business experience also serve him well as a watchdog over government spending. District 4 is currently the only district in Limestone County debt free, and Ben is proud to have accomplished that feat before the end of his first term.
Sharing Limestone County's conservative values, Ben is a well-known Republican leader around the State of Alabama. In the 2020 March primary, Ben won the election for Donald Trump Delegate to represent both Donald Trump and the State of Alabama at the Republican National Convention. Receiving 205,130 votes statewide, he won a three way race by 46,467 votes.
Ben Harrison is currently the only Limestone County Commissioner who holds a seat at the Alabama Association of RC&D Councils. This position allows him to represent our needs and our values at the state level. He has been able to secure over $100,000 in grants for our schools, volunteer fire departments, and non-profits like the library. Athens City Schools, Athens Bible School, West Limestone High School, Clements High School, Sugar Creek Elementary, Elkmont Elementary and Elkmont High have all benefited from his hard work promoting our area in Montgomery.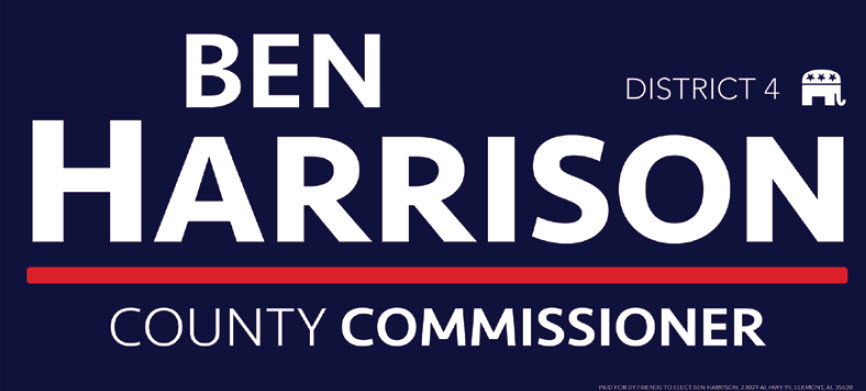 In serving the people of District 4, Ben works to improve the standard of living for every Limestone County resident. From improving storm safety, to helping stop water rate increases by stabilizing the Water Board, Ben Harrison never stops working for you. His voting record speaks for itself: he has a consistent voice fighting for better road funding, cutting wasteful spending, cleaning up corruption inside county government, and stopping tax increases.
As a lifelong resident of Limestone County, Ben is committed to making county government truly serve the people instead of special interest. Ben works every day to support, defend, and serve the people of District 4. If you are looking for a principled, hardworking, fiscal conservative for County Commissioner, then look no further than Ben Harrison.
By: Arvid McGuire