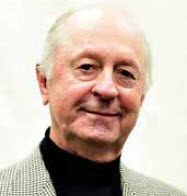 By: Jerry Barksdale
My good friend, and sometimes redhead, Pat had been dropping hints that we should visit the Virgin Islands in the Caribbean. It would greatly improve my health, wouldn't cost much, and she could shop. A great plan. What could possibly go wrong?
Our friends Jack and Diane (not real names) would travel with us. Like the Washington "Whistleblower," they choose to remain anonymous. I don't blame them.
Jack is ex-military and immediately assumed the planning of our trip like it was the second D-Day landing. I appreciated that since I am unreliable. Several years ago, I was goofing around and had to run to my flight and bang on the door until it was opened.
We flew from Nashville to St Croix. I looked out the window as we made our final approach to Henry E. Rohlsen Airport, named for the St. Croix native and WWII Tuskegee Airman.
Below was a beautiful emerald island set in a sapphire sea. The weather was a hot 95 degrees and breezy. Very relaxing. The locals were friendly and laid back. "No problem." Stress melted away. Jack got behind the wheel of our rented Ford and that's when I saw the window sticker: "Drive on the left side of the road." Oh my! Two things happened simultaneously, my sphincter tightened, and I tightened my seat belt.
St. Croix (pop. 50,000) is an American territory and the only place in the U.S. where one drives on the left side of the road. The former home of Alexander Hamilton, the island is 22 miles long and 7 miles wide with a tropical forest on the west end and semi-arid climate on the east end. Wealthy folks live on the east end in beautiful hillside mansions overlooking the peons.
The island has attracted tourists ever since Christopher Columbus, that old "white honky" (as some call him), visited in 1493 and was greeted with a hail of arrows and hate speech: "Go back where you come from Yankee dogs!" Well, they could've yelled that. Talk about unfriendly folks! Once considered a hero, Columbus has fallen in disfavor with some and has gotten a bad name.
I bet "waterboarding" would have squeezed the real truth out of him. "Pleeeaase, don't drown me. I confess, I'm a troglodyte, a homophobic, xenophobic, misogynistic, nationalistic, sexist, Bible-thumping, gun-toting, climate-change-denier, Walmart-shopping, racist… And what's that other crime? Oh yeah, I'm a white male." Bless his heart. He was just visiting.
Malcontents want to tear down Columbus's statues and abolish the National holiday. The 2.1 million Federal employees who stay home, sleep late, and get paid may object. I suggest that the statues can be saved by papering them over with job applications. Antifa would flee like a vampire before a cross. Columbus has given Italians a bad name. I'm just glad he wasn't from Alabama.
Now back to our less-historic visit…The red-tiled back porch on our two-bedroom condo was located only a few yards from crashing surf and coconut palms. Aaahh…Lady Luck had sent us to paradise. I didn't know it at the time, but she has an evil twin brother–Bad Luck. There was no door on our bathroom located near the dining room. Oh, well, peculiar noise emanating from there would provide interesting breakfast conversation. As the locals say, "No problem."
Each morning while Pat fried bacon, home fries, and eggs, I sat on the back porch sipping Maxwell House, listening to the crashing surf and re-reading a favorite book, Travels with Charley. I decided to make contact with the local natives, three young men who were raking up seaweed that had washed ashore.
"What time does the tide come in each day?" I asked.
"Oh, mon, it comes when it wants to." Huh? Irrefutable proof of climate change. Debate over.
Red roosters patrolled the streets of Christiansted crowing and chasing reluctant hens that apparently had headaches. If there isn't a hen "me too" movement, there oughta be one.
The island hasn't recovered from Hurricane Maria which ripped through in 2017. Roads are washed out in places, houses destroyed, buildings abandoned. I was told there are no poisonous snakes on the island, just the pythons that mongoose eat. That's great news. I'd rather be squeezed to death any day. Iguanas are plentiful.
We drove to the rainforest where bushes and tall grass overlapped the road shoulder and potholes large as a wash tub made driving difficult. Pat and Diane were in the backseat bumping up and down. The Ford bucked and jumped like a brahma bull as we slammed across potholes.
"I'm losing my ovaries!" exclaimed Diane.
"Yeah, I'm discovering my hemorrhoids," I replied.
Thursday morning we checked out of the condo before 11 a.m. and decided to tour the island once more before our flight departed late afternoon.
At Sandy Point Wildlife Preserve, I suddenly had to pee. Bad timing. Lasix pills have no social conscience. I frantically began looking for a toilet, tree, bush, power pole. None. "Turn off here," I said to Jack, and we drove down a dirt road on the preserve and stopped near a house. Grandpa Barksdale always said 200 feet is decent, but that was when he was 84 years old and half blind. I was standing at the back of the car, head back, eyes closed. "Aaahh, yes!" What a beautiful moment. A dog barked. Oh no! A 4-wheeler driven by a woman was coming up fast. When she saw my predicament, she stopped. After the wonderful experience ended, she drove up, and I apologized and explained. "That's okay, I understand. My father is 76," she said. What a lady! If my cardiologist doesn't take me off Lasix, I'm going to end up in jail charged with indecent exposure.
Later, Jack said, "Let's stop at Wendy's and get a burger."
"Let's eat a good meal," I said. Bad suggestion. We stopped at the Buccaneer, a high-dollar hotel/resort and ate. Bad decision. I reached for my credit card and it was missing. Bad luck had made the scene. I called the last place I remembered using it. "Ya, mon. We have it. No problem." We drove to fetch it. That took time. Jack suggested that we fill up the Ford with gas before returning it. We would save a few dollars. Another bad decision.
Finally at the airport we returned in the Ford and lugged our suitcases to American check-in. It was one hour before departing. American had closed shop! No one was present. We couldn't board our flight. The next flight out was 4 days later. Jack called American. We could wait 4 days or forfeit our tickets. Jack quickly did a cost analysis between our choices and we decided to re-rent a car, spend the night and purchase tickets on another airline and depart the following day. My share of the extra cost was $1,276.00.
Pat was upset because she wouldn't be back at her beauty shop – The Total Look – on Friday to transform women into ravishing beauties. One of her life goals is to stamp out ugly in Athens. Women running around town with bad hair could spell trouble. We ate supper at the Buccaneer. Pat is a teetotaler, doesn't smoke, and never cusses except when necessary to chase me back in the doghouse.
"What'll you have, lady?" asked the waiter.
"Give me a strawberry daiquiri."
Uh oh! I shut my mouth.
Finally homeward bound, I looked out the window as our plane made its final approach. I saw no emerald and no sapphire, only a brown, gritty looking old city — Newark, New Jersey, the most beautiful place I'd ever seen. Then on to Nashville and home.
It was a memorable trip. To paraphrase W.C. Field — All things considered, I'd rather be in Athens. My credit card is in rehab, Pat's new outfit she purchased disappeared from her suitcase, Jill lost her ovaries, and I got reacquainted with my hemorrhoids, Bad luck is never welcomed, but on the other hand, it's never boring.
By: Jerry Barksdale
www.jerrybarksdale.com fb.com/jerry.barksdale.7