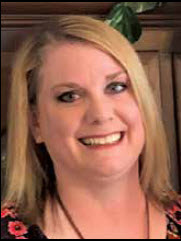 By: Leigh Patterson
Once a year, KALB participates in Keep America Beautiful's Litter Index Survey. We travel four stretches of roadway in each of Limestone County's four commission districts, and each of Athens City's five council districts. We then score these according to the amount of litter that is found on the sides of the roadways.
KALB's Office Manager, Jenny Green, and I began this year's litter index in November. What we found was that our city and our county, though some areas are much better than others, have a real litter problem. As we were driving along winding roads with rolling hills and beautiful scenery, it was very disheartening to find that one thing kept outshining the natural beauty around us, and that was the unsightly litter on the sides of the road.
Besides just being unattractive, litter is harmful to our environment, it reduces property values, and it tells those who visit here that we might not care enough about our community to keep it clean. I encourage you to open your eyes and pay attention to the sides of the roadways as you are riding along. Once you see it, it is hard to "unsee" it.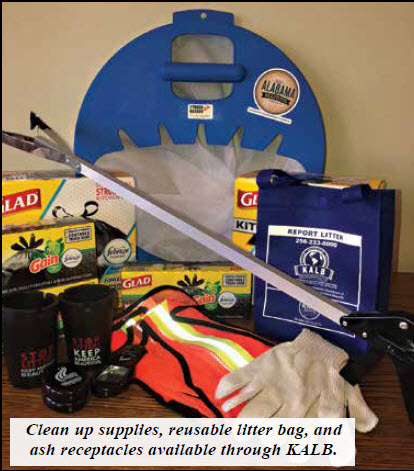 I could spend a great deal of time discussing who is littering, what other sources litter comes from, and why it continues to happen, and while these are important discussions to have, the fact of the matter is that the roadways/public spaces ARE littered, it IS a real problem, and it's NOT going away. It is up to each one of us as individuals to do our part and to become part of the solution.
So, how can you as an individual make a difference? There are actions that you can take on your own, and there are ways that we at KALB can partner with you to help you to become part of the solution. Here are some of the things that you can do:
TAKE RESPONSIBILITY FOR YOUR OWN TRASH AND DISPOSE OF IT PROPERLY
Bag your trash properly at home and make sure that your trash cans have tight-fitting lids or lids that close. Do not toss loose items into your outdoor garbage cans.
When in your car, hold on to your trash until you can find a garbage receptacle. Keep a litter bag in your car. KALB will be happy to provide you with a washable, reusable litter bag for your vehicle. Drop by the office during business hours and pick one up!
Dispose of cigarette butts properly instead of throwing them down on the ground or out of the car window. KALB has both pocket ash trays and ash receptacles for vehicles available, and we will be happy to provide you with these to help keep cigarette litter out of the environment.
Business Owner and Managers: Make sure that dumpsters are securely closed, and that loading docks, property frontage, and parking areas are kept clean. Have garbage receptacles and ash receptacles available if possible.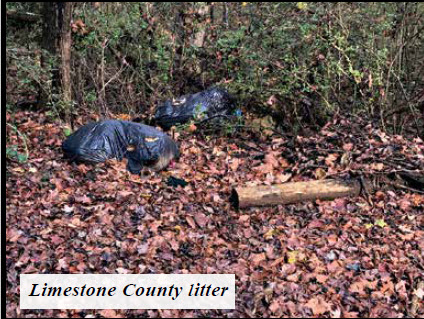 HOST A ONE-TIME CLEANUP
KALB can supply you with everything you need to host a cleanup. You may choose to work individually or organize a group cleanup for your neighborhood or another area that needs attention. We will be happy to support you by lending supplies needed to clean, including litter grabbers, trash bags, safety vests, and gloves.
ADOPT-A-SPOT PROGRAM
If you are interested in volunteering on a more regular basis, our Adopt-A-Spot program may be just what you are looking for. Groups or individuals may adopt a stretch of roadway, and KALB will provide you with the supplies needed to clean the area regularly. Adopt a spot in the City of Athens and your non-profit or civic organization can benefit! Groups that commit to clean up their adopted spot once a month will be rewarded with a check for $50 after every 3rd cleanup (maximum once per quarter). The money must be sent to a civic or non-profit organization and cannot benefit individuals or private business. Individuals that adopt an area in the city may donate their $50 to the civic or non-profit group of their choice.

REPORT LITTERBUGS
If you see someone litter from their vehicle or you see litter flying from a truck bed or commercial vehicle, REPORT IT! Call the Litter Hotline at 256-233-8000. Tell us the time and location, vehicle tag number and description, and what you witnessed. We keep your information confidential. Let's let litterbugs know that we care about our community and we are watching.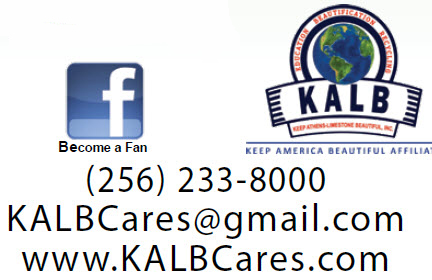 We as individuals are responsible for our own choices and our own actions, and though we cannot solve the litter issue on our own, making good choices can definitely be part of the solution. KALB is ready and available to help in these endeavors to be good stewards, and just maybe our positive actions can make a good impression on someone else and inspire them to do better as well.
By: Leigh Patterson – Executive Coordinator – Keep Athens-Limestone Beautiful