By: Ali ElizabethTurner
Kelly Nave, founder of Kelly's Studio of Dance has had the chance to travel and dance all over the world, and has always wanted to impart a strong sense of adventure and purpose to her students. From the beginning, Kelly's Studio of Dance (KSD) has had the philosophy that "It's always been about way more than dance." What does that mean? That as satisfying and creative as dancing can be, what is far more important is to build the dancer into an excellent, hard-working performer — a person who gives back, builds their faith, strengthens their community, and has a whole lot of fun while doing it. Whether it's been through Serve Day, giving recitals, praying together, Summer Camp, competitions, or international travel, KSD is committed to being much more than a place to learn to dance well.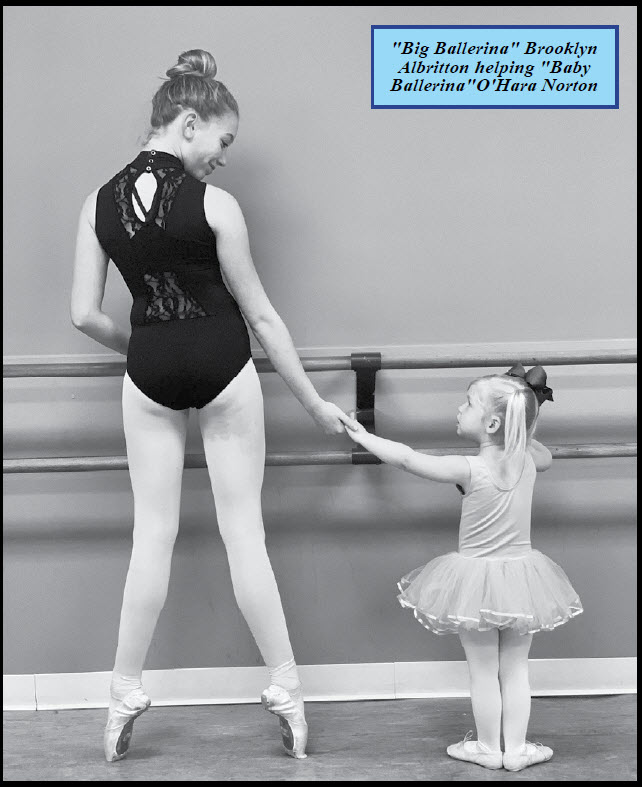 This has been a banner year for KSD, and as I spoke with Kelly about all that has been accomplished, I had to fight tears as I heard about touching stories, breakthroughs in performances, winning awards, helping grow our community, building relationships that will last a lifetime, and even a cruise to the Bahamas. Kelly has no problem expressing what she is about and how KSD functions: "It is about building students, helping mold strong, confident, enthusiastic young people who serve. Dance is an avenue to build kids and community."
This past Sunday, for the first time, KSD stepped out and did something a bit risky, and that was to gather KSD students, their families and friends together for a back-to-school event called, "Praying People." They wanted to come together in unity and ask God to move this year in our schools. Teachers, administrators, students, and families were all prayed for, with the intent that it would be a safe, positive, productive school year for everyone. Pastor Joel Carwile of First Baptist Church in Athens presided, and Kelly told me, "There were tears, happiness, and hugs." About 60 people showed up, and Kelly added, "I am thankful we have the freedom to do this here in Athens." It was another thing, a thing that had nothing to do with dance, and everything to do with Someone greater than oneself.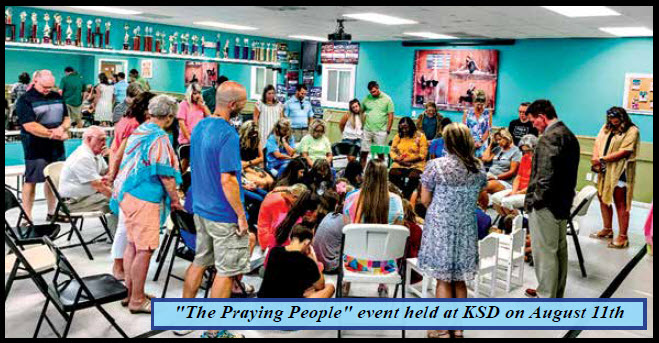 Another KSD first for 2019 was a cruise to the Bahamas on Royal Caribbean from June 24 to 28. About 30 people went, and 9 dancers from the age of 9-17 performed as part of the ship's entertainment staff. While it was most definitely a magnificent trip, it was a lot of hard work; more importantly, there was a bonding amongst the dancers and the families that Kelly believes will last a lifetime. It's difficult to describe how powerful those kinds of experiences can be. Kelly told me that just last week she went out to dinner with several of those who were on the trip, and had a wonderful time. "I have always loved experiencing new cultures, introducing my dancers to different parts of our country and abroad, and I am so thankful for families that will invest in not only their child's dancing, but also in life experiences to broaden their horizons," she added.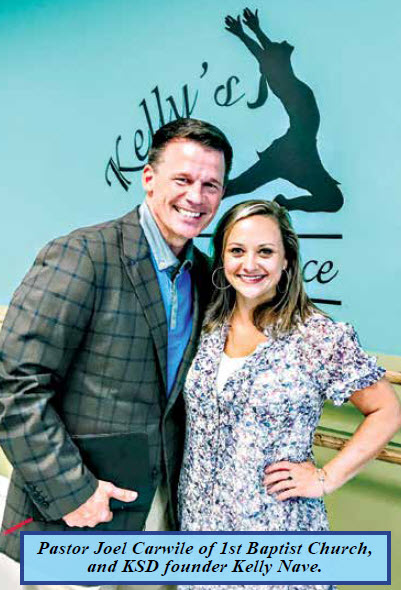 The theme of this year's recital was "Brave," and Kelly said her dancers were challenged to be brave, whether it was at home, school, church, and to follow their convictions, no matter what. "We had three performances, and for the first time, we highlighted family "brave" stories each night. John David Crowe produced a video of each family's story, and they came on stage while it was being played. One story was of a dancer's daddy who had been deployed to Afghanistan. It was not just about the soldier's commitment to fight for our country, and the bravery that goes with such a commitment, it also honored the family who waited for his safe return.
Another story was that of an adoptive family. Ten years ago a little girl was brought from China to her "forever family," who chose KSD as a way for her to have fun and make friends through the international language of music and dance. "Oftentimes kids will come for the first time and cry when their parents go; but before they know it, they are fine and having fun. What I found out is that this was the very first time the parents left her with anyone since bringing her home, and the fact that they trusted me with her, it really touched me," said Kelly. The video honored the whole family for their brave choice to adopt.
A third story was about the family of Kevin and Stacey Givens. Both of their kids are brave, as Brooks has sensory needs, and Ally, who dances at KSD has a severe hearing impairment. "You would never know by watching Ally dance that she struggles to hear the music," said Kelly. "She is a talented little girl," Kelly added, and someone else told me that Ally is one amazing sister to her brother, Brooks. Stacey spearheaded a project to have a sensory room (where kids on the spectrum or who grapple with other issues can go to re-group and then re-join their classroom) installed in his school. Now, thanks to her efforts, there is a sensory room in every Athens City School, and First Baptist has one for kids in their church. This is a brave family that has chosen to be unstoppable, and Kelly wanted to acknowledge their courage as part of the "Brave" recital. Once Stacey was asked about their family's journey, and how she can be so brave facing her family's challenges. Her answer? "Because my faith is bigger than my fear."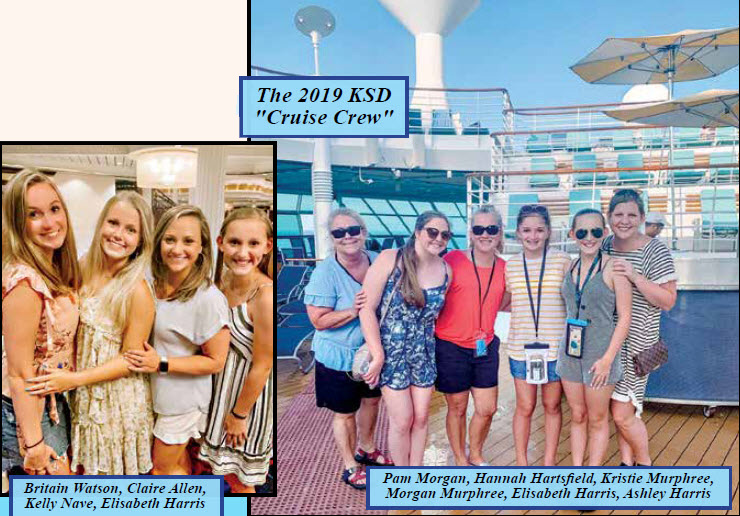 Kelly is committed to her conviction that KSD will always be about "more than just dance." This year, the studio raised money through T-shirt sales to donate to the sensory rooms fund for Athens City Schools. They have done "Back to School" supply drives in the past to donate to local elementary schools, they participate in Serve Day, they gathered and packed 100 bags of food for the "Full Tummy Project," and they have offered "Discover Dance", a free day of dance for any and all to come participate in. Kelly, who is fiercely patriotic, also did the choreography for skits including "Rosie the Riveter" at the Alabama Veterans' Museum Anniversary fundraiser. She gives of her time to the Senior Center and the Foundation on Aging by working with Poke Sallet. This year, she worked alongside City Councilman Frank Travis and City Attorney Shane Black to design and teach the dance sequences for the show. "There was not one time that I felt, 'Oh, I don't want to do this,'" she told me. "This group of volunteers work hard, and it is just fun and inspirational to be around such giving, positive people," said Kelly. Volunteering for community events has really allowed her to have a deeper appreciation for Athens and its people. "I absolutely love this town and the community spirit that is undeniable." Kelly said.
Clearly, Kelly has a heart, and so do the KSD kids; but can they dance? Oh, yeah. They are the recipients of multiple awards (locally, regionally, and nationally), have produced successful professional dancers, and are considered good enough to have Master teachers from all over America come in for workshops. Classes for "Baby Ballerinas" start at the age of 2, and recently a mom told me that her 3-year-old absolutely loves life at KSD. KSD kids grow into remarkable young people, often come back to help teach, and they are making a positive dent in our Athens universe. Registration is open, new fall classes are forming, and you need to put your dancers of any age or skill level in the KSD "garden" so they can not only "sprout," they can truly bloom forever.
By: Ali Elizabeth Turner