By: Maya Bronstein, Keep America Beautiful
STAMFORD, Conn. (Feb. 28, 2020) – Keep America Beautiful®, the nation's leading community improvement nonprofit organization, presented Keep Athens-Limestone Beautiful (KALB) Executive Coordinator Lynne Hart with the Sue Smith Professional Leadership Award for her work leading KALB over the past 20 years. The award, named in honor of the former director of education of Keep America Beautiful, was presented at the Keep America Beautiful National Awards Ceremony, which recently took place during the Keep America Beautiful National Conference in Memphis, Tennessee.
Under Hart's leadership, several programs have been launched and continue to flourish. The Keep America Beautiful Great American Cleanup®, which includes the annual Trash Attack and Waterway Cleanup and #OneBagChallenge, is a strong, annual event with growing participation and results. Through two Cigarette Litter Prevention Program grants from Keep America Beautiful, Hart added ash receptacles on trails and in the downtown area of Athens. And KALB's Earth Day & Outdoor Expo has grown every year over the past decade.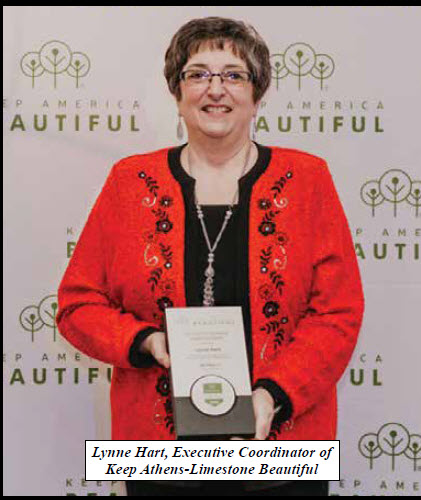 "In the 20 years since joining KALB, Hart has become the heart of the organization and a vital member of the community," said Keep America Beautiful President and CEO Helen Lowman. "Lynne truly loves what her organization stands for. She has been, above all, persistent in working toward the things she believes in and the ideals of Keep America Beautiful."
Over the years, Hart has utilized Waste in Place®, the Keep America Beautiful educational curricula, and has created several educational programs to teach preschool through 6th grade students lessons about litter, recycling, and environmental stewardship. Lynne welcomes invitations into classrooms throughout Athens and Limestone County. She has also developed strong relationships with city and county leadership, several community groups, and local businesses, many of which provide sponsorship support and volunteers. Through her role, volunteerism has increased considerably, and the community has seen a significant change in attitudes about litter and recycling.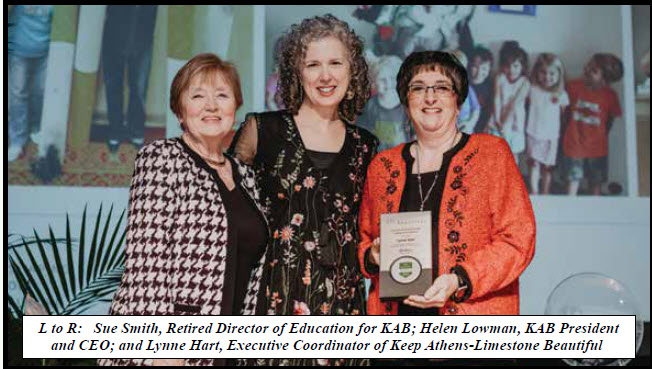 Hart has also received other local recognition, such as being named the 2014 Chamber Public Servant of the Year and the 2016 Athens-Limestone County Tourism Association Helping Hands Award recipient, as well as accepting a Main Street Alabama 2013 Community Award.
Hart was one of more than 80 individuals and organizations from communities across America to receive national recognition. The Keep America Beautiful National Awards celebrate the work of its more than 600 community-based affiliates, millions of volunteers and participants, and corporate and community partners for their commitment and passion to end littering, improve recycling, and beautify America's communities.
About Keep America Beautiful
Keep America Beautiful, the nation's leading community improvement nonprofit organization, inspires and educates people to take action every day to improve and beautify their community environment. Established in 1953, Keep America Beautiful strives to End Littering, Improve Recycling and Beautify America's Communities. We believe everyone has a right to live in a clean, green and beautiful community, and shares a responsibility to contribute to that vision. The organization is driven by the work and passion of more than 600 Keep America Beautiful affiliates, millions of volunteers, and the collaborative support of corporate partners, social and civic service organizations, academia, municipalities, elected officials, and individuals. Join us on Facebook, Instagram, Twitter and YouTube. Donate and take action at kab.org.
By: Maya Bronstein, Keep America Beautiful