By: Ali Elizabeth Turner
Recently I had the joy of chatting at length with the newly hired Athens Limestone Public Library Director, Jennifer Baxter, and her enthusiasm for serving our community was palpable. Jennifer received a journalism degree from Ole Miss, and her Master's in Library Sciences from the University of Southern Mississippi. Years ago, she started off as a volunteer at her local library, never expecting it to become her career that she dearly loves. As she clearly states, "Libraries are more important than ever."
Here are some of the things Jennifer says about herself: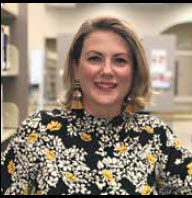 As you know, I started in December, so currently we're all focused on a smooth transition of operations under new management. I have spent time getting to know staff and have started learning the local community. I have met with the Athens mayor, and I've attended a City Council meeting as well as a Limestone County meeting. I've attended a few Chamber events, and I'm trying to build my professional network of other leaders and organizations within the community. I want to know and understand Limestone County and the City of Athens so that I can begin to understand the best ways the library can serve our communities."
These days there are certain challenges faced by libraries everywhere. Of course, funding for any institution is an ongoing issue. In addition, Jennifer told me that she is "trying to find a way to take the library of old and turning it into a library that serves everyone." That is easier said than done, and following are some of the ideas upon which she is working.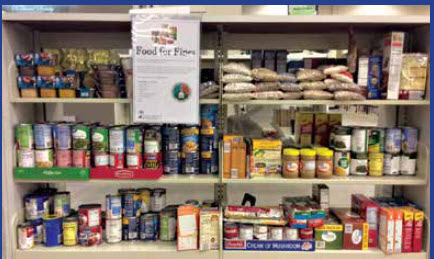 Public Podcasts – The kinds of telecommunication changes that have been made even in the past five years have created a demand for people to have a working knowledge of computers, social media, and podcasts. The day we spoke, the brand-new equipment had just arrived, and there will be podcast classes for people of all ages and skill levels. The hope is that the rollout of the podcast production services will be in the spring, and it was easy to tell that Jennifer was looking forward to providing this new service.
Virtual Programming – COVID has put everyone in a position of having to get creative in order to keep going, and the library is no exception. Yesterday they held their children's writing group, and on January 25, the teen writing program will be held online. All program information can be found at www.alcpl.org or on the library's Facebook page.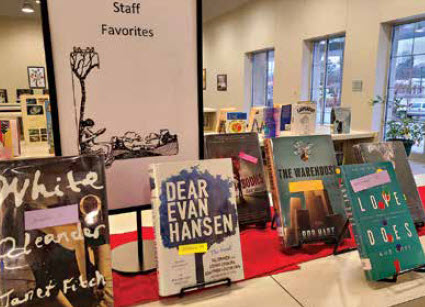 Used Book Sale – If you are looking for a great buy on a gently used hard or softback book, make sure you come to the Library on Feb 6 and shop at leisure. The book sale is a win-win for all, as the Friends of the Library organization earns money to support the library, and you are able to get books at a relative pittance. The sale also features used DVDs, CDs, audio books, and more. The used book sale is the first Saturday of each month from 10 a.m.-2 p.m.
Ask A Master Gardener – North Alabama is one of the reasons our state motto is "Alabama the Beautiful," and the Master Gardeners come to the library each Tuesday from 10 a.m.-2 p.m., and the first Saturday of each month from 10 a.m.-2 p.m. to answer questions. If you are a beginner or an expert, they are ready to help and educate.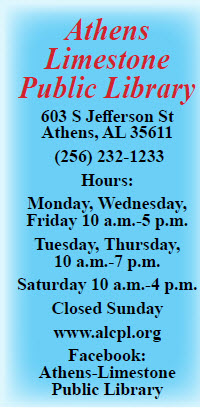 Book Signings – Local authors abound in our area, and the library loves to support them through book signings. Coming up in February, Carissa Lovvorn's first work for children, Seeds For Sharing will be featured.
Food For Fines – It is not at all uncommon for libraries to have various types of amnesty programs to encourage the return of books and resources checked out long ago. For the next two weeks through the end of January, the Athens Limestone County Public Library will be doing 'food for fines,' where patrons can donate one food item for $1 off their overdue fines. The collected food items will go to Limestone County Churches Involved (LCCI).
Jennifer continued to unfold her vision by saying, "ALCPL staff is aiming to find the best ways to serve our community during these times, and that's why we're working diligently on our podcast – to offer our voices, our knowledge, and our resources to patrons in the comfort of their own homes. We're also offering virtual options for programming as well as our digital library resources, including e-books and audiobooks." She finished our time together with one of her favorite quotes from Nelson Mandela: "Education is the most powerful weapon which you can use to change the world." Come and let the resourceful staff at the Athens Limestone Public Library help you do just that.
By: Ali Elizabeth Turner