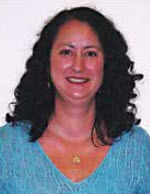 By: Holly Hollman
Athens Arts League is welcoming the spring season and blossoming with creativity.
Area artists are submitting entries for the annual Alabama Spring Contest and Exhibit, which will open to the public in April. The Alabama Bicentennial Commission is endorsing the exhibit since it highlights the beauty of springtime in Alabama. Art pieces will range from blacksmith creations to oil paintings to stained glass.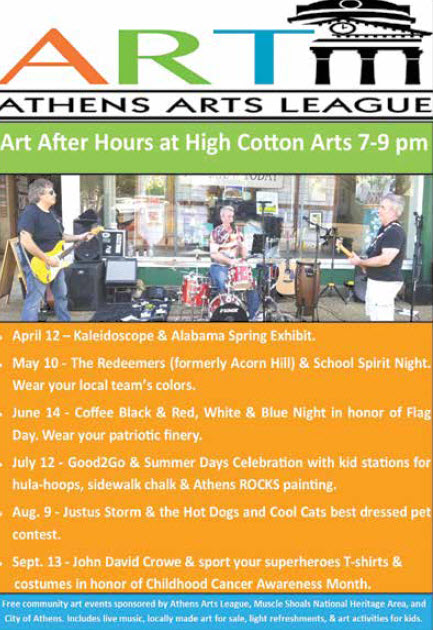 "Alabama awakens from winter with such beauty from North Alabama with its creeks, farms and wooded trails to the coast with its ocean breezes," said Athens Arts League Vice President Diane Lehr, who oversees the contest and exhibit. "Art is an ideal way to capture the gorgeous sites of spring in Alabama."
The Alabama Spring Exhibit will be at High Cotton Arts in Downtown Athens from April 5 to May 1. Athens Arts League invites the public to meet the artists at a reception April 12 at 5 p.m. at High Cotton Arts.
After the artist reception, Athens Arts League will kick off its Art After Hours season. This is a free community event held from 7-9 p.m. the second Friday of each month from April through September. There will be live music outside in front of High Cotton Arts, weather permitting. Athens Police will block Washington Street in that area so spectators can bring chairs and safely enjoy the concerts.
In addition, the High Cotton Arts artists will have locally made art for sale, and Athens Arts League will provide refreshments as well as art activities for children.
Art After Hours is part of the Alabama Music Series where Athens Arts League supports Alabama-based musicians and provides high school and college students hands-on experience in stage setup, marketing, event planning and photography. The Alabama Music Series will include ticketed concerts for the year, such as Plato Jones' performance on July 5. The series received a $10,000 grant from the Muscle Shoals National Heritage Area, $5,500 in community grants from the Limestone County Legislative Delegation and $1,500 from the City of Athens special event fund.
"Last year Athens Main Street held a visioning session to see what the public envisions for downtown, and one reoccurring comment was more entertainment downtown at night," said Athens Arts League board member Holly Hollman. "This is our third year for Art After Hours, and each year it grows. Arts League adjusted the time to start and end later, 7 to 9 p.m., to address the public's desire for night entertainment."
Here is the list of Art After Hours musical acts and themes for the season:
April 12 – Music by Kaleidoscope and Alabama Spring Exhibit on display.
May 10 – Music by The Redeemers (formerly Acorn Hill) and School Spirit Night so wear your favorite local team's colors.
June 14 – Music by Coffee Black and Red, White and Blue Night in honor of Flag Day, so wear your favorite patriotic finery.
July 12 – Music by Good2Go and Summer Days Celebration with kids stations for hula-hoops, sidewalk chalk and Athens ROCKS painting.
Aug. 9 – Music by Justus Storm and the Hot Dogs and Cool Cats best dressed pet contest.
Sept. 13 – Music by John David Crowe and sport your favorite superheroes T-shirts and costumes in honor of Childhood Cancer Awareness Month.
In addition to Alabama Spring and Art After Hours, Athens Arts League is collaborating with the Athens Mayor's Youth Commission to host an art reception for first grade students. Athens Arts League received an Art Dekko grant to provide artists and art supplies to a Limestone County classroom during the school year. The grant covers the monthly cost of the artists' time and supplies. This school year, Leslie Pace's first grade class at Blue Spring Elementary is taking the art classes.
"My students are enjoying this experience so much," Pace said. "They are learning about technique and terminology. They have truly been privileged to take part in this project."
As part of the Art Dekko grant, the Youth Commission agreed to host a reception for the students. It will be May 4 at 10:30 a.m. at High Cotton Arts. The Blue Springs students are creating a spring-themed art project to display, and the Southern Splendor Chorus will perform.
For more information about Athens Arts League and its programs, events and projects, go online at www.athensartsleague.com or follow on Facebook at "Athens Arts League."
By: Holly Hollman
City of Athens Communications Specialist