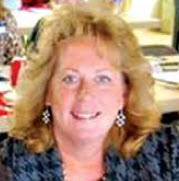 By: Sandra Thompson
We welcomed some special guests at our June Coffee Call. Sam and K.C. Bertling joined us to present a long overdue medal to several of our Korean Veterans.
Sam and K.C. are the co-founders of the "Legacy 4 Korean War Veterans Foundation," and their main goal is to honor the Korean veterans who they feel have been forgotten about. They are also responsible for presenting the Ambassador Peace Medal. This medal is for Korean War veterans who sacrificed for Korea's democracy and freedom, and is aimed at expressing the Korean government's gratitude and respect to them.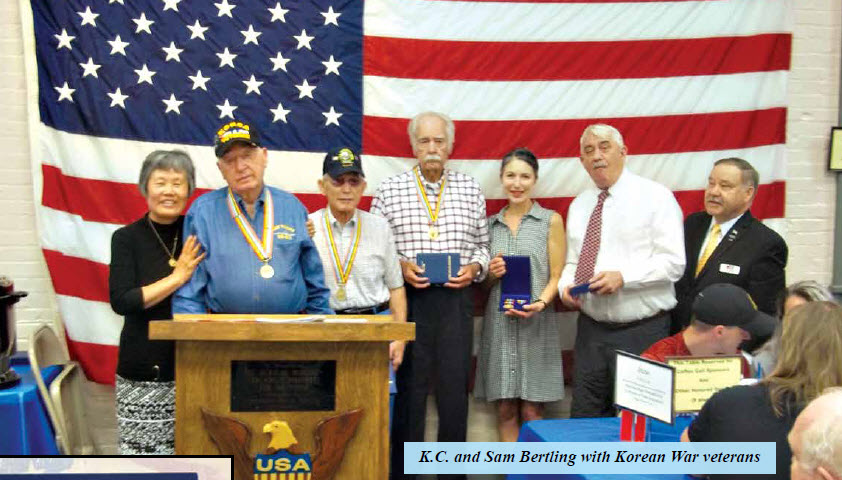 K.C. has a very special reason why this program is so dear to her heart; she has had a calling for a very long time. As a child growing up in Korea, K.C. knew a Korean War veteran who was homeless and did not have anything; although poor and sometimes hungry herself, K.C. would share what little food she had with this man. Upon learning that this man had passed away and still had nothing, not even a loving family, K.C. made a vow that if she could ever afford it, she would share a hot meal with a Korean War veteran.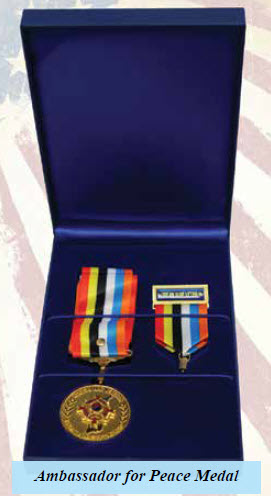 K.C. met her husband, Sam, when he came to Korea with the U.S. Army, and they have been together for over 45 years. He retired in 1996. In 2006, as K.C. puts it: "My husband, Sam, and I had a golden opportunity to host our first luncheon at a local restaurant with six Korean War veterans; two wives also attended. This luncheon has grown beyond even their imaginations. They continued to host annual lunches, paying for them out of their own pockets, until January 2011 when the Legacy 4 Korean War Veterans Foundation became a 501 (c)(3), nonprofit organization.
In November 2012, Sam and K.C. sponsored nine Korean War veterans and three guardians to "Revisit Korea" with all expenses paid. All nine veterans who took this Revisit Korea trip shared their testimonies on how this trip profoundly impacted their lives and brought healing to the war-torn memories carried for more than six decades.
In 2020, the Legacy 4 Korean War Veterans Foundation will celebrate their 15th year honoring the Korean War veterans, and they are working on details to make this event the most memorable event ever.
To be eligible for the Ambassador Peace Medal, the veteran must have served on land, in the air, or on the sea from June 25, 1950 through October 25, 1954. However, if a Korean War veteran visits Korea and is out of the parameters, that veteran will receive the medal from Korean government officials regardless of time period. To receive the medal, veterans may submit their request directly to Alabama Veterans Affairs Office, and they will receive it in the mail. Korean War veterans can also apply through the foundation's website at https://www.legacy4koreanwarveterans.org, and the foundation will process it through the Korean Consul General's office, obtain the medals, and present them to veterans. Family members of deceased Korean War veterans may also apply for this medal. Along with the application, the family member must provide a DD Form 214; in lieu of this document, any document proving that the veteran was in Korea during this time will suffice.
By: Sandra Thompson
Director, Alabama Veterans' Museum