By: Ali Elizabeth Turner
In a few hours, Beverly Scott, owner of the Honeysuckle Café in Rogersville, is going to be honored at an awards luncheon to be held in Birmingham, which is sponsored by Alabama's statewide Chamber of Commerce as well as the Business Council of Alabama. Why? As of now, Honeysuckle is a finalist for the award of Alabama's Small Business of the Year, and we are waiting on tiptoe to find out if she won. The category is "Emerging Business," which means any business whose start-up date has been in the last five years, and Beverly is blessed as well as humbled by being chosen as a finalist.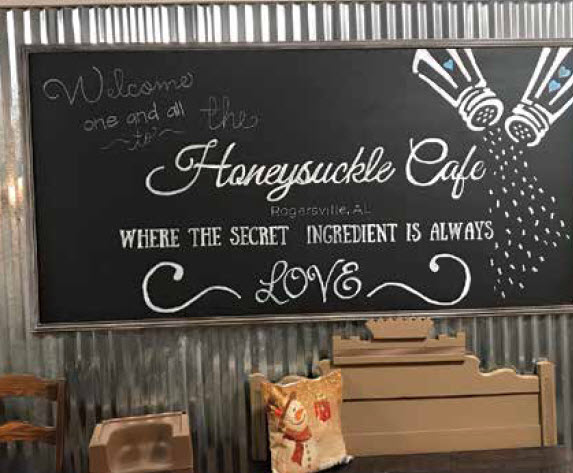 My tummy will tell you that whether or not she won, she won. So will my heart. Here is the story of a charming café that to my mind shows the very soul of Rogersville — a place that will warm your innards, make you chuckle, and nourish you. Beverly spent over 30 years as a nurse at Athens-Limestone Hospital, and had "always cooked for everyone." All her life she dreamed of owning her own place, and when the restaurant, which is located at 1609 Lee Street in Rogersville, became available in 2016 Beverly and her husband bought it. The whole family pitched in to renovate it, and Beverly has always been grateful for their blood, sweat, tears, and love put into "gettin' 'er up and runnin'." The Honeysuckle Café came to being in the spring of 2017, which is when Athens Now did a front cover advertorial on what has become one of my favorite places to land on my paper delivery route. I am there every two weeks when I come back from Florence with the latest edition of the paper, and every time, I am glad to have a couple moments of comfort from a down home, friendly place.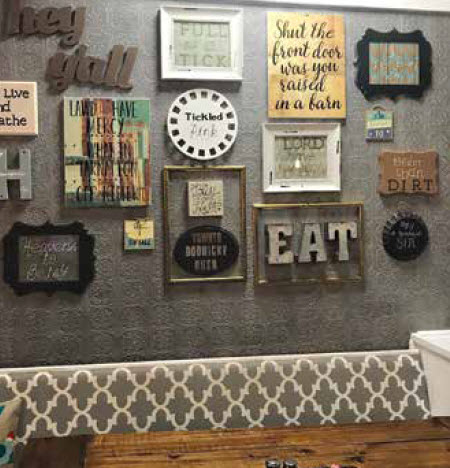 One of the most enjoyable features of the Honeysuckle is the wall art. All of the walls and down the service hall are covered with sayings, maxims, scriptures, and just plain common sense observations and admonitions, and they are literally a "conversation piece." Beverly told me that her "son has a saying for everything, and I started writing them down." The wall art is recorded on every imaginable type of surface, and most are framed. Then, they are hung with care, and even decorate the restrooms! People from out-of-state who are staying at Joe Wheeler State Park have come to the Honeysuckle Café for the food as well as a cultural immersion experience, and it's not unusual to see someone read a saying on the wall and smile.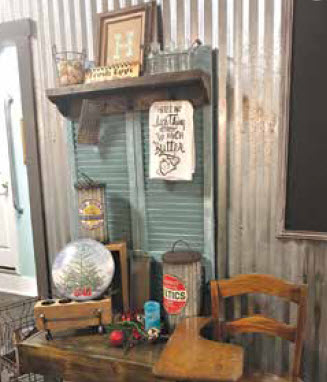 Okay, the place is cute, but how's the food? In a word, yummy. In some ways, it's a classic "meat-and-three," but there are little touches here and there that are more modern cuisine if you wish it. There are Southern classics such as "hoecakes," fried green tomatoes, black-eyed peas, pimento cheese, and hash brown casserole. Signature sandwiches include "the Paw Paw," a classic grilled cheese named for Honeysuckle owner Beverly Scott's dad, and the Angry Rooster, a shredded buffalo chicken and American cheese grilled sandwich. Desserts include Mama's Best Banana Pudding, the chocolate chip mug cookie, and special daily desserts. They can hardly keep up with the demand for the banana pudding.
There is a trend in the restaurant industry that capitalizes on the concept of "putting love in the food." Some places make one wonder, but at the Honeysuckle Café, it is the truth. They have a saying, and it's "Honeysuckle Café, Rogersville, Alabama, Where the Secret Ingredient Is Always Love."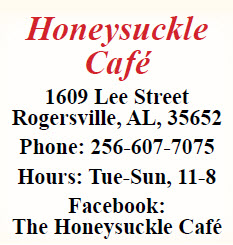 Beverly treats her staff like they are kin, and that means, "No fussin' or cussin'." If you want to, you can take part in the brief prayer meeting that happens at the beginning of every shift, and that always makes for a better day. One of the things I have come to appreciate about Beverly is her heart to build up Rogersville. She has become very active in the community, which is the land of her ancestors, and has hoped that the Honeysuckle will be an expression of the hospitality with which she grew up. This past Monday the café, which is available for private catered parties, hosted a women's group for their Christmas gathering. As I heard the story of what happened, the hearts and stories and food and comfort that all came together, once again I felt honored to invite you to make the drive from where you are in the Tennessee Valley and experience the Honeysuckle Café. It will be worth it!
By: Ali ElizabethTurner