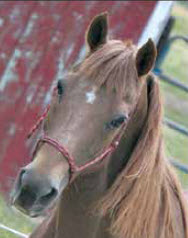 By: Deb Kitchenmaster
Songwriter/musician, Mary Ann Kennedy, on her album, THE TRAIL LESS TRAVELED, wrote and sings a song "MARES":
Mares are different from the boys.
They know it's their job to take care of their family.
So many responsibilities,
oh, it's not easy to be a mare.
Mares see things as they are,
never moving far from the herd
that leans on them for their sensitivities.
Oh, it's not easy to be a mare.
Mares keep you honest, make you strong.
They let you know when you're wrong,
but they will forgive you.
They teach humility.
There's not a heart that's as big as a mare's.
Mares will give you all they've got,
and then they'll give you more.
That's just what they're made of.
They're tender and they're tough.
I'll never get enough, of…mares.
In most cases, a mare is a female horse over the age of three, and a filly is a female horse three and younger. In thoroughbred horse racing, a mare is defined as a female horse more than four years old. The word can also be used for other female equine animals, particularly mules and zebras, but a female donkey is usually called a "jenny." A broodmare is a mare used for breeding. A horse's female parent is known as its dam.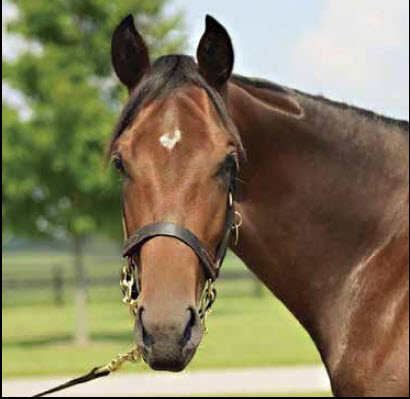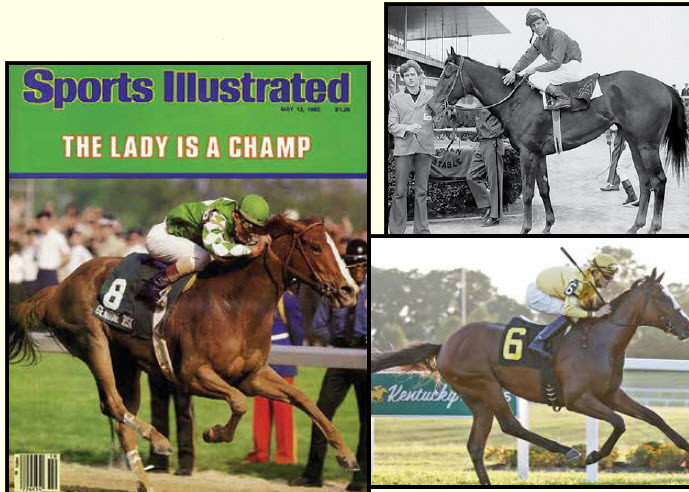 Mares carry their young (called foals) for approximately 11 months from conception to birth. Usually just one young is born; twins are rare. When a domesticated mare foals, she nurses the foal for at least four to six months before it is weaned, though mares in the wild may allow a foal to nurse for up to a year.
Let's have some fun with trivia about female race horses. Put the letter of the facts next to the name of the horse described.
1. Rachel Alexandra ______
2. Rags to Riches ______
3. Winning Colors ______
4. Genuine Risk ______
5. Lady's Secret ______
6. Zenyatta ______
A. Sired from racing great Secretariat. Finished her career 25-45 before being named 1986 Horse of the Year. She was inducted into the Racing Hall of Fame in 1992.
B. Won the 2009 Preakness Stakes (the second leg of the Triple Crown). First filly to win the race in 85 years (the last filly to win had been Nellie Morse in 1924). She was named 2009 Horse of the Year.
C. First filly in more than a century to win the Belmont stakes, which she did in 2007. Neck-to-neck battle with favorite Curlin. Suffered a hairline fracture at the Gazelle Stakes in 2007
D. Third filly to have won the Kentucky Derby. Finished her career with 13 victories which contributed to more than $1,500,000 in earnings. Euthanized at the age of 23 due to complications from colic.
E. Became second filly to win the Kentucky Derby when she took home the top prize in 1980. Only filly to finish in the money in each of the Triple Crown's events. Finished her career 10-15, earning just shy of $650,000 in the process.
F. First horse ever to win two different Breeder's Cup races, inarguably the greatest moment in Breeder's Cup history. She came from last to first down the Santa Anita stretch to the roar of the crowd to win the race over Gio Ponti by one length. She was named one of the top ten female athletes of the year by Sports Illustrated. After a brief retirement, she returned to racing in 2010, running her streak to 19 consecutive wins.
Here are the trivia answers:

1. Rachel Alexandra (B)
2. Rags to Riches (C)
3. Winning Colors (D)
4. Genuine Risk (E)
5. Lady's Secret (A)
6. Zenyatta (F)
How did you do?
Here's to all the beautiful mares that have left their hoof prints on the fabric of our souls and in our memories — whether in the context of reading about them, riding them, grooming them, or racing them. Thank you for keeping us honest, making us strong, telling us when we're wrong, forgiving us, and teaching us humility. Thank you for giving and giving. Thank you for being tender and being tough. Thank you for being in my life.