By: Ali Elizabeth Turner
Athens-Limestone native Grant Gilbert's love affair with Jeep/Willys began when his trusty '48 Willys helped him ford creeks and cover the fields of their family's farm running herd on their cattle. "I knew from experience it was a good product," he told me. Later on, his brother Joel bought a Jeep as a personal vehicle, and Grant told me, "People would stop by five and six times a day asking about that Jeep."
Grant told me they have a saying in their family, and it's "Point it toward the road." The rough definition of that saying is that if you focus on having a reliable vehicle that gets you from Point A to Point B, that's the most important, and don't get hung up on having to have a particular make or model. That's how it was with the first few Jeeps they sold, and they had no idea that the Jeep brand would become so popular with people of all ages. "We stumbled into the growing niche market for Jeeps, and now there is a wide band of interest all over the country for what we have to offer," said Grant. He then added, "We have bought and sold Jeeps coast to coast." He opened up Gilbert's on Hwy 72 in the Clements area in 1986, and has been "selling fun" ever since.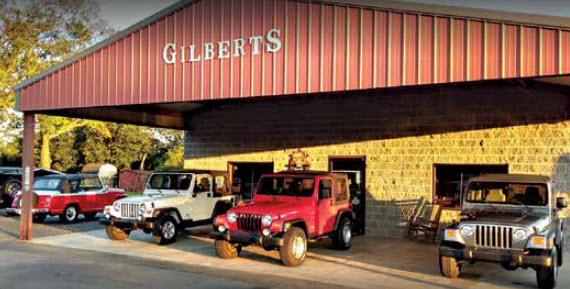 The Gilbert family is one of the oldest in our county, having arrived on the TN/AL line from Scotland sometime in the late 18th/early 19th century. Grant's great-great-grandfather, George Alexander Gilbert, settled on land in the Clements area on Snake Road. They have largely farmed in Elkmont and the Athens area, and Grant has done everything from raising cattle to working at Steelcase to construction to fabricating custom-made utility and horse trailers. He grew up riding horses but not driving teams; so by watching the example of the Amish in TN as well as PA, he learned. Grant has been known to take a buggy out for a spin on some of the back roads of Limestone County. He also has a lovely collection of antique cars that can be seen at the Jeep lot, which is located at 6494 US-72 in Athens near Clements. Grant has also collected and sold antique horse-drawn hearses all over the country.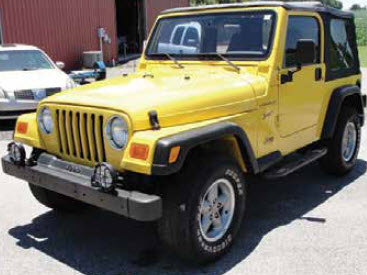 The Gilbert family has a fascinating history, as do the Jeeps they sell. In 1940, with WWII poised to change the course of human history, the US Government reached out to several automobile and equipment manufacturers to design a 4×4 that would be as reliable as a soldier's horse or weapon had been in days gone by. Willys won the contract, and the Jeep (which probably was the slurred version of GP, i.e. "government/general purpose") was born. They produced a vehicle that has been adapted to be a snowplow, handle a 50-caliber weapon, go on desert patrol, lay electrical cable, run on railroad tracks, function as a pumper truck for firefighting as well as an ambulance, and they replaced both horses as well as motorcycles. The Jeep was fitted into gliders that flew over the beaches of Normandy as part of the D-Day Invasion, and has rightfully earned the "Go Anywhere. Do Anything" moniker.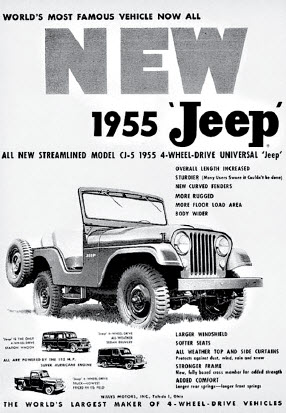 One Willys MB was even awarded a Purple Heart and sent back home to the States. General George C. Marshall, US Army Chief of Staff during World War II, described the Jeep® Brand 4×4 as "America's greatest contribution to modern warfare." Willys/Jeep was the first vehicle created for wartime that transitioned into peacetime use, and there were several models to choose from to meet the needs of everyone from fun lovers to farmers to families.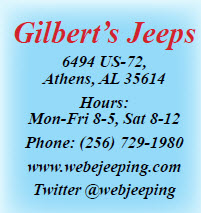 I asked Grant, "Why should I come to you if I want to buy a Jeep?" The first thing he said with a chuckle was, "We don't buy Jeeps with northern exposure." That is their pet name for rust. They buy pre-owned, mostly one-owner Jeeps from all over America, but they must be rust free. They ask a series of questions as part of an interview process re: any Jeep they are considering for resale, and if the seller can't answer them to Grant's satisfaction, it's a no-go. The average mileage on any Jeep they sell ranges from 5K to 150K, and Grant told me that "Jeeps hold their value better than anything on the road." Grant and his team work together to find, vet, buy, take delivery, make sure the mechanical passes muster, detail, and then display for sale; and their Jeeps can be described as "mechanical art." They do not offer financing, but work with credit unions and banks in the area to help clients get the best possible financing package.
By: Ali Elizabeth Turner