By: Tracie Spain
To celebrate our 35th year, we have opened a gallery and will be featuring a local artist each month. We are excited to feature Reesa Pearl Milam as Frame Gallery's Artist of the Month. Her show, "It's About Time," is a reflection of her life shown through her artwork. Her framed art will be on exhibit the month of November. In December, she will add a special installation to her framed art. Reesa's trademark description of her work is called, "Visual Statements," and she hopes you will come join us on December 6 for a "holiday evening with the artist."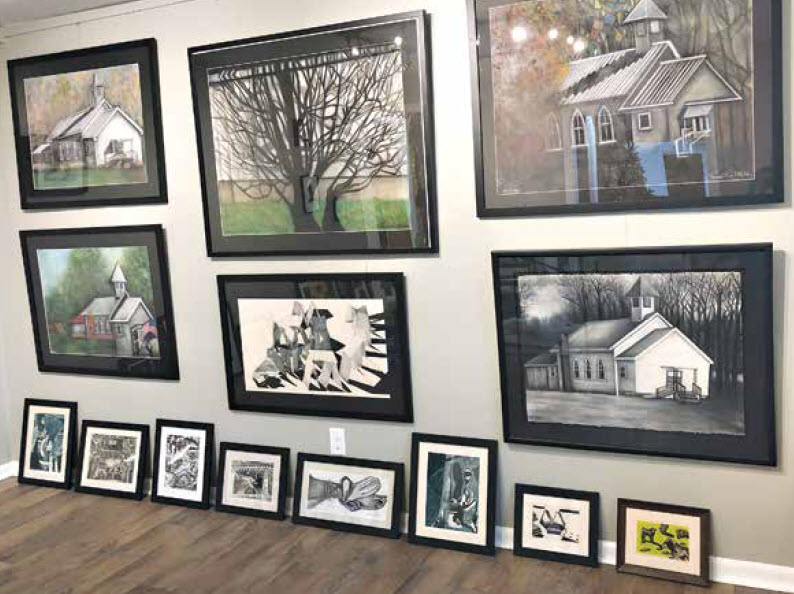 Reesa was born in Kentucky and her family settled in North Alabama in 1972. She attended Ft. Payne High School and at that time the high school did not offer art or music classes. She continued her sketchbooks of the Lookout Mountain area and was given the honor of coordinating an exhibition of student art work, poetry, and music for a fundraiser. The project sparked her passion for photography and graphic images.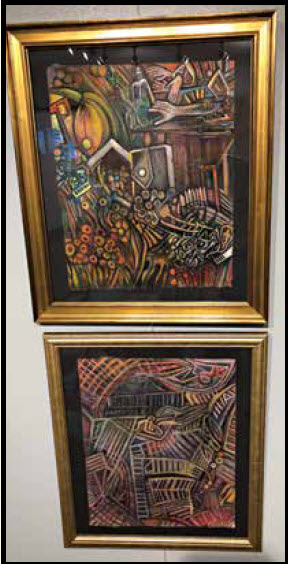 Reesa moved to Huntsville and attended college at University of Alabama at Huntsville, and graduated as an Honor Scholar in Art/English. She also attended the University of Missouri/Columbia for a special art study program while pursuing her degree at UAH. During her college years, she worked for a manufacturing company that gave her flexible hours so she could work and study. During her junior and senior years, she worked as Art Gallery Director at UAH where she designed displays and assisted with exhibits and advertising. During that time, Reesa won a Merit Award for "Downshift," and a first place award for "Heading for a Fall."
Reesa is skilled in most art media with the exception of the newer technological advances. She has a wide range of experience in the fields of lithography, woodcut and stone linoleum cut, and silkscreen printmaking. She also has enjoyed photography and etching.
After graduation, Reesa's work was featured in a number of juried and non-juried shows all over the United States. She won several awards in the early 1980s for visual art dealing with women's issues. Her award winner, "I Stayed Home With Mine" was highly regarded in many shows for its role in speaking to a range of women's issues.
In 1988, Reesa was featured in a political art show at the Highland Gallery in Atlanta. Her work has been featured in international juried-print exhibitions ranging from the University of Montevallo Traveling Portfolio, to the Matrix Gallery in Sacramento, CA, to the Somerstown Gallery in Somers, NY. She's given demonstrations at several museums, schools, and civic organizations.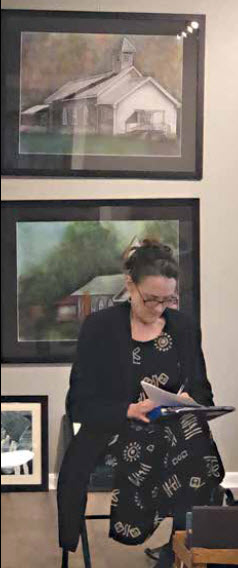 More recently, while taking care of her parents, Reesa continued to develop her skills in painting, drawing and photography, attending exhibits as time allowed. Locally her work has been displayed in Decatur's Second Street Gallery, Adrian Ford Gallery in Florence, and the Marlyn Wilson Gallery in Birmingham, to name a few. Her work has also been featured as part of Panoply in Huntsville, AL, the Tennessee Valley Fiddlers' Convention in Athens, AL, and she has two pieces which are part of the permanent collection of local artists shown in the Huntsville Museum of Art. Reesa's work has also been featured in several newspapers and magazines such as The Huntsville Times, and the Athens News Courier's quarterly publication known as Faith And Family.
To celebrate the season as well as Reesa's installation, Frame Gallery is having a Christmas Open House on Thursday, December 6 from 5 p.m. – 8 p.m. Refreshments will be served, and the community is invited to come and enjoy meeting the artist. Reesa's works will be available for purchase, as well as several other pieces on display throughout Frame Gallery's recently renovated showroom.
By: Tracie Spain