By: Ali Elizabeth Turner
For the past 37 years, Athens-Limestone County has been blessed with a custom framing shop that has done a superb job of preserving and protecting some of our dearest and most important memories. Tracie Spain and Dennis Martin have been long-time employees at Frame Gallery, and at the end of 2019, they, along with their spouses Chris Spain and Terry Martin, formed a partnership that jumped at the chance to purchase the business. Between them, Tracie and Dennis have close to 20 years of experience in the framing business, and they also bring to the table time in the Army, accounting, woodworking, the legal profession, as well as designing the robotic arm on the Space Shuttle. Terry handles the books, and Chris remodeled the shop, which boasts an extensive display of frame samples along with places for local artists to exhibit their paintings. The new location of Frame Gallery Off The Square is 125 North Marion Street in Athens, between the Courthouse and City Hall. This is your invitation to their Grand Re-opening Celebration and Art Exhibition, which will be held on June 25 all day until 8 p.m.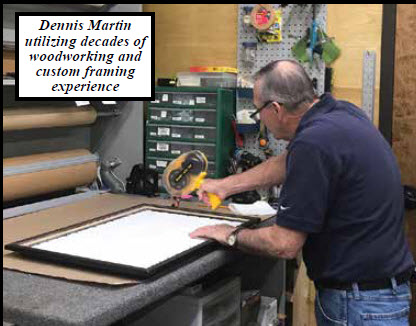 Like so many of us, Frame Gallery was just getting into the rhythm of what started out as a successful spring season when Corona took us somewhat captive, and they were able to stay open through the initial shut down operating curbside service. The moment Governor Ivey announced phase one of the re-opening of Alabama, as Tracie puts it, "We were slammed."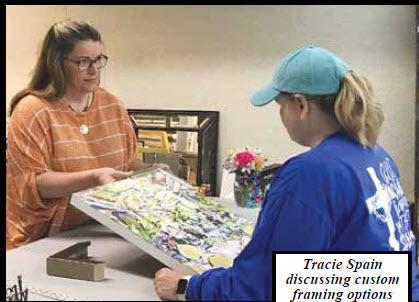 So, why was that? Simply put, it is all about the care, craftsmanship, and beauty that go into each piece, and the excellent customer service. I have been a raving fan customer for years, and have always been pleased with everything Frame Gallery has ever framed for me. What sets Frame Gallery apart, and why should you invest in custom framing rather than purchase a ready-made frame? First of all, Dennis will tell you that each framing job he completes, he does as though it is for Terry. In addition, they guarantee that every aspect of the project is acid-free. Recently, I heard Tracie give a presentation on framing where she told us firmly, "If you have a picture that has a cardboard piece as part of the frame backing, get it out of there immediately." She then showed how acid in either the frame or matting of a ready-made piece can literally destroy your picture or painting.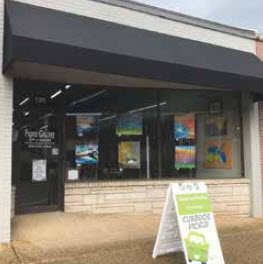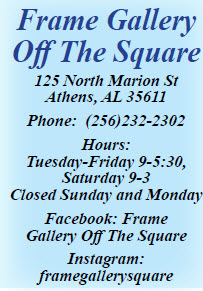 Another important feature of quality custom framing is the use of what is known as conservation glass. "Every piece of glass that we cut and use is designed to protect the framed piece from discoloration and fading," she said. There are several kinds from which to choose: conservation glass for standard needs, museum quality for things that are perhaps antique or more fragile, and a super-strong acrylic that truly looks invisible. Frame Gallery carries 14 lines of frames, four lines of glass, and one line of acrylic. They also carry Roma and Fotio, which are two high-end lines of imported, handmade molding pieces from Italy. At the moment they have a small selection of ready-made ornate frames, and they can resize an existing frame to fit a new or different piece of art.
Frame Gallery will often take extra pieces of solid wood "frame sticks" and make them into ready-made frames which they sell at a discount. They recycle, repurpose, and make shadow boxes, which are currently quite popular. Everything from baby clothes to baseball mitts can find a happy home in a frame or shadow box. They are also certified dealers of Daniel Moore and Greg Gamble sports prints. They can do repairs, cut mirrors, and can cut some replacement glass for windows. They are able to do specialized restoration work, and have a dry-mount machine that can take the wrinkles out of an existing piece. Every custom-framed piece produced by Frame Gallery has a foam core backing and is guaranteed to be acid-free. They also carry art books from which custom prints can be ordered, and will allow customers to check out the books so they can get an idea of how a print will look in their home or office.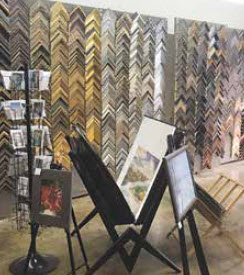 In addition, Frame Gallery believes in local artists to the point that they have made space in the shop to display their works. They have an "Artist of the Month" program with various packages that can include a reception as well as opportunity to advertise in Athens Now, and on the night of June 25, they will be featuring the work of Sue Carson-Chasteen. You don't have to wait until then to see what a beautiful job the Spains and the Martins have done by "reframing" Frame Gallery. They are now open for business in a shop that both satisfies the COVID requirements and provides an abundant selection from which to choose just what you desire for your next framing project.
By: Ali Elizabeth Turner