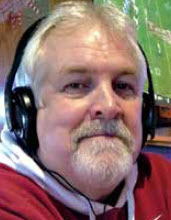 By: Tim Lambert
Despite all the doubting that led into this fall season, our local athletes actually made it out the other end. Admittedly, they didn't quite finish like they wanted, but the regular seasons were able to wrap up—with a few hiccups along the way. Here's how the last month played out for our area athletes (we'll pick up with winter sports next month):
Football—Clements defeated Danville 28-25 and Elkmont 74-40; Elkmont posted their only win of the season against Hanceville 45-36; James Clemens turned back Sparkman 13-9 (OT) and Albertville 49-7, then lost to Hewitt Trussville 55-12 in the first round of the 7A playoffs; Athens beat Cullman 28-0 and Decatur 31-7, before falling to Homewood 34-31 in round one of the 6A playoffs. East Limestone was defeated by Sylvania 43-40 in their regular season finale and was knocked off by Parker 35-21 in 5A round two. Tanner posted wins over Pisgah (50-26) and Waterloo (21-20) before their season came to an end in round one of 2A playoffs to Spring Garden 72-12; West Limestone overcame Rogers 47-25 and Ardmore 47-28, then eliminated Hamilton (44-0) and Good Hope (21-12) in the first two rounds of the 4A playoffs (round three against Gordo was scheduled after press time); Lindsay Lane's JV team stopped Falkville 14-6 and Hatton 26-8.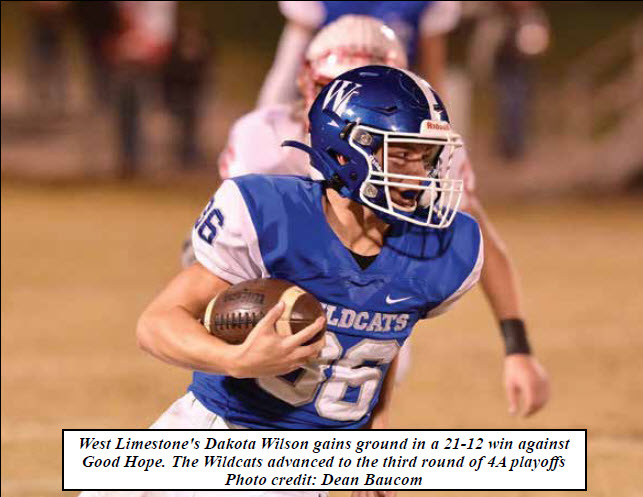 Volleyball—In area tournament action, Lindsay Lane topped Woodville and Decatur Heritage to claim the 1A crown; Athens Bible School swept Whitesburg Christian, Tanner beat Falkville and then turned back ABS to take the 2A championship; Clements turned back Elkmont in 3A, then fell to Lauderdale County in the title game; East Limestone defeated Mae Jemison, Ardmore beat Lee and the Lady Indians stopped the Lady Tigers to win the 5A area; West Limestone knocked off Brooks before a loss to West Morgan gave them second place and a ticket to the 4A sub-regional tournament where they were eliminated by Jacksonville. ABS fell to Sand Rock to open sub-regional play, while Tanner was taken out by Spring Garden and Elkmont came up short to Winfield. East Limestone beat Parker to advance to the regionals where they defeated Boaz; Ardmore got past Leeds, but lost to Alexandria, who also stopped East Limestone; the Lady Indians were eliminated in the state quarterfinals by Bayside Academy. Lindsay Lane went on a streak that started with a sub-regional win over South Lamar, continued with regional wins against Belgreen and Covenant Christian, a finals loss to Donoho, a state quarterfinals victory over Kinston, and a season-ending loss to Bayshore Christian in the semi-finals.

Cross Country–At the Falcon Derby-Running with The Horses meet, the West Limestone varsity boys were third in 1A-4A; Katie Serrato came in third in the girls' division. Ardmore's varsity boys placed third in 5A-7A. The ABS girls came in second in 1A-3A at their own invitational; the Athens girls were runners-up in 4A-7A. The James Clemens varsity boys and girls finished second at the Huntsville Metro Cross Country Championships and the Oakville Cross Country Invitational. The Athens boys were third at the Northwest Championships. In sectional meets, Lindsay Lane's boys placed second led by Henry Woodall's second place. ABS teams came in third, behind Jack Bradford's first place boys' finish and Jessie and Jolie Green's second and third places in the girls' race. West Limestone's Katie Serrato's winning performance led the Lady Wildcats to a third place. Carolyn Mallette's second place led the Athens girls to third place. James Clemens' boys finished third; the Lady Jets were runners up. Elkmont's boys were third.
At the state cross country meet, Athens Bible School's Jack Bradford was second individually in 1A-2A; Athens' Caroline Mallette was a fifth place finisher in Class 6A girls.
Congratulations to James Clemens' Haley Patterson for her soccer scholarship to Austin Peay. Baseball scholarships were signed by James Clemens' Connor Legere (Cedarville University) and Ardmore's Cole Cheatham (Mississippi State). Lindsay Lane's Ava Whitmire committed to play softball at Maryville College and West Limestone's River Helms made a football commitment to Georgia Tech. Athens High's Caroline Bachus also committed to Wake Forest to play basketball1
By: Tim Lambert
Tune in for the PlayAction Sports Update, three times each weekday on 1080 AM WKAC. Visit us online at www.pasnetwork.net! email: playactionsports@hotmail.com